Comfort and fashion don't often mix, especially when it comes to being the bride. We all want to look fashionable in our heels, yet wearing our favorite shoes sometimes means taking a hit to our feet. If you're on the quest to find the perfect shoe, here's a run-down of fab shoes for the big day!
Scoop by Something Bleu
Scoop's beautiful ¾-inch heel is high enough to feel like you're not walking around barefoot. The shoe may seem simple, but it's customizable — so you can feel free to decorate it any way you want ($165, myglassslipper.com).
Valentina Mirror Metallic D'Orsay Pump by J.Crew
This wear-all-day heel is great if you're looking to be chic yet comfortable under your dress. Bonus: You can also rewear this simple shoe on your honeymoon and beyond, since it'll go with almost everything in your closet! The low heel makes it easy to walk around in, so you'll skip that nagging foot pain ($248, jcrew.com).
Jada by Benjamin Adams
The Jada is a great choice if you're hoping to achieve that Cinderella look. The heel is thick enough so that the shoe is durable, and there's no avoiding being a fashionista with these blinged-out beauties ($399, myglassslipper.com).
Winter by David Tutera
A sleek, open-toe wedge that comes in five different colors, this David Tutera wedge is the way to go if you're looking for an elegant but modern look. Great for both indoor and outdoor weddings, wedges are a great option to provide support to the arch of the foot ($165, nordstrom.com).
Bethani by Badgley Mischka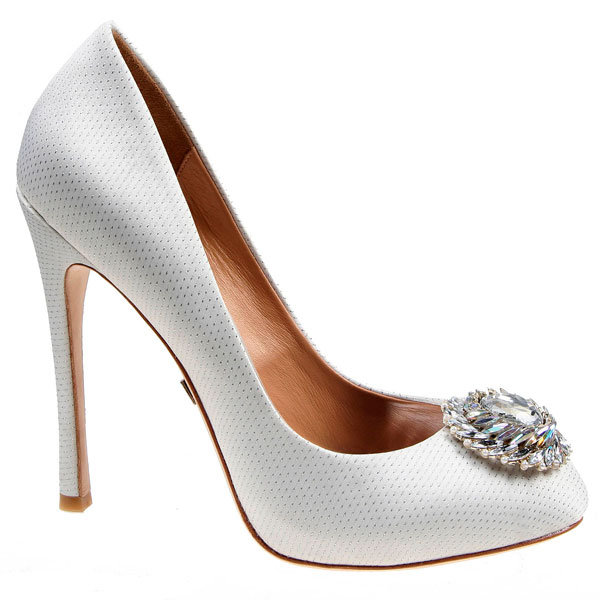 With its 4½-inch heel, the Bethani shoe offers height while still remaining comfortable, thanks to a hidden platform. The simplicity makes it the perfect companion to any gown, and the brooch at the front adds just enough dazzle ($250, badgleymischka.com).
Tip: When buying high heels, always try going up a size. Yes, they're going to slip off, but you can buy a heel gel strap that will hold the shoe on tight. You'll be able to feel more room in the front, where your toes are, and you'll avoid any blisters at the back of your heel.
—Valentina Cantin