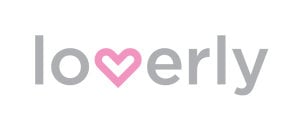 Loverly is the heart of weddings: a visual inspiration search engine designed to help brides discover ideas, people to hire, and things to buy. Loverly makes finding beautiful wedding inspiration easier than ever! Their images are powered by the best wedding publishers and wedding shopping partners on the web. Find Bridal Guide on Loverly >>
Deciding what you'll wear on the big day comes with many decisions — should you pick a ballgown, sheath, fit-and-flare, or A-line dress? — and finding your personal style is key. But, what about your groom? The "suit, tie, done" mentality isn't right for everyone, especially if your groom wants to incorporate his fun personality into his attire. Also, his comfort should be equally important! We're in love with some of the new trends for modern grooms, including sneakers (in lieu of formal shoes), funky socks, and suspenders without a jacket. Our favorite trend of all: bold, patterned bow ties in fun colors for spring. Check out 10 different options for discerning grooms below!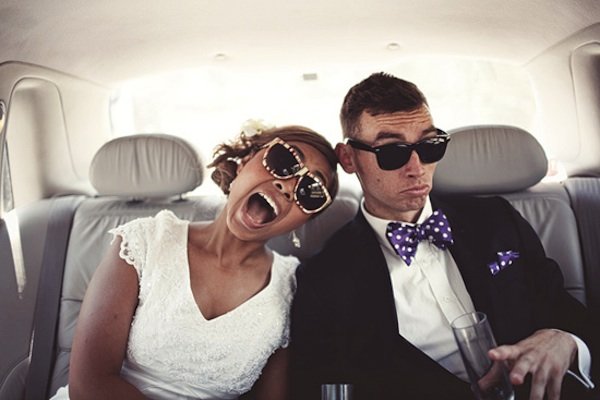 Photo Credit: Alma Photography on Polka Dot Bride via Lover.ly
See more polka-dot wedding inspiration >>

This bow tie would be so easy to DIY — find your favorite fabric and get crafting!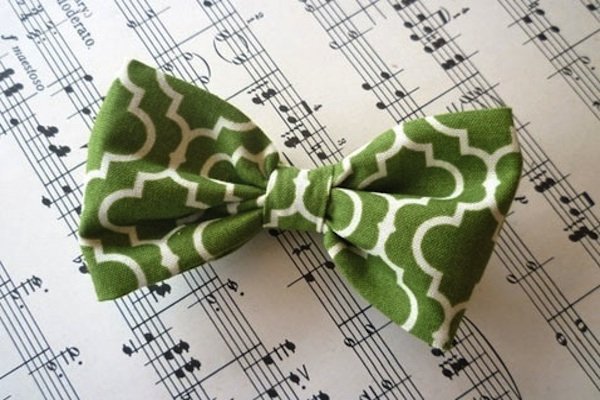 Photo Credit: Graham Martin on Equally Wed via Lover.ly
 Nothing says "spring" quite like the color green >>
 We love the coordinating pocket square on this groom. 

Photo Credit: Z Media on Shi Shi Events via Lover.ly
Sweet handkerchiefs for you and your groom >>
 OK, he can call it salmon…but we love a man in pink! 
Photo Credit: Austin Gros on Wedding Chicks via Lover.ly
This navy-and-white striped bow tie would be great for a nautical-themed wedding.

Photo Credit: Ben Sasso on Grey Likes Weddings via Lover.ly 
Browse more nautical-themed weddings >>
Or, maybe you're celebrating on the beach? A bright orange bow tie really pops against a light-colored suit. 

Photo Credit: Tiny Water via Lover.ly
Get more inspiration for your beach wedding >>
For a more casual wedding reception, ditch the formal jacket and add a V-neck sweater instead!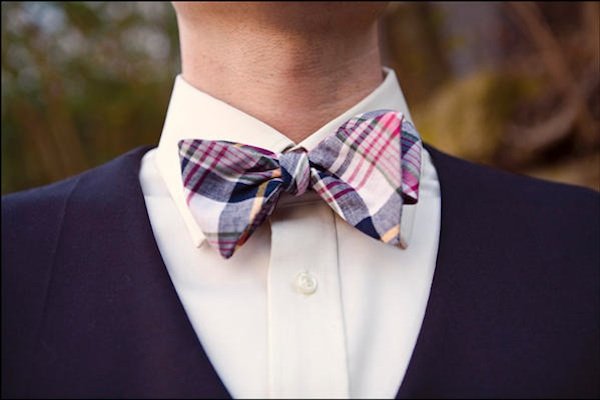 Photo Credit: Ryan Price Photography via Lover.ly
Check out more looks for your groom >>
 Striped, polka dots, floral, plaid… so many styles to fit your guy! 
Photo Credit: Jose Villa on Bridal Musings via Lover.ly
Can't get enough of the bows in bowties? Neither can we!  >>
Don't forget the little guys! 

Photo Credit: Charleystar Photo on Snippet and Ink via Lover.ly

Photo Credit: Southern Weddings via Lover.ly
Check out more adorable ring bearer outfits here >>
Tell us: What is your groom wearing on the big day?
—Mandy Chan