We got an exclusive backstage pass to Ines di Santo's bridal runway show—check out our photo diary below! Damali NYC created a retro-glam beauty look that was every bit as striking as the Baroquesque Spring/Summer 2013 Collection.
The emphasis was placed on bold, matte brows and lips (the first strong lip we saw at the bridal runway shows this season), with fresh, clean skin. Damali NYC also created the beauty looks shown at Randi Rahm, Pnina Tornai and countless other shows this season.
The makeup artists used a variety of different products to achieve this look, including Bobbi Brown lipstick, Chanel highlighter and Josie Maran concealer.
Makeup artist Heidi Evora-Santiago (not pictured) advises that when it comes to your bridal look, "Bump it up a notch from what you normally wear—don't try something too dramatic that you don't feel comfortable in."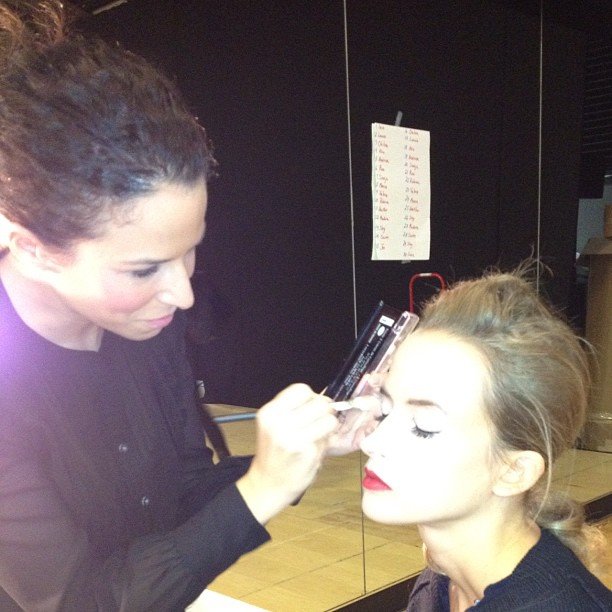 "Have a makeup trial and bring photos of looks you like. You may ask for 'natural' makeup, but everyone's idea of 'natural' is different," said Evora-Santiago. For example, take this striking brow—not every bride may want theirs filled in.
Apply full strip fake lashes to get that doe-eyed look; don't forget loads of waterproof mascara!


Next, it was on to the hair. Jody Jordan, the lead hairstylist of Damali NYC, says that the goal was to create a "modern yet elegant hairstyle that is a little retro, but still soft and pretty."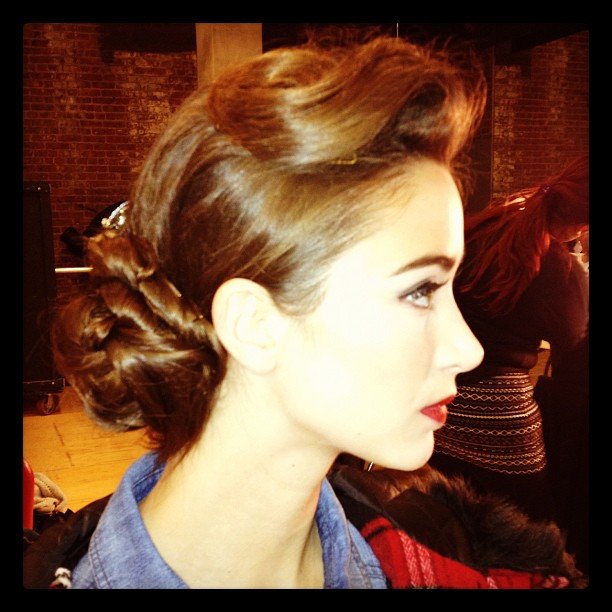 Maria Elena Headpieces provided the glittering baubles pictured below, as well as the Venetian masks that models carried as they strutted down the runway.


The challenge was to shape a modern messy bun, but make it firm enough so that it doesn't fall out during the show (or in a bride's case, during a twirl on the dance floor and posing for photos). The hairstylists shaped the models' hair into what they refer to as a corkscrew twist, applying a little shine serum to keep it glossy and sleek.
It took as little as 15 minutes from start to finish, depending on the thickness and length of their hair, making this an excellent candidate for a DIY bridal hairstyle.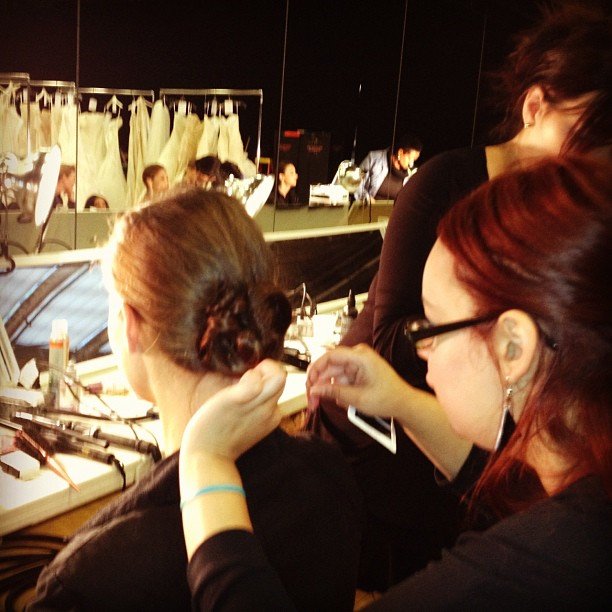 While I watched the hairstylists work their magic, Jordan told stories about how some brides run to their hairstylists days after getting engaged, before their ring even has a chance to get settled on their finger, debating all of their wedding-day options. One bride asked her for a hair trial for her 2016 wedding already (one can only hope that she was joking).
So what is a reasonable time frame? "Hold your hair trial about three to two months in advance, and have several looks ready. The hairstyle you think you're going to want is not always the look that you actually end up with."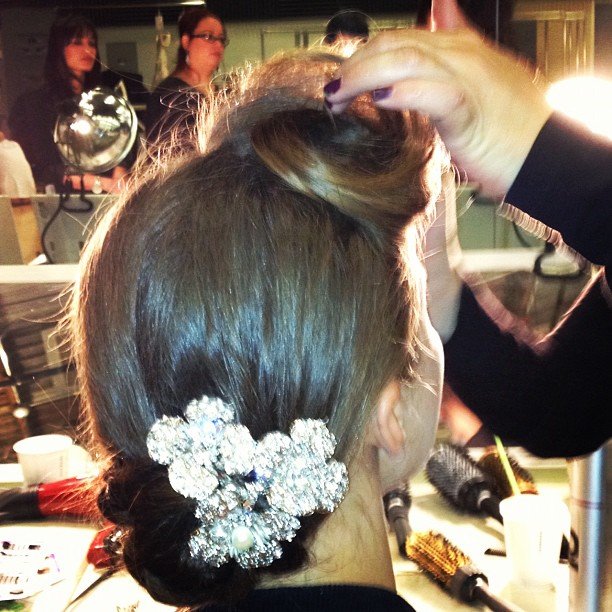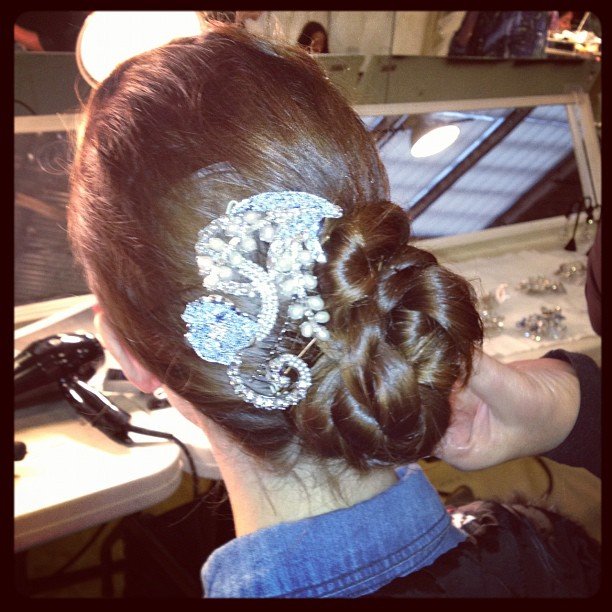 Ines di Santo is best known for her mermaid trumpet style, intricate draping, and dramatic details, which I learned firsthand when she designed my own gown for my wedding next September. Inspired by Venice's legendary "Carnivale" celebration, the 2013 styles exuded an Old World decadence, with names such as "Jacomina," Murano," "Lodovica," "Zaneta" and "Candidate."


Here are a few of my favorite looks from the collection, including three of the hottest trends we saw from many of the bridal shows this season: bejeweled bodices, elaborate ruffled skirts and illusion detailing. Stay tuned for a complete recap on the hottest gown trends for Spring/Summer 2013!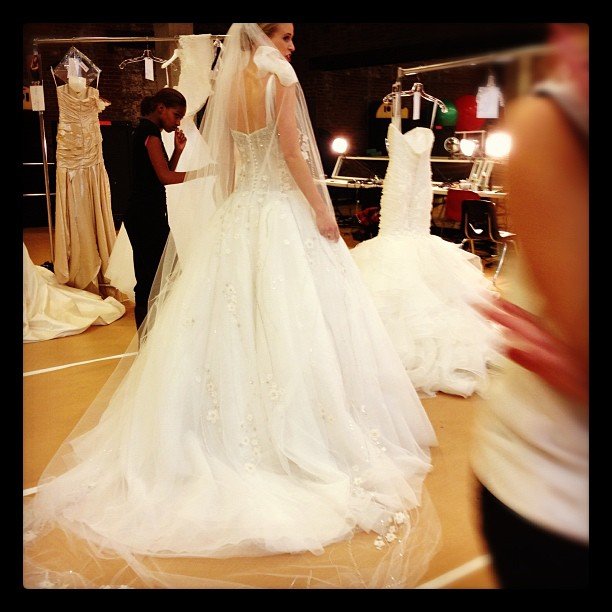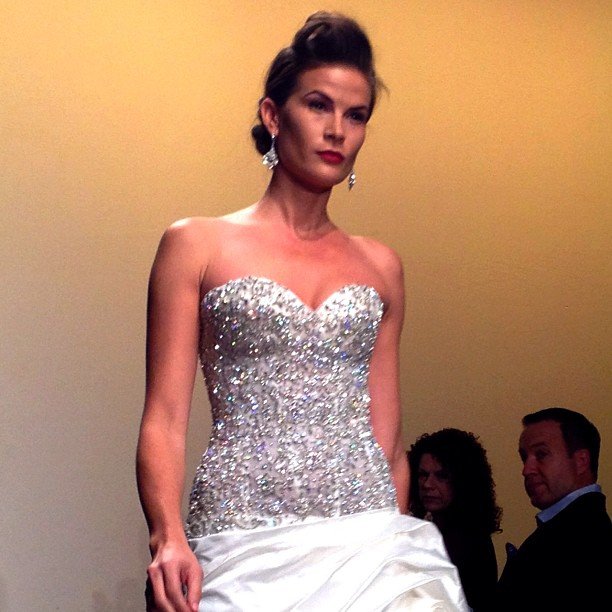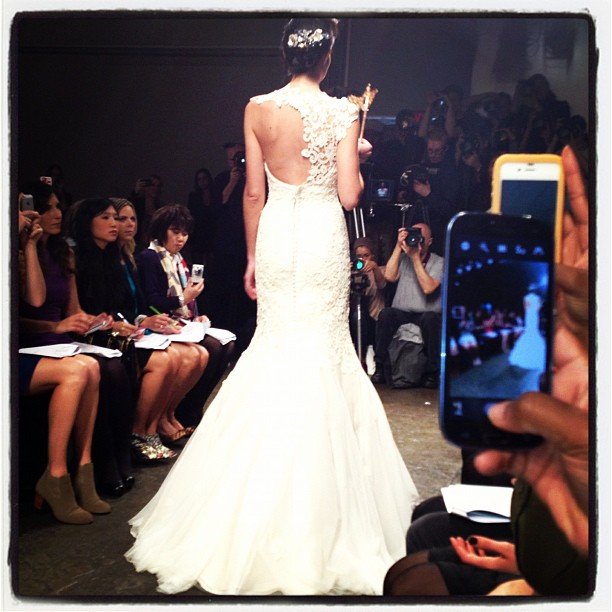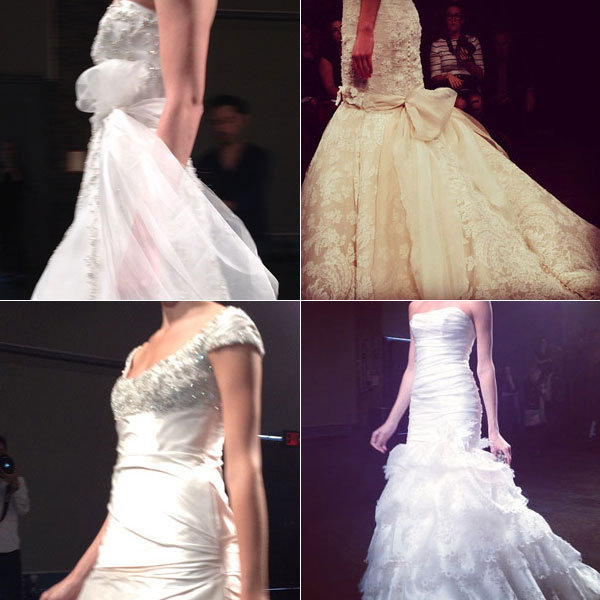 The fashion designer with her bevvy of beauties.
—Stefania Sainato