In the most highly anticipated wedding of the year, Angelina Jolie and Brad Pitt tied the knot on August 23. This week's People and Hello! magazines will be filled with exclusive photos and details from the intimate celebration. Here's what we know so far!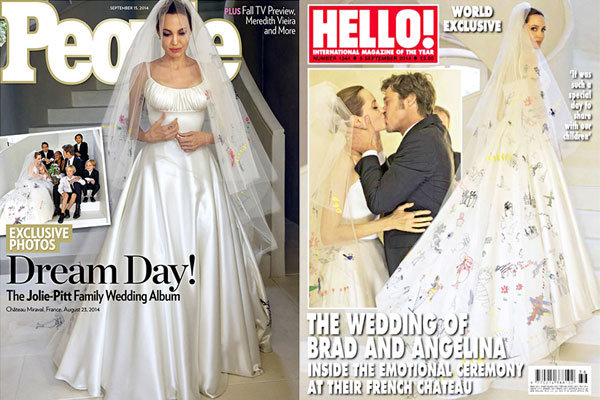 1. Just 20 people attended the wedding, which was held in the chapel of Chateau Miraval, the family's estate in France. Pitt's parents, brother, and sister, as well as Jolie's brother, all attended the wedding. Jolie's father, Jon Voight, reportedly did not.
2. The couple's six children all participated in the wedding ceremony. Maddox, 13, and Pax, 10, walked their mother down the aisle. Zahara, 9, and Vivienne, 6, tossed flower petals gathered from the garden. And Shiloh, 8, and Knox, 6, served as the ring bearers.
3. One of the ring bearers dropped a ring! No word on who was the guilty party, but Jolie told Hello!, "They all took it very seriously. Knox practiced carrying coins and acorns on his little pillow before he got the ring."
4. The couple certainly didn't splurge on ceremony music — Pitt and the guests hummed "Here Comes the Bride" as Jolie walked down the aisle.
5. When the newlyweds shared their first kiss as husband and wife, Shiloh buried her head in the ring pillow to keep from laughing out loud.
6. The kids helped write their parents' vows. "The children wrote vows and asked us to make promises to each other," Jolie told People. "It was very sweet what they came up with."
7. 10-year-old Pax is a budding baker — he made the couple's wedding cake.
8. Jolie's custom Versace gown and veil were embroidered with the kids' artwork. "I wanted the kids to be a part of everything including the dress, because that's our family," Jolie told Hello! "That represents the way we live out life together." 
9. Pitt wore his favorite black suit, but he forgot to pack one key element — a tie! He had to borrow from one of his sons.
10. The kids all chose their own outfits. Zahara wore a dress designed by family friend Adama Kebe. Maddox, Pax, and Knox wore black suits. Shiloh wore a suit that included shorts and a top hat, and Vivienne wore a white dress she already owned.
11. Jeweler Robert Procop, who designed Jolie's engagement ring, also designed the wedding bands. They reportedly chose simple gold rings.
12. The couple will be taking a working honeymoon — they're filming a movie together in Malta.
13. Pitt planned a special tribute to Jolie's late mother, Marcheline Bertrand, who died of ovarian cancer in 2007. To symbolize that she was there in spirit, he had a stone engraved with a dedication to Bertrand at the spot where they exchanged vows. Jolie and her brother wore jewelry that belonged to their mother: "I also wore a little flower ring that was hers, and Jamie wore an angel pin from her jewelry box," Jolie told People.
14. The dress was a surprise for Pitt. "Brad didn't see the dress until the moment of the wedding," Jolie told People.
15. Jolie stocked up on wedding magazines to help her plan the big day. Stars, they're just like us!
We'll share more details here as they emerge. Stay tuned!
—Kristen Klein