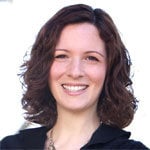 Guest blogger: Kate Harrison, creator of greenbrideguide.com.
After planning her own green wedding in 2007, Kate wrote the best-selling green wedding book, The Green Bride Guide: How to Plan an Earth-Friendly Wedding on Any Budget (Sourcebooks, 2008). In 2009, she founded greenbrideguide.com to help couples use their weddings to promote social and environmental change while supporting the local green economy. Kate has a JD in Environmental Law and a Master's from Yale in Environmental Policy.
When you picture a flower girl in your mind, it's typically an adorable little girl holding a bountiful basket of flowers, walking down a long wedding aisle. The flower girl's job is to throw petals or flowers and decorate the space for the bride. Although it may not seem so, there is a way to incorporate eco-friendly products into the flower girl's duty to help eliminate some unnecessary waste.
Fill your flower girl's basket with color-contrasting freeze-dried petals instead of fresh flowers. These beautiful accents are 100 percent natural, biodegradable and non-staining, making them the perfect flower basket alternative for your environmentally-conscious special day.

Photo Credit: Green Bride Guide
Instead of having your flower petals shipped from a land far, far away, consider an organic option or use locally-available flowers instead. For backyard soirees, pick wildflowers before the ceremony and place them in your flower girl's basket. This could be a great way to relieve a little stress before the ceremony and share a unique, fun activity with your flower girl!
During the wedding, the flower girl's basket is the centerpiece of her outfit. Using baskets made from all-natural or organic materials is a simple and eco-chic way to reduce the carbon footprint of your special day. Accent colors are a great way to make this accessory pop — for example, use an organic cotton bow or incorporate colorful shells to make the piece stand out.
Made from all natural materials, this willow-based flower girl basket features a 100-percent organic and unbleached cotton lining, complete with vintage recycled burlap:

Photo Credit: Green Bride Guide
Reuse this eco-friendly piece by bringing it home after the reception and using it for a picnic basket or part of your home décor. The possibilities are endless!
If your wedding is outdoors, invoke the very essence of nature by providing your flower girl with this 100-percent organic rustic wood basket. It's made with natural moss around the edge, with white wood roses accenting the front.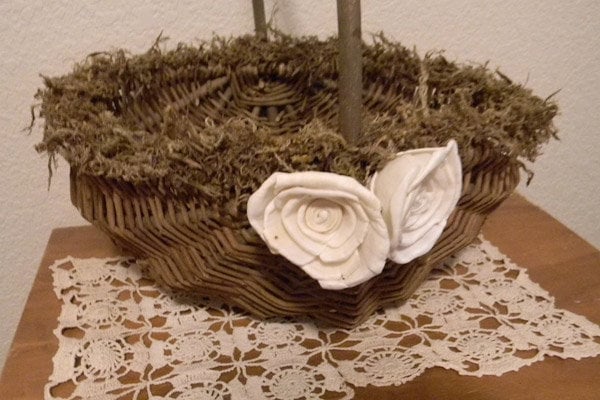 Photo Credit: Green Bride Guide
Other eco-friendly alternatives break tradition — some don't even involve baskets at all! For a classy shabby-chic look, have your girl use a small birdcage instead. After the ceremony, place it on the cake table for some rustic décor.

Photo courtesy of weddingstar.com
To keep it eco-friendly, use a vintage or second-hand piece and add your own finishing touches. This piece also makes a great souvenir after the wedding.
For beach-themed weddings, try using an extra large swirl-shaped shell filled to the brim with long-stem flowers or petals. This is the perfect highlighting accessory for weddings by the water.
A bird's nest could be the perfect rustic accessory for your country-themed wedding. Place petals inside the nest for your flower girl to toss across your aisle, or consider decorating the piece with other natural elements, like leaves or pine cones. This bird's nest ring pillow by Four Letter Fashion is made with fresh reindeer moss and is completely compostable.

Photo Credit: Green Bride Guide
—Kate Harrison, creator of greenbrideguide.com