Professional photographers are great for your timeless wedding photos, but what about capturing the big day from your guests' perspective? Toss out those dated disposable cameras and direct your attention to the hottest apps that will turn your reception into a fun and memorable photo shoot for your wedding guests.

Photo Credit: Marvelous Things Photography on Heart Love Weddings via Lover.ly
1. Wedding Snap
Since this innovative app's launch last year, over a million photos and videos have been shared in 15 countries worldwide. Wedding Snap instantly compiles guests' photos in an online album that can be viewed anywhere around the world in real time. Photos can be downloaded into multiple albums, each with a unique album code, for up to a year after the wedding. 
Tip: If the wedding is in a remote location with poor service, the Wedding Snap app automatically stores all photos and videos and instantly uploads them after the user returns to an area with better reception.
Cost: Free 
Rating: 10 out of 10. Wedding Snap is the ultimate photo sharing app. We love how Wedding Snap's high resolution photos are 10 times as clear as any Facebook upload. After taking a photo, guests can choose to apply one of seven fun filters that give the photo a whole new look. Brides have the ability to make albums private and invisible to others, and a live slideshow is also available for up to six hours during a couple's reception!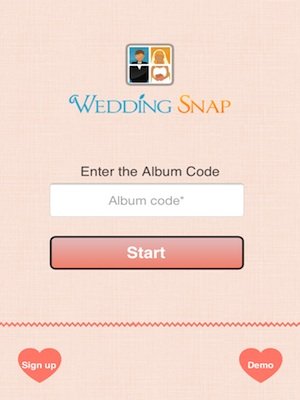 2. Wed Pics
This swoon-worthy app will capture your heart from the moment you view the adorable home screen. Brides can create a personalized dashboard with a wedding bio and cover photo, where guests can not only upload photos but can "love" and comment on the pictures as well!
Tip: The app offers lifetime hosting of all content, with an unlimited amount of photos. 

Cost: Free 

Rating: 10 out of 10. Wed Pics is much more than a photo sharing app; it's more like a social network exclusively dedicated to your wedding. The interactive dashboard, filters to personalize the look of each photo, and the app's instant push notifications take all of our favorite features from Facebook and Instagram and roll them into one super-app.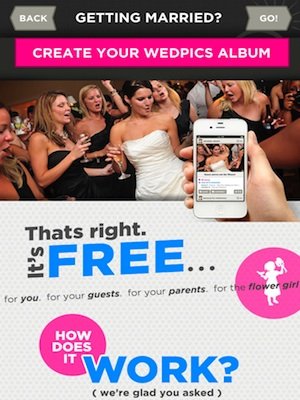 3. Wed Social
Get to the heart of the social side of a wedding with this app. We love that it was invented by a real engaged couple who wanted to create a completely customizable and interactive experience for brides and grooms everywhere. 
Tip: With this app, you'll never get lost on your way to a wedding again — the bride and groom will enter all of the event info and, with a tap of an app, you can get turn-by-turn directions to the venue through Wed Social's partnership with Google Maps.  
Cost: Free
Rating: 10 out of 10. There is so much more to this app than photo sharing; it truly is a digital storyteller. Features include bios of the couple, where they met, how he proposed, engagement photos, and pictures from pre-wedding events. There is also a section to introduce your bridal party. The funniest feature: Enter guest info to let your 'maids find the eligible bachelors! 

Here's a photo of the adorable couple who created the app: 
4. Wedding Party
Capture the funny candid moments at your wedding reception that a professional might miss with this app. It's easy to use, and you can even download and print free, customized information cards to put on your guests' tables so they can immediately join in on the fun!
Tip: The guestbook feature allows guests to share both photos and stories from the event. 

Cost: Free 
Rating: 9 out of 10. The app has a quick setup, enabling guests to view and share photos immediately. It's an efficent tool for brides because they can sync it to their My Wedding website. However, it lacks some of the fun features of other apps, like filters, slideshows and multiple albums. 

5. Guest Shots
If you are looking for a simple, no-frills way to round up your guests photos, this is the app for you. Guests simply enter the bride and groom's name and passcode and effortlessly upload every picture-perfect moment. 
Tip: Logging in with Facebook is preferred because it gives you the opportunity to edit photos on your computer and copy as many photos you want to your own Facebook album. 
Cost: Free for basic; $19.95 for premium features.
Rating: 7 out of 10 (free version); 9 out of 10 (paid version).The app itself is very basic, but if you are willing to pay the additional fee, Guest Shots' premium features are cool: You can upload photos taken by your professional photographer and combine them with your guests' candids to create a photo album or video. As compared to other companies who offer bound albums and full length wedding DVDs, their prices are much more affordable — with Guest Shots albums, you get more pages filled with memories for less money.
Tell us: Would you ask your guests to download any of these apps for your wedding?
—Mary Gillen and Kelly McDermott