In honor of the Royal Wedding, Disney Fairytale Weddings & Honeymoons along with Good Morning America selected a deserving couple from 2,500 entries for a regal wedding of their own. Houston-area couple Alexis Preston and Jay Patel were engaged at Walt Disney World Resort and dreamed of a storybook wedding, but due to flooding damages from Hurricane Harvey they had to cancel their nuptials.
The couple, who've known each other since 2007, started planning their big day last summer, and they even considered hosting it at Disney World. After looking into pricing, they quickly realized it was out of their budget and decided to plan a December church wedding with a brunch reception close to their home in Houston. That was until Hurricane Harvey hit Texas in August, destroying their home and car, and consequently halting all wedding plans.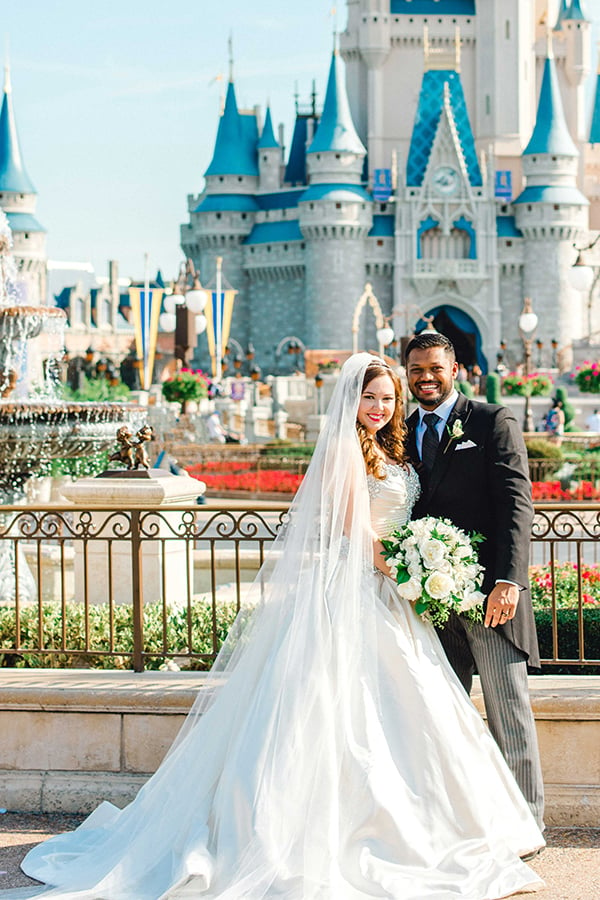 On May 2, Alexis and Jay were told on Good Morning America that they were the winners of a wedding in Walt Disney World. Just one week later on May 10, the couple's dream wedding came true right in the shadow of Cinderella's Castle in Magic Kingdom. As if that weren't enough, just like Prince Harry and Meghan Markle's impending televised nuptials, the ceremony was broadcast live on Good Morning America.
The couple's real-life fairytale wedding included fantasy details such as heralding trumpeters, a Cinderella's glass coach arrival, a designer wedding dress from Kleinfeld in NYC, British-style fascinators for their guests, and an awe-inspiring confetti canon blast as they had their first kiss as husband and wife. 
Alexis and Jay who visit Disney roughly every other year were clearly the perfect pick for a regal Disney affair. "If I'm not watching Disney movies, I'm watching documentaries on the royal family," she admits. "That is literally the only two things that if I'm on Netflix I'm watching," they told People. 
To top it all off, the couple also received a honeymoon to England and France, and are looking forward to visiting Disneyland Paris and Buckingham Palace. Who knows, maybe they will even have a sighting of the new Duke and Duchess of Sussex. 
—Mary Gillen