Football player Chad Ochocinco is quite the catch. The Miami Dolphins wide receiver got married yesterday to his girlfriend of two years, Evelyn Lozada, while documenting his thoughts as they occurred for the last 36 hours.  
Not all of his 3.5 million-plus Twitter followers enjoyed the constant stream of tweets. But Ochocinco had reasons for his actions.
Despite complaining that he didn't "recall sending the butterflies in my stomach an invite," the 44-year-old said he's encountered worse nerves before.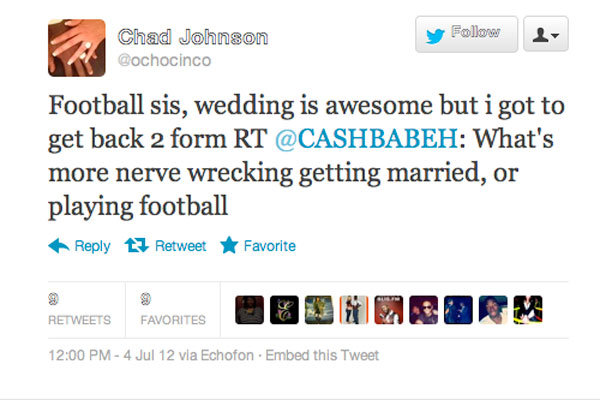 While Ochocinco's thoughts continued to wander, he made sure everyone at home knew that he looked good throughout the day's events. He added that his shoes of the day were "personal red carpets," a.k.a Christian Louboutins. 
But his good looks only served as a temporary distraction from the situation at hand.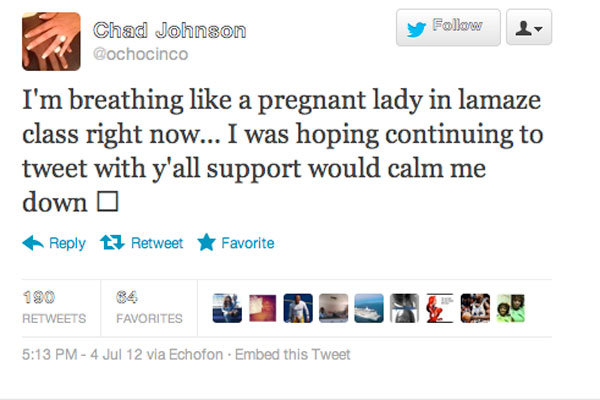 To be fair, he did draw the scrimmage line somewhere.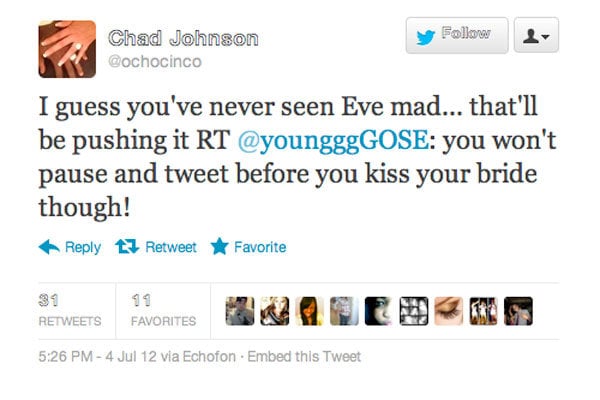 After the ceremony, Ochocinco took to Twitter once again to discuss his wife's attire.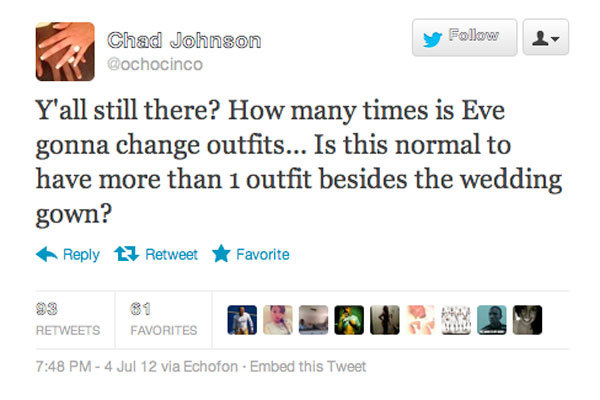 He eventually took a 6-hour break from tweeting, leaving us anxious to hear how the rest of the night unfolded.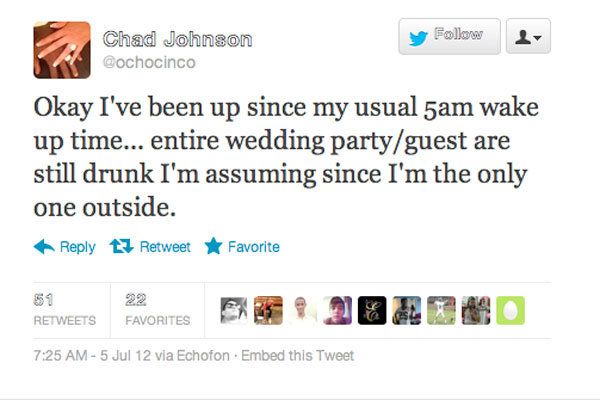 And as followers questioned why he was taking to his phone instead of his wife, the football player explained:
We have to admit, we enjoyed witnessing Ochocinco's live-tweeted wedding. It was almost romantic how nervous he was. And according to a recent survey by David's Bridal, he's not the first nor the last to post instant updates from under the altar. 
66% of brides admit that social media was, or will be, part of their wedding-day celebration. And almost half admit they plan to update their Facebook status to "married" between the ceremony and the reception.
We wonder how all of the grooms feel about this!
Tell us: What do you think about Ochocinco's live tweeting? Will you be updating your Facebook and Twitter during your wedding? 
— Paulette Safdieh