Getting engaged is amazing, and as you begin to plan your wedding you can be so full of love that you want the entire world to attend your event. While you may want to invite the entire world, venue space and your budget will most likely impose the need to limit your guest list to a specific number of people. Thus the guest list dilemma begins. Below are six tips to help you decide who should share in your special day.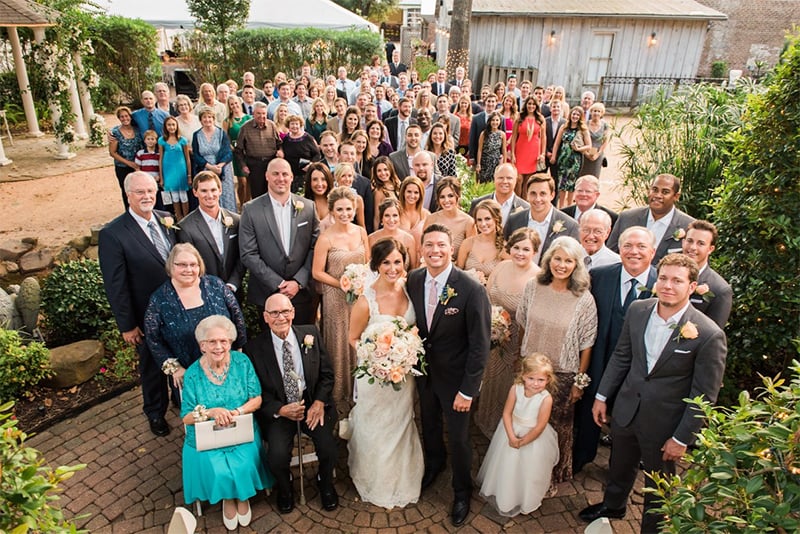 Photo Credit: Nate Messarra
1. Crunch the Numbers
One way to begin creating your guest list is to make a list of all of the family members, friends and business associates you would like to have at your wedding. Tally that number to get a broad sense of the number of potential guests.
2. Plus One
If you're inviting single friends and family, you will need to decide if they can bring a date to your wedding. This is a huge factor in your guest list size. You can decide on a hard line of no dates unless you're married, or loosen up and allow guests who are engaged or who have been together over X number of years to bring their significant others.
3. The Parent Factor
Keep in mind that if your parents are helping fund your wedding, they will have a list of guests that they want to invite (hello golf buddies and neighbors).  If you anticipate a lengthy list of folks you're fiancé has never met, you can allocate 10 or 20 invitations for each of your parents, so they edit their lists before you have to downsize yours.
4. Colleagues
Inviting your respective bosses and work associates is another large factor in the size of your guest list. If you invite one of your colleagues, you then have to invite all of the others or risk office drama. This is a personal decision and how long you've worked at your place of employment and how closely your social life is tied to your career become factors.  Keep in mind that weddings bring out the very best and very worst in people...and you may not want everyone you work with watching your drunken Great Aunt Hilda cha-cha.
5. Making the Cut
What do you do when you can't invite everyone you want at your wedding? One of the best pieces of wedding wisdom imparted to me as a bride was "The people at your wedding should be the ones who will support your relationship and marriage throughout your life." Using that wisdom as a lens is incredibly helpful when making your wedding guest list. It makes it easier to cross off a few of your friends who are fun but will probably never support themselves, much less your marriage.
6. The "B List"
If there are a handful of guests that you can't include in your original invitation list, consider making a "B list" to whom you can mail invitations to as you receive negative RSVPs.  This option gives you a little wiggle room on your list, but try to send your "B list" invites as soon as you can to avoid hurt feelings (as no one wants to know that they're on the "B list").
Hopefully knowing these factors before you begin making your guest list helps you avoid headaches and hurt feelings within your relationship, family and group of friends. Wedding planning should be fun, not stressful and try to keep that in mind as you make decisions about your big day.
—Danielle Tate
As a successful entrepreneur, Danielle is a name change expert, on-camera personality, writer, author of a top rated Google newlywed blog and a bridal magazine contributor. It was a 13-hour struggle to change her name after getting married in 2005 that prompted Danielle to leave her medical sales career to develop and launch MissNowMrs.com. Wanting to save other brides countless hours of hassle, Danielle researched name-changing laws and rules in all 50 states to streamline and implemented her unique three-step, 30-minute online service. She is also the founder of MarriedNameGame.com, the original proprietary name change algorithm to determine your ideal married name, and GetYourNameBack.com, an online service dedicated to helping women get their name back after divorce.