In honor of Bella and Edward's wedding, the BG editors found two swoon-worthy photo shoots that would earn the approval of both human Bella and her vampire counterpart.
1. If Your Twilight Style is Rustic & Ethereal...
The first tablescape was a collaboration between wedding planners Lina Wallace at A Stunning Affair and Heather Ham (Events by Heather Ham).  Their interpretation is very true to the book: "We've seen other inspirations that are very gothic and dark using reds and blacks, but we wanted to show our interpretation of what their wedding would really look like," said the event design duo.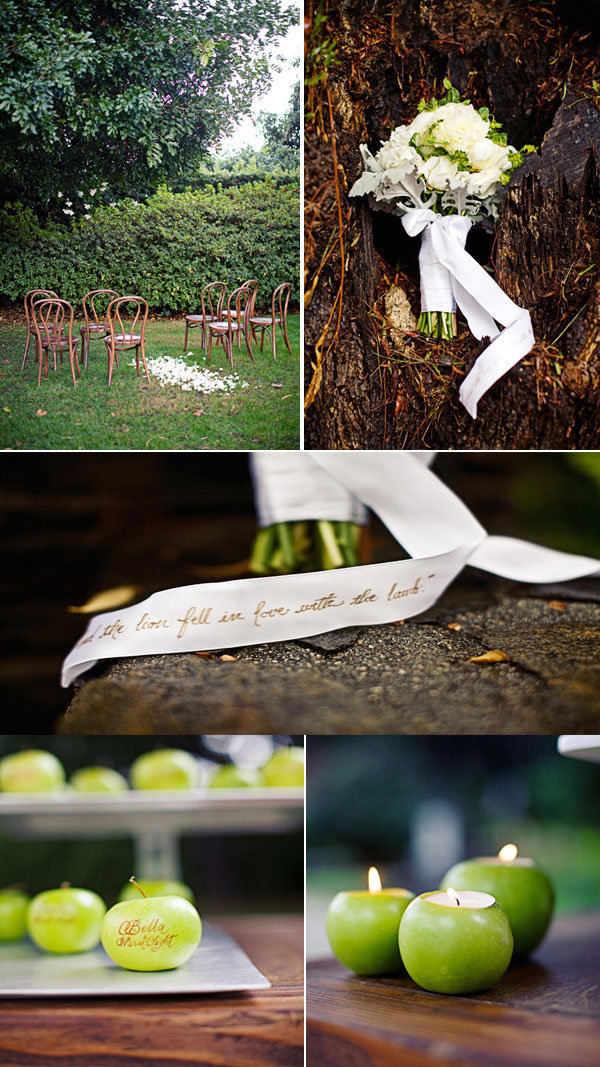 For the bouquet they used peonies, roses, lisianthus, dusty miller, and bluporum. The arrangement was tied with a simple white ribbon, inscribed with the famous Twilight quote: "so the lion fell in love with the lamb" by Calligraphy Katrina. Another fun idea is to incorporate your favorite Twilight saying into your ceremony program or even stitch it into the inside of your wedding dress or the back of the groom's tie.
The apples are inspired by the first cover in the saga. You can use them as place cards, hollow them out to make eye-catching candles or even spray paint them silver or gold (pictured below, scroll down) for instant décor.
The main tablescape incorporates only all-white flowers (roses, lisianthus, and hydrangea) as well as some greenery (dusty miller, bluporum and a few succulents), which is true to the novel. Bella is stunned when she walks down the aisle and witnesses the floral setup that Alice has planned for her: "I was distracted by the profusion of white blossoms that hung in garlands from everything in the room that wasn't alive, dripping with long lines of white gossamer ribbons." Don't these photos have the same effect on you, too?
The menus have each guest's name (including Bella, Edward, Alice, Emmett, Esme, Carlisle, Rosalie and Jasper) tied with a chocolate brown satin ribbon and finished off with a crystal brooch.
The lace table runner is from Sashes for Love and you can rent the furniture, tableware and candelabras at Classic Party Rentals.
Floating rose heads and suspended crystals are simple touches that add romantic impact to your ceremony. Make your grand entrance to Wagner's traditional march and replace the words "till death do us part" with "as long as we both shall live" in your vows, like Bella and Edward did.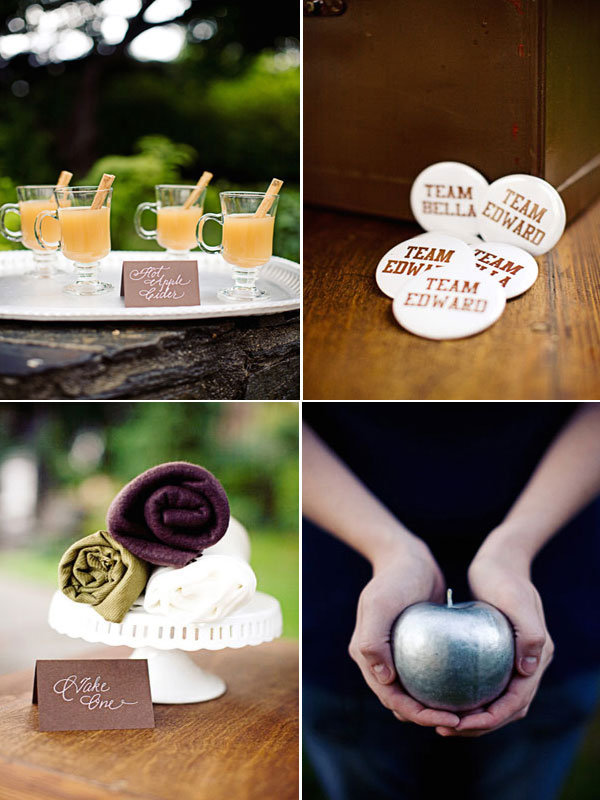 Guests would get a chuckle out of these "Team Edward" and "Team Bella" pin favors. You could also try handing out mini trees or elegant pashmina wraps. Don't forget your signature drink: apple-flavored, of course!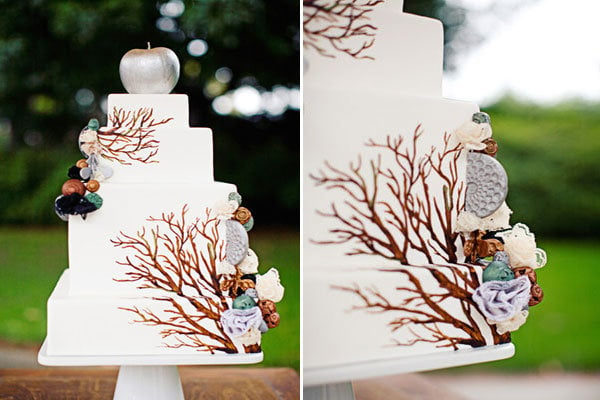 This wedding cake is ideal for autumnal brides who want to emulate the woodsy feel of Forks.
Vendors:
2. If Your Twilight Style is Dramatic & Glam...
Our second drop-dead stunning scene was shot by photographer Lindsey Tropf, who tells us that "due to a slight obsession" the team at Unique Designs (a custom invitation and stationery studio) created a Twilight wedding invitation, which then morphed into a full-concept design.
"The intent was not to replicate Bella and Edward's wedding, which was actually an Anne of Green Gables dress and was filled with white flowers, but to make another wedding style based on the mood and concept of Twilight," said Lindsey.
They incorporated Edward's personality through bold flowers, reds, and feathers. Bella is more understated, so she would appreciate the creams, vintage brooches, and antique lace shown here. 
This white-and-black combo is timeless and will last an eternity.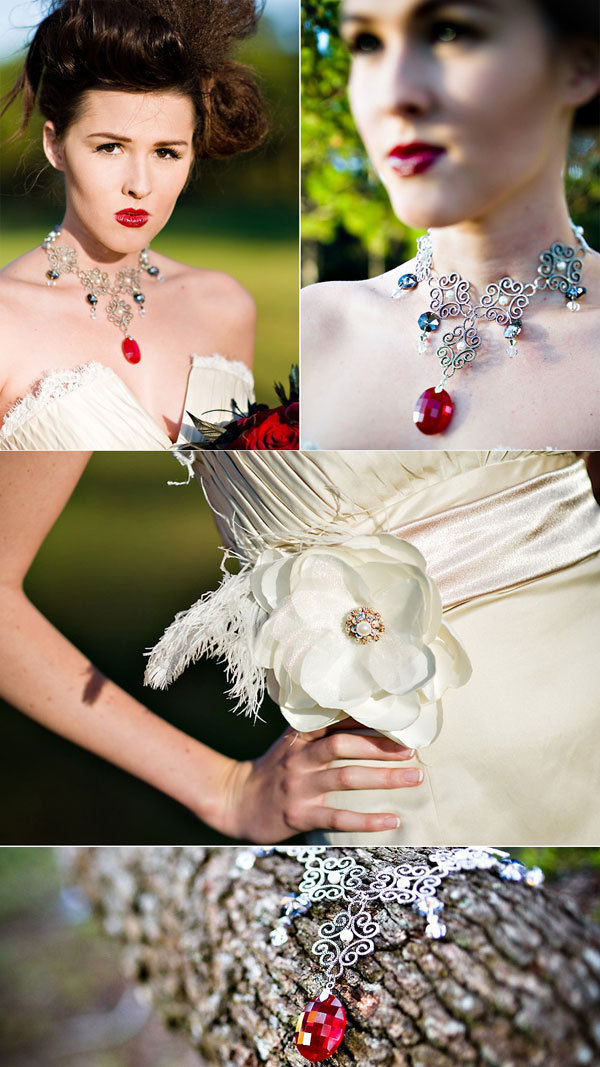 Stephenie Meyers says that Bella's wedding dress is loosely inspired from the 1700s. It is made out of satin, features a long line of pearl buttons on the back and features a sizeable train: "Maneuvering the Cullins' staircase in heels and a train sounded impossible. I should have practiced... The narrow sheath of the shimmering white dress flared out subtly at the train almost like an inverted calla lilly, cut so skillfully that her body looked elegant and graceful."
When it comes to accessories, try adding a vintage necklace, subtly placed flower and ruby-red lipstick to make a statement. If you're more of a traditionalist, like human Bella, try hair combs with sapphires, her "something blue." Twist your hair into a braided updo, as shown.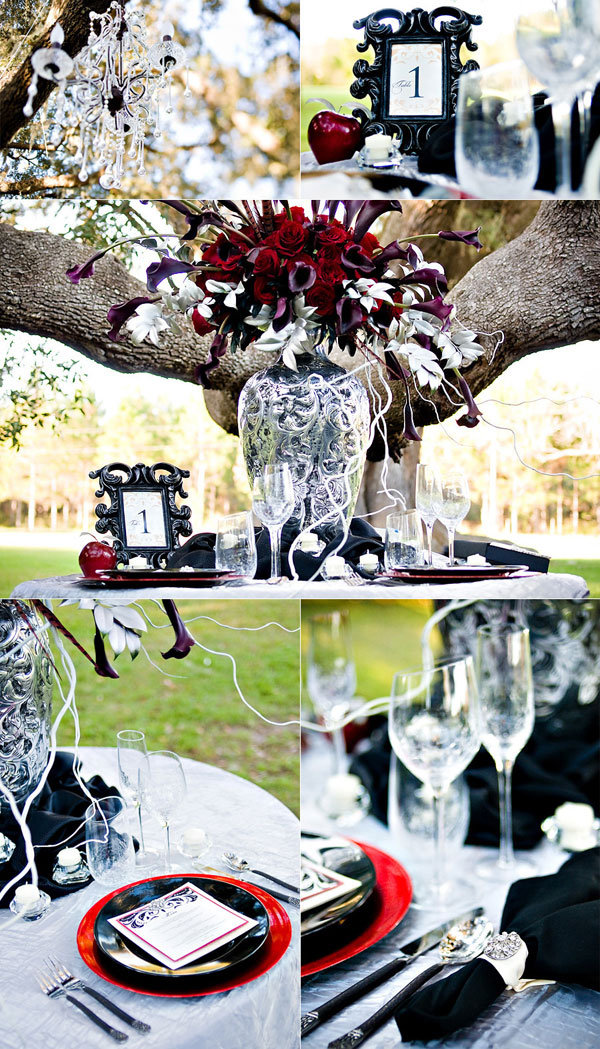 Balance textures to avoid coming on too goth; airy chandeliers and a white tablecloth are the perfect complements to darkly saturated dishes and flowers.
Guests will suspend disbelief when they see this high-flying cake. Smoosh it in your groom's face, per tradition, like Edward gamely did in the Breaking Dawn novel.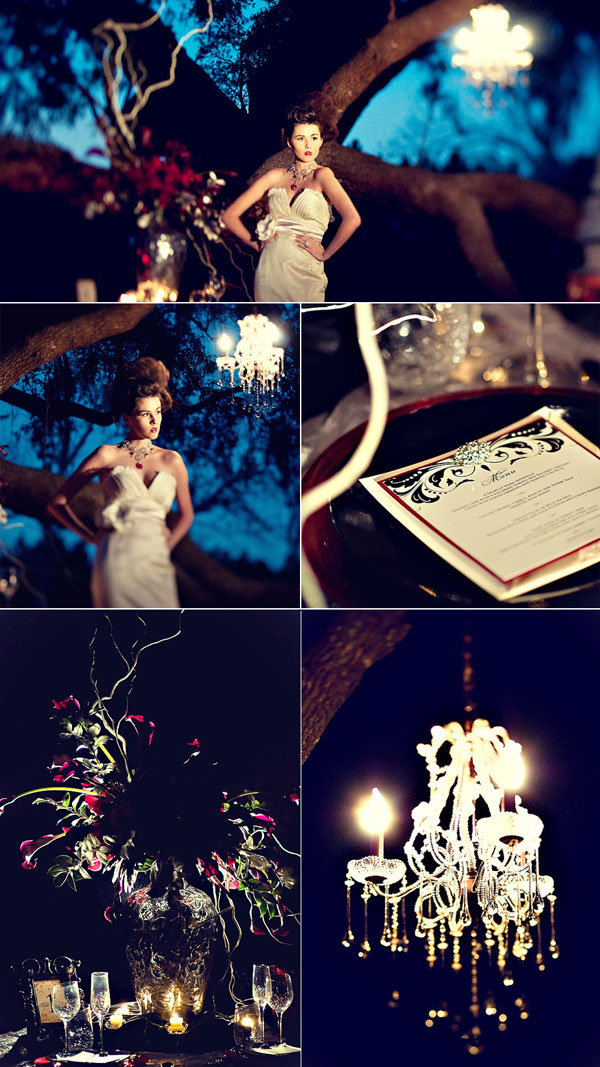 Ooh la la—hosting your reception at twilight gives off a totally different vibe than a daytime bash. 
Vendors: