Jennifer Doncsecz, an expert on planning destination weddings, has been President and Owner of VIP Vacations Inc. since 1992 and has nearly 20 years of travel agent experience. She regularly appears as a travel expert on Fox Philadelphia's "Good Day" and on PBS Tempo, and she has also appeared on The Travel Channel, CNN, and RCN. Jennifer is a passionate advocate for using a travel agent and has been a speaker at many national travel conventions, including The New York Times Travel Show, and Travel Weekly's conferences.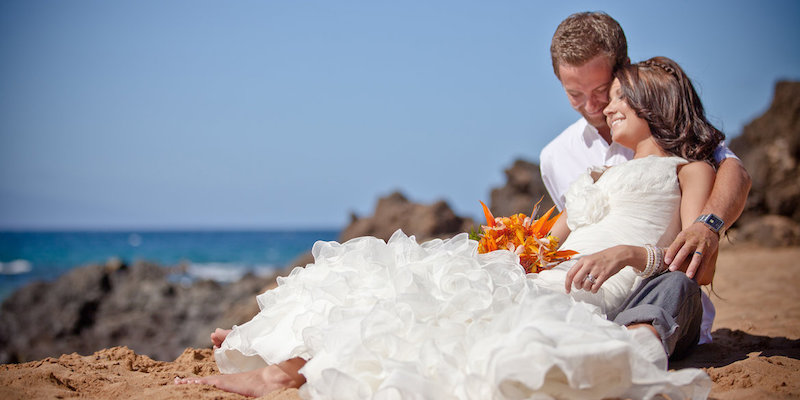 Photo Credit: Meg Courtney Photography 
Ever hear the expression, "There are two kinds of luggage....carry-on and lost"? Unfortunately, putting your wedding dress in your checked suitcase and hoping for the best is like playing Russian Roulette. The smarter option is to carry it on with you in a garment bag (either use the one it came in or purchase a heavy-duty bag).
Once you get on the plane, gently fold your garment bag in half and place it in the overhead bin. Some people may tell you to hang it in the first class closet, but that's rarely done. Besides, the closet is only four feet high, so you'd have to stuff it in.
You run the same risk with virtually everything you pack in checked luggage. The best plan of attack is to make sure the groom's clothing, the wedding bands, your legal documentation, veil, jewelry, and anything essential for your wedding day is in your carry-on luggage.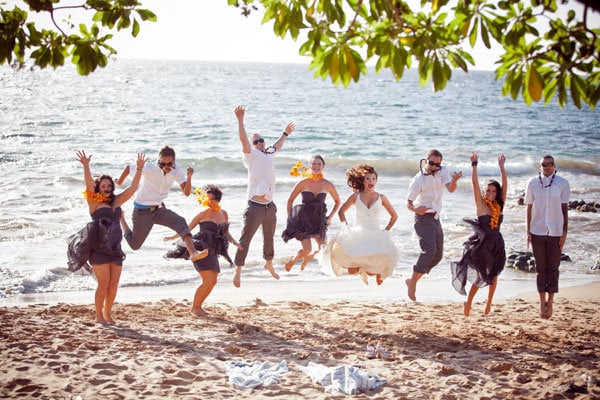 Photo Credit: Meg Courtney Photography 
Don't forget that you can't carry on any liquids or makeup larger than 3 ounces in size or you risk having security simply toss out your items.
On most airlines, a garment bag is considered to be your one allotted carry-on bag. Check your airline's website for specifics. In my experience, most security guards will not give you a hard time if you're carrying a small rolling suitcase and a garment bag, but we recommend packing your essentials into one suitcase that you and your soon-to-be can share, just in case.
Remember that whatever you bring has to fit above you in the overhead bin or under the seat in front of you. When you arrive at the airline gate, inform the attendant that you're traveling for your wedding and ask if there's any way that you could board early to assure that there will be space in the overhead bin for your gown. Normally, everyone seems to smile when they know you are boarding a plane with your wedding dress. Flight attendants tend to be more helpful, passengers seem to bend over backwards to accommodate a bride, and many times, the crew even announces your arrival once you land and offer their congratulations.
As you are maneuvering through the airport on your way to your destination, keep in mind that you can pack everything in your checked luggage for your return flight home. But if you are having a wedding outside of the US, remember that flowers and fruit can't be packed in your checked luggage (sadly, you can't bring your bouquet home).
—​Jennifer Doncsecz