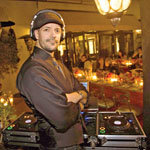 Guest Blogger: DJ Lee: Influenced by the diverse and funk grooves of what later became known as the "Minneapolis Sound," Lee began looking for a way to express his own creativity and passion for music and found his way to a pair of turntables. Lee hit the LA club scene in 2001 and has been playing some of the hottest venues in town ever since. He holds weekly residences at many of Hollywood's top clubs, is the official DJ for Mercedes-Benz fashion week, and has been featured in several Vegas DJ showcases. He is frequently booked to spin private events, weddings and wrap parties for some of Hollywood's elite. His ability to read a crowd and program his sets accordingly is second to none and has made him one of Southern California's most in-demand jocks. 

Photo Credit: Ace Photography
Happy Halloween! Whether you're planning a Halloween wedding or just want some spooky background music to play as the trick-or-treaters arrive, DJ Lee has curated the perfect Spotify playlist with more than five hours of bewitching music to get you in the holiday spirit.