In The Emily Post Institute's latest book, Emily Post's Wedding Etiquette: 6th Edition, Emily's great-great-granddaughters Anna and Lizzie Post tackle modern-day wedding questions that the original etiquette expert never could've dreamed about, from how to use (wisely) use technology, the rules for same-sex weddings, and much more. Here, the fourth generation of Posts tackle your biggest wedding guest problems.

Photo Credit: Matt Andrews Photography
As tricky as it can be to craft your guest list, you will need to use tact and diplomacy to deal with sticky guest situations after you mail your invitations, too. Here are some common dilemmas and suggestions for dealing with them:
It's three weeks before the wedding and I haven't heard from a number of our guests.
Pick up your phone pronto! It's perfectly okay to call and ask (politely, of course) each tardy guest for a reply: "We hope you received our wedding invitation for the 24th and that you can join us." If you get voice mail, add a time by which you need to hear back. No matter what reply method you requested on your invitation, or how simple you tried to make it for guests to respond, failure to RSVP is epidemic. As annoying as it is, resist the urge to chew out the invitee — nothing will be gained. Stay focused on your goal: You want this guest at your wedding. So be as gracious as you can and consider this part and parcel of normal wedding planning.
A couple just replied and noted that they are bringing their child and au pair, neither of whom we invited.
This couple may not be the last to respond that they're bringing the kids, so it's good to work out a script to cover this eventuality. Your goal is to clear things up firmly and quickly, as the longer you wait, the more awkward the situation becomes. You, or the wedding hosts, should speak to the couple personally — this conversation is too sensitive for email. Make a big effort to overlook their cluelessness. In a calm, friendly tone, stick to the facts: "We're delighted you can join us at our wedding, but there seems to be a mixup since your response card includes the names of your daughter and au pair. We're sorry we can't accommodate any extras — our guest list is very tight. We hope you and Jeff understand and can still attend." Be prepared for any possible reply. They might graciously accept the reality (phew!) or they might become huffy and even try to bully you into inviting their child. Take a deep breath, and continue: "I know Suzie is a peach, but we can't make an exception. It wouldn't be fair to other guests who also have kids." It's important on your end not to make any exceptions for exactly this reason. Some may take the ultimate umbrage and threaten not to come at all. So be it — the rudeness is theirs, not yours. "Sorry it doesn't work for you; I know it can be hard to leave one's kids at home."

Photo Credit: Studio Cabrelli
A single friend replied that he's bringing an uninvited plus-one.
This one can be tough to deal with as well. See if you can get a little background info through a mutual friend. "Is Mark in a serious relationship?" If he is, you might try to accommodate his guest, even though he was wrong to include her. Usually, you invite people in a serious relationship as a couple. When it's news to you that a guest is now in that relationship, do what you can to include his or her partner. If that's not the case, and you really don't have the room, call him and have a conversation: "Mark, I'm so glad you can come to our wedding, but I'm afraid our list is tight and as much as we would have loved to give all our single friends a plus-one, we just couldn't." Use an approach similar to the one above in the extra child situation.
A guest calls and changes a no to a yes at the last minute.
Just when you had your guest list finalized! Do your best to accommodate your guest — after all, he was on your list. Most caterers keep the head count open up to seventy-two hours ahead of the event. Even if the list is closed, adding one more guest probably isn't a big deal. If there's absolutely no way he, or a couple, can fit, then do your best to let him know gently: "Oh, Sam, what rotten timing. We would love to have you with us, but I'm afraid the caterer has closed the list. I'll give you a call soon after the wedding so we can get together."
A guest responds with a note, "BTW, I'm a vegan." 
You don't have to create a special meal, but check in with the caterer to see what menu items will be suitable, or if any simple adaptations can be made — say, using vegetable instead of chicken broth. I wouldn't worry too much about it. People on restrictive diets know how to work their way around a meal or buffet that wasn't planned with their needs in mind. You can always give your friend a heads-up about your planned menu.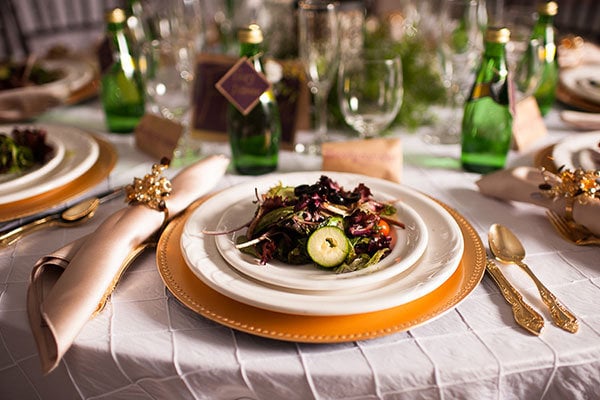 Photo Credit: Laura Yang Photography on Every Last Detail via Lover.ly
An uninvited guest shows up at the wedding.
Ah, the wedding casher. Don't let it ruin your day. Have a plan in mind for handling this situation well before your wedding so you don't have to expend any mental energy dealing with it. Assign a groomsman and instruct him on how to proceed. When the crasher is someone you know, options include trying to make accommodations or politely asking the person to leave — trickier because it could cause a scene. If the crasher is a complete stranger, the groomsman should contact the venue manager who should be able to have the person removed, hopefully without much fuss.
—Anna Post and Lizzie Post, as seen in Emily Post's Wedding Etiquette: 6th Edition. Published with permission from It Books/HarperColilns Publishers. © 2014 The Emily Post Institute.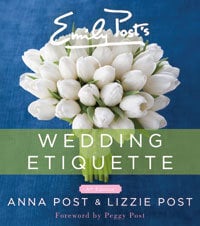 The Emily Post Institute has been answering etiquette questions for more than ninety years, and Emily Post's Wedding Etiquette, 6th Edition, written by Emily's great-great-granddaughters, Anna Post and Lizzie Post, will provide you with everything you need to know from past traditions to modern updates so you can approach your wedding with grace and ease.