Recently I had the honor of being on the judging panel for the 7th annual bridal gown design competition from New York City's High School of Fashion Industries (HSFI) in partnership with Kleinfeld Bridal. The incredibly talented students, all from the junior class, created beautiful gowns that highlighted their creativity and design skills.
Several months ago, the students were asked to create mood boards illustrating their design concept. From 60 boards, five were chosen as finalists. With fabric provided by designer and fellow judge Madeline Gardner of Mori Lee and under the supervision of their instructor, Stephanie Balmir, the students brought their visions to life. Other students joined in to assist the finalists making it a wonderful team effort.
Here, the five finalists' mood boards: 
1. Bride's Blessing
Wu Qian Ye designed a strapless fit 'n' flare gown with a "something blue" detachable tulle belt and flared skirt.
2. Raining Jewels
This mood board from Tammy Leong featured a dress "inspired by rain and the way it flows." Beads and sequins accented the V-neck bodice and layers of blush-hued tulle defined the skirt. 
3. Mystical Garden Bloom
Amanda Santos illustrated a bridal look that "can bring glamour, but comfort as well." Amanda was inspired by spring, especially peonies and her pant look with side-skirt "represents innocence but it also gives off a flirtatious aura." 
4. Enchanted Garden
Victoria Rivera was also inspired by nature and her off-the-shoulder illusion bodice gown with a ballgown skirt was detailed with lush, 3-D blooms. 
5. Timelessly Modern
Windy Dias was "inspired by the 21st-century woman who has a modern aesthetic but wants to maintain a classic and timeless look." Her satin column dress featured a detachable skirt with train providing a two-looks-in-one option.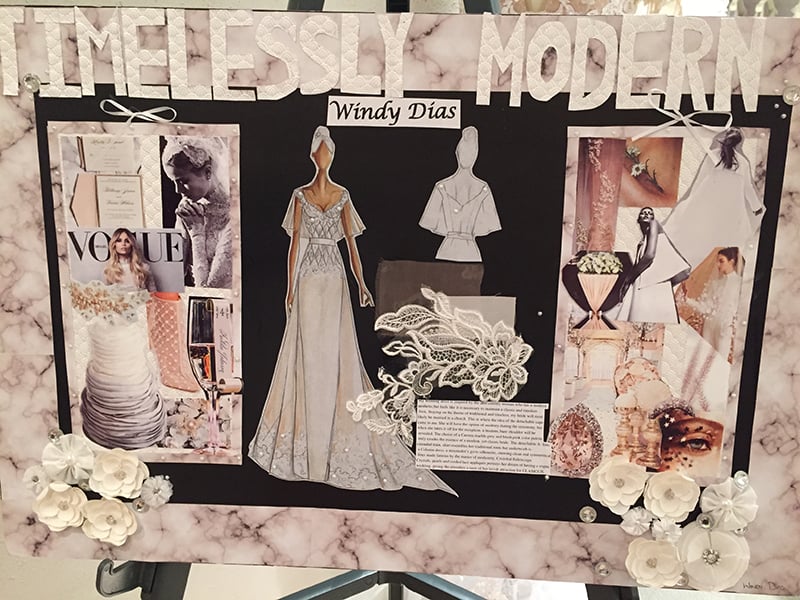 I have to say that the students were spot-on with current bridal trends: Color, illusion, off-the-shoulder bodices, short sleeves, 3-D flowers and detachable skirts and belts were all designer favorites on the latest bridal runways. 
From left "Raining Jewels", "Mystical Garden Bloom" "Timelessly Modern" "Enchanted Garden" and "Brides Blessing" 
And here with HSFI Principal, Daryl Blank, far left, Mara Urshel, center, and Robert di Mauro, far right. The winner is…
"Timelessly Modern" the white column dress with a detachable skirt that was designed and modeled by Windy Dias, center. The talented runners-up pose with their designs along with Daryl Blank, Mara Urshel, Robert di Mauro and instructor Stephanie Balmir, back row, right.
Kudos to all of the students for their outstanding vision and creativity and to my fellow judges, Stephanie Simon from NY1; Marilyn Kirschner, Editor in Chief, Look On Line; Freddie Leiba, New York Fashion Stylist & Creative Director; Madeline Gardner, Mori Lee Bridal; Robert di Mauro; Mara Urshel; and Jennette Kruszka, Director of Marketing & PR at Kleinfeld.
A special thank-you to HSFI Patron, Multimedia personality and Lifestyle Commentator, Robert di Mauro, who created the Industry Partnership Program and dedicated it to his father, Thomas Gaetano di Mauro (who had attended the high school) and to Kleinfeld co-owner, Mara Urshel who mentors and encourages the students every year. Their enthusiasm and dedication to the project provides invaluable opportunities for these young talents.
It was a joy to be a part of this incredible program and to know that the future of bridal fashion design is in good hands!
—Diane Forden