Whether you're seeking the ultimate destination for your honeymoon or wedding away, or you simply want to celebrate your love in a tropical locale, Aruba offers an authentic Caribbean vibe perfectly paired with powdery white sands and sunshine-filled days. It boasts a desirable location outside the hurricane belt, and visitors can expect idyllic warm weather and tranquil cooling breezes year-round. 
There's so much to explore on the One Happy Island for couples and groups alike. Here, we share some can't-miss options we experienced on a recent visit.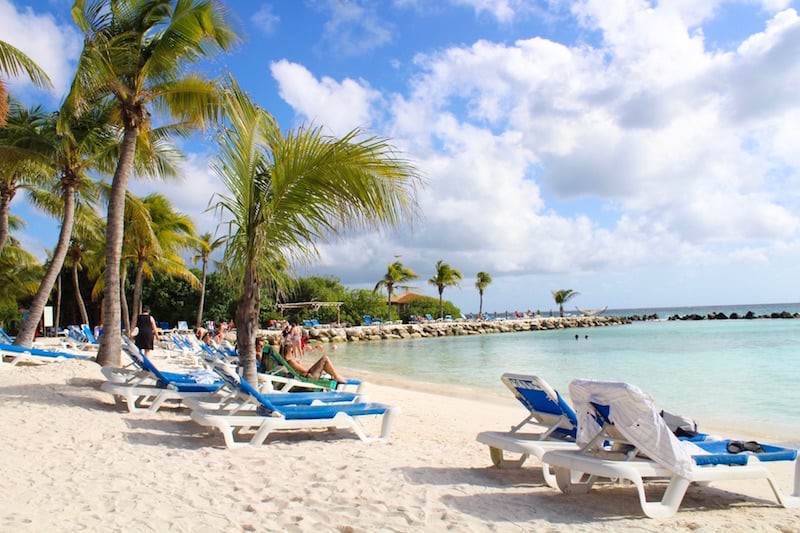 Where to Stay
The Renaissance Aruba Resort & Casino is conveniently situated in the cruise port near downtown Oranjestad, so you can easily get around to points of interest. Plus, it's only a short drive from the airport, which allows for a quick arrival and extra time before you depart. The resort is comprised of the adults-only Renaissance Marina Hotel, which features sleek accommodations with French balconies and marina, ocean and pool views; and the Renaissance Ocean Suites, which is ideal for families and groups seeking a little more space and residence-style amenities. Other facilities include three pools, two casinos, several dining options, a full-service spa and more.
This is the only resort in Aruba that has its own private island where you can relax on one of two exclusive beaches; Flamingo Beach is for adults only -- and yes, it is populated with Flamingos! It also provides a unique location for a memorable beach wedding. The family-friendly Iguana Beach is where you're likely to see iguanas basking in the sun. Complimentary water taxis pick up at the resort every 15 minutes. 
What to Do
Your Aruba romantic getaway can be as busy or as laid-back as you'd like. There also is plenty to please destination wedding guests. Explorers can schedule a number of land and water activities with De Palm Tours, such as an adventurous UTV tour of the "awe-thentic" Cove Coast. You'll drive at high speed through the desert, stop to see some of the most iconic sites, like the Natural Bridge and California Lighthouse, and let loose with your love, family and friends.
Or, opt for a snorkel sail available from many operators such as the Tranquilo. Snorkel in the Spanish Lagoon, see amazing coral formations, and kick back and enjoy unparalleled surroundings, seaside cocktails and lunch, often made by the captain himself.
Where to Eat
No one can fully enjoy Aruba without indulging in the vibrant food scene and local cuisine. With seemingly endless dining options, you won't want to miss these island favorites. Yemanja Woodfire Grill is known as one of Aruba's best restaurants for its meals that blend Caribbean flavor with European style. If you're a destination bride seeking a venue for your rehearsal dinner or other pre-wedding event, Quinta del Carmen offers an inviting, open-air space with historic appeal. You and your loved ones can delight in Aruban fare and sip on the Quinta Royal, a signature cocktail featuring fresh strawberries, strawberry liqueur and champagne.
Certainly, your visit to Aruba would not be complete without dinner on the beach where you can kick off your sandals and sink your toes in the sand. Barefoot Restaurant is a local go-to for an elegant dinner of fresh seafood. If you're up for an uber-romantic meal, head to Screaming Eagle Restaurant where you can dine in a bed (yes, a bed!). It's definitely a once-in-a-lifetime experience.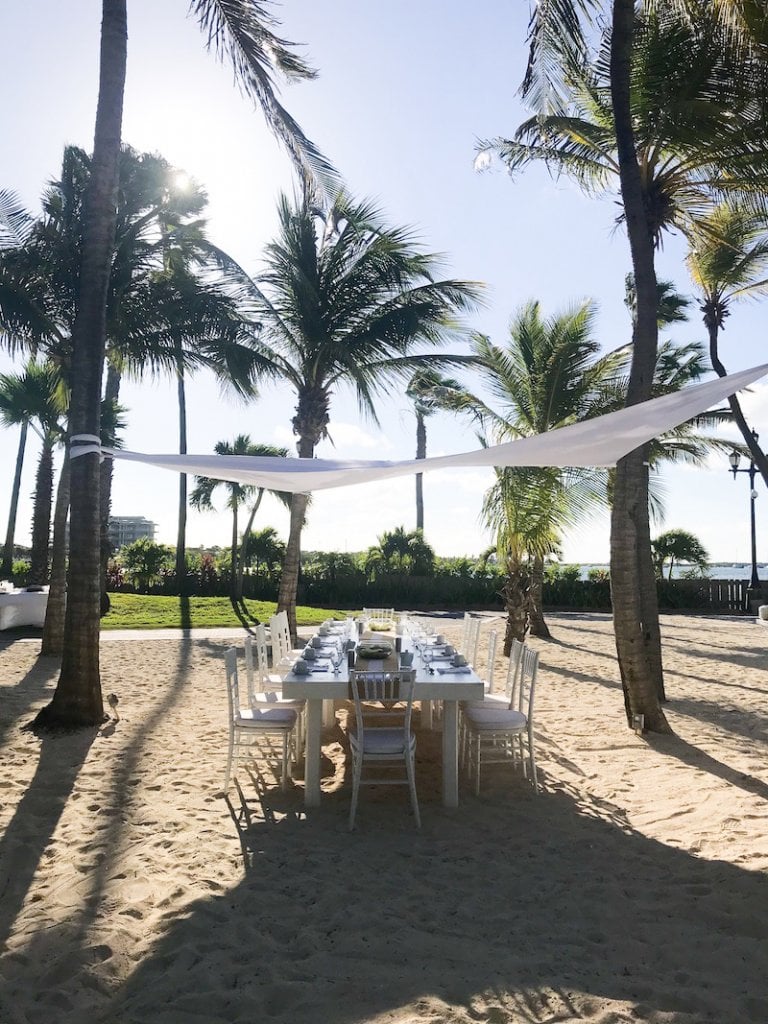 If your heart is set on a destination wedding—intimate ceremony or large celebration—there are so many options on Aruba. Many of the resorts offer custom wedding packages, various religious ceremonies can be accommodated, and a multitude of wedding planners are available to help connect you with exclusive vendors. More so, Aruba offers a Celebrations Registry where family and friends can contribute to your dream experience through hotel upgrades, excursions, dining and more.
Whatever the occasion may be, If you're looking for romance, warm weather and sunshine, gorgeous white-sand beaches, and decadent food, add Aruba to your list!
 —Kaitlyn Russell