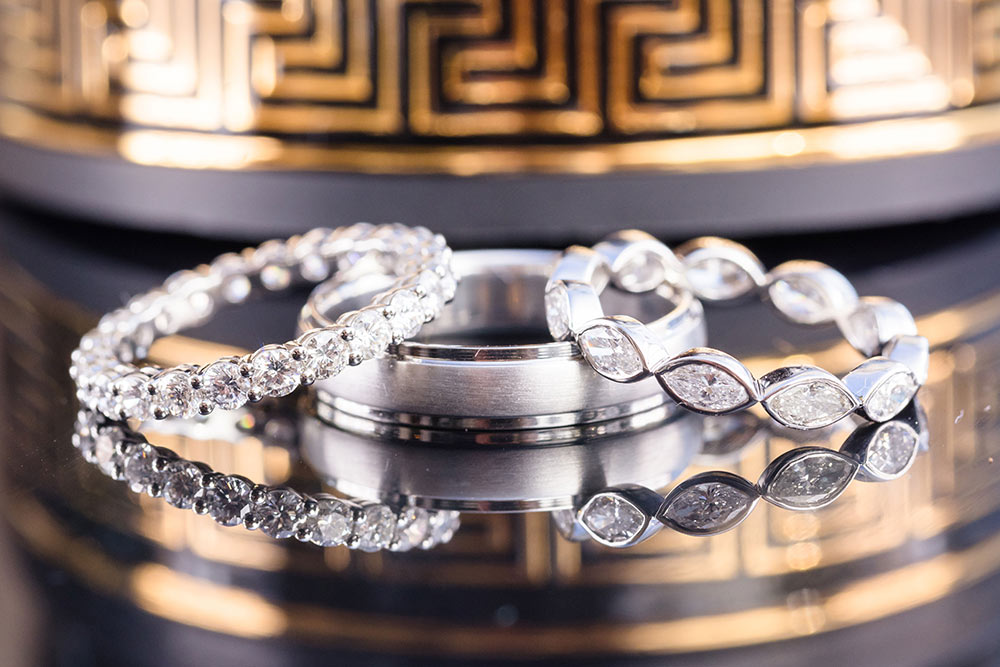 Britney Spears wed long-time partner Sam Asghari last night in a beautiful celebration at home surrounded by 60 guests. The couple embraced the stacked ring trend with their custom designs by Stephanie Gottlieb, with Britney choosing two diamond bands and Sam choosing two platinum bands.
"We loved creating Britney and Sam's custom bands," said Gottlieb. "For Britney, we built a beautiful stack of two bands to pair with her engagement ring. The goal was to create a stack that could be worn every day without overpowering her beautiful engagement ring, but something that still felt special and unique. The first band is a classic round diamond eternity band in a shared prong setting with diamonds all around. This perfectly complements her round diamond center stone. We also designed a marquise diamond band, set east west in a bezel set eternity band. This was a nod to Britney's playful side, and something that sets her stack apart from others. Both bands were created in platinum and feature 2 carats total weight of diamonds per band."
As for Sam's bands: "There were two platinum men's bands for Sam as well," said Gottlieb. "He loved the modern design of a brushed center finish with polished edges, so we created two versions, one with a polished step edge and the other with a polished beveled edge. These are our most popular wedding band styles for a man who wants a small design detail."
—Kristen Klein