For more than 80 years, Alfred Angelo has been helping brides and bridesmaids find their dream dresses, but as of yesterday, the retailer quietly shut down all of their stores. Imagine purchasing your dress for an upcoming wedding and now not knowing if you'll ever receive the gown you already paid for. Or, heading to the bridal salon to pick up your gown to find it shut down with no notice. Unfortunately, that seems to be the reality for brides and bridesmaids across the country. But, fellow retailer David's Bridal is saving the day — or, at least doing what they can to help overwhelmed and upset ladies.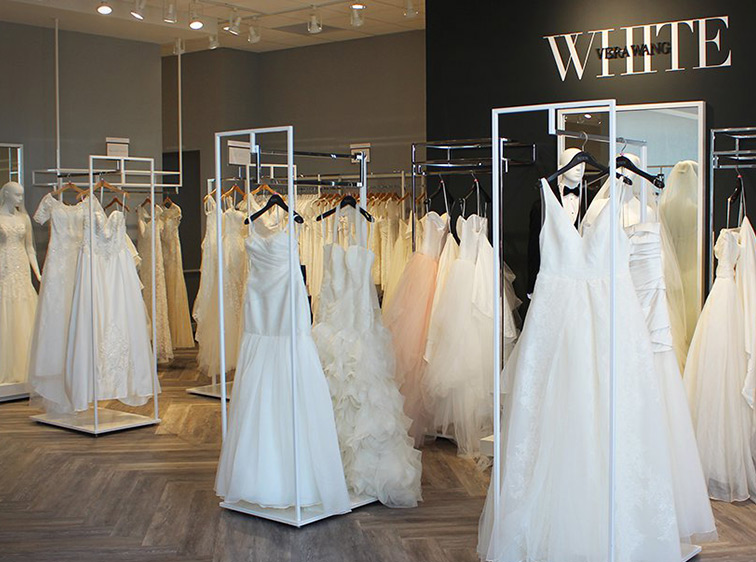 Photo courtesy of David's Bridal
In a press release and post to their Facebook page, David's Bridal writes, "We know how much goes into planning a wedding, and want to ensure that everyone affected by this news can still have the day of their dreams." Although Alfred Angelo hasn't released a statement quite yet, their social media platforms went dark just a few days ago, right after their semi-annual sale was extended in all stores. Brides everywhere are posting signs of storefronts that read "store closed" and "we're sorry."  
Time will tell if brides and bridesmaids will get the dresses they ordered, but with wedding dates quickly approaching, David's Bridal is offering special discounts. All U.S. locations are participating in providing 30% off the current price of wedding gowns (including any already marked down or on clearance) and 20% off of bridesmaids dresses. As an added bonus, all rush fees for alterations will be waived so brides don't miss their big day. All of David's Bridal seamstresses will be providing services for any Alfred Angelo gowns as well.

Photo from Twitter

Photo from Twitter
Photo from Twitter
"With 300+ stores nationwide, many in close proximity to Alfred Angelo locations, David's Bridal is in a unique position to help brides find "the dress" which fits her style, budget and vision," the David's Bridal team says in their press release. So, if you were affected by the store closings, head to your nearest David's Bridal store with your Alfred Angelo receipt by August 14, 2017.
Brides, check back here as we update any designers and retailers who are offering special discounts to brides affected by the Alfred Angelo closures. 
- Kaitlyn Russell