They say the devil is in the details, but I happen to think that personality is what makes any wedding shine. One of my favorite places to add creativity is in the wedding programs—they don't have to cost a fortune to be a winner with guests. From whimsical to romantic to modern, here are a few of my favorite things (can you tell I'm in the holiday spirit?).
Unique Packaging
I've been in love with chalkboards for as long as I can remember, so this idea is my personal favorite. My mom was a schoolteacher for over 20 years and every day after class, I would make pretend that I was a teacher, just like her, by doodling all over the board! There are so many ways that you can incorporate this nostalgic element into your wedding. Check out more chalkboard-inspired décor here.

Photo Credit: Jessamyn Harris
How adorable is this crossword puzzle? You can also include fun facts about your bridal party—we can't wait to try this steal-worthy idea.
Photo by Carl Zoch via OnceWed
Planning a destination wedding, like I am? Try a travel-inspired passport design for your wedding programs. Add customized ribbons in your wedding colors to the spine of the booklet.

Photo Credit: Asthetic Journeys on Etsy
Wedding planning hasn't always been in my DNA, but interior design stole my heart a long time ago, so this color wheel-inspired program is just my style. If you're just as obsessed with Pantone as I am—their color of the year for 2013 is emerald, my birthstone—then consider this color-happy design.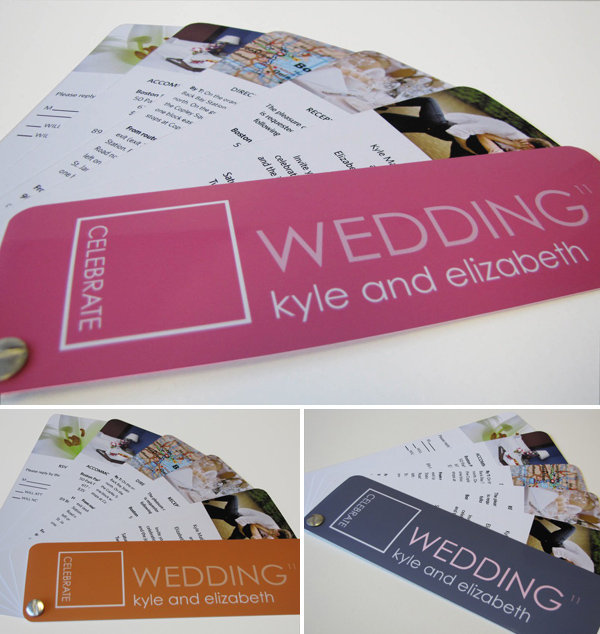 Photo Credit: Oh So Chic Designs on Etsy
Illustrations
Bridal party illustrations are hot on Pinterest lately. Silhouettes, in particular, have a timeless appeal and are ideal for classic brides.

Photo Credit: NMP Designs on Etsy
Check out out this free, printable Silhouette Wedding Monogram from Wedding Chicks. Tech-savvy brides can also create their own designs using Microsoft Word or Photoshop.

Photo Credit: Wedding Chicks
These cute, one-of-a-kind bridal party illustrations will leave all your guests smiling! Commissioning an Etsy artist to design these graphics is a splurge, but the programs make for a wonderful keepsake.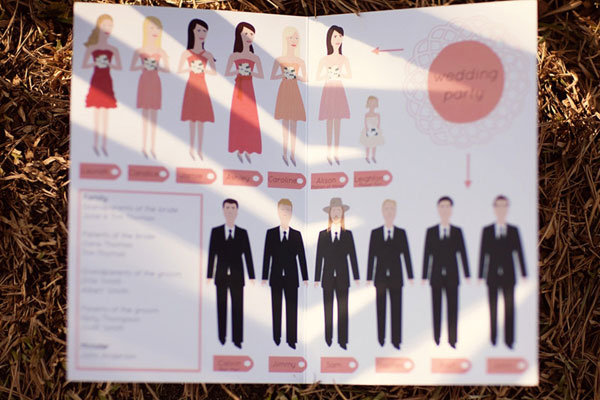 Photo Credit: Paper Maids on Etsy
Do you ever feel like you should have been born in a different era? These Mad Men-inspired wedding programs are sending me into a tailspin of retro goodness.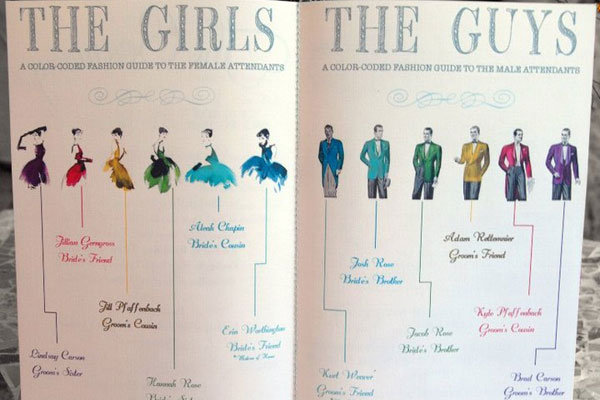 Photo via Stuart Folkes on Pinterest*
Are you an offbeat bride? These carnival-themed wedding programs are a quirky and fun choice!

Photo Credit: Sarah Ritter
Double-Duty Programs
I've seen bubbles used at so many weddings, but the way this program is packaged is quite adorable.

Photo Credit: Paper Goods by Julie on Etsy
Try printing your programs on a brown paper bag and filling it with confetti or flower petals to shower the bride and groom after the "I Dos." I would recommend getting assistance from a printing pro for this one, given the unique canvas.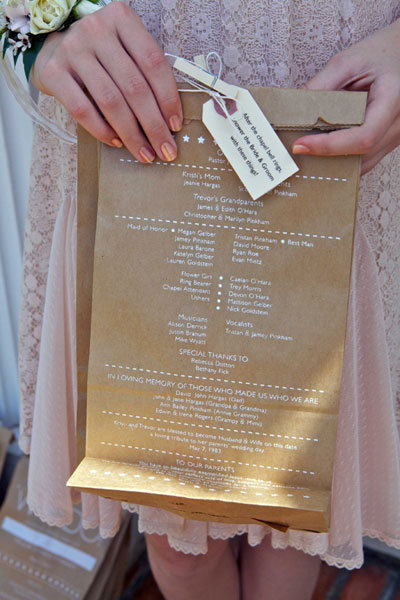 Photo Credit: Joel Loera
I may be DIY-challenged, but I'm a craft maven wannabe at heart. Budget-savvy brides can purchase both the program and the glassine bags at this Etsy seller's store. For $10 more, you can customize the colors to match your bridesmaids dresses by providing a color swatch. Files can be e-mailed to your local copy store for printing if you don't think your home printer can handle the task—talk about options!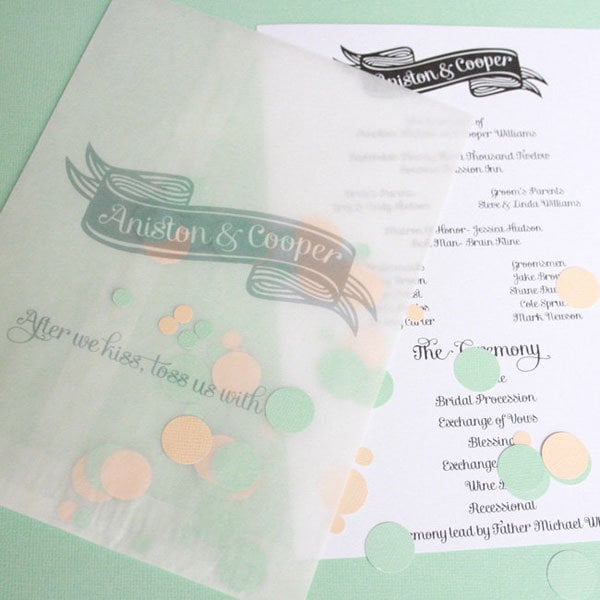 Photo Credit: Print Your Party
If you'd like your wedding program to double as a wedding favor, then this beauty is a thoughtful gesture for warm summer days.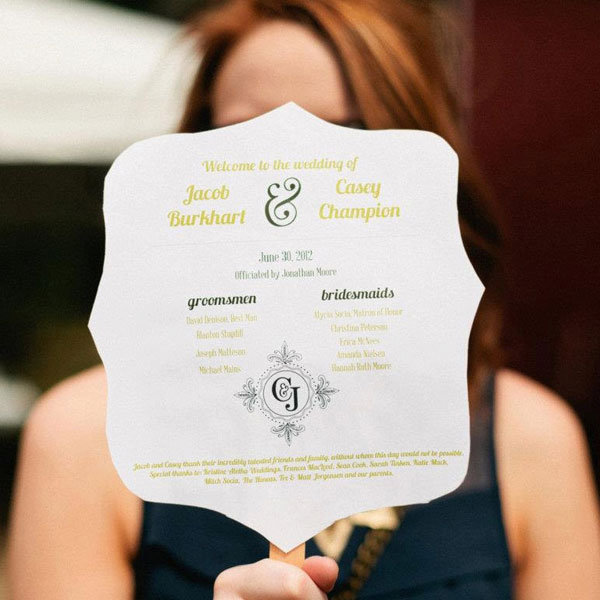 Photo Credit: The Crafty Missus on Etsy
Graphic designer/illustrator Julie Song creates my absolute favorite paper products. I'm a romantic bride with a love for whimsical and charming details; she somehow marries these elements into the sweetest of designs. If I said I adored their creations, that would be putting it lightly.

Photo Credit: Jose Villa Photography
You know your guests will turn on the waterworks during your vows—these "Tears of Joy" programs are one of the most thoughtful gestures ever!

Photo Credit: Brookelyn Photography
Fun Details
Pardon my Southern twang, but y'all, this program is too adorable. I love how they included a fun timeline leading up to their proposal.

Photo Credit: SparkVites on Etsy
Extra, extra: Share your love story with a newspaper-inspired wedding program! Plus, the back has a crossword puzzle, which will keep guests entertained until your big walk down the aisle.
Photo Credit: KoTwo Designs on Etsy
Browse more creative wedding program ideas here.
Which of these ideas would you try for your wedding programs? Or, are you considering a more classic style? We'd love to hear your thoughts! 
*Know the original source? Email us!
—Angelica Bragg


Angelica Bragg is a real bride and the blog maven of The Bridal Detective. She and her fiancé, Edwin Mirzayans (a published author), are planning a destination wedding at the Italian Lakes in Summer 2014. With a stunning backdrop and "la dolce vita" attitude, the couple's soirée will be intimate and romantic, all while celebrating two cultures. When the couple returns from their Italian road trip honeymoon, they will throw a glam after-party with all of their loved ones back home in Jacksonville, Florida.