"Engagement season" is almost here — the most popular time to pop the question is between Thanksgiving and Valentine's Day. To get in the spirit, we decided to take a look back at the big-screen proposals that tugged at our heartstrings.
When Harry Met Sally
Who could forget when Harry (Billy Crystal) finally admits he's in love with Sally (Meg Ryan)? In the movie that made everyone question whether men and women can ever really just be friends, Harry realized he was in love with Sally while spending New Year's Eve alone and raced to meet her before midnight because "when you realize you want to spend the rest of your life with somebody, you want the rest of your life to start as soon as possible." Swoon!
The Wedding Singer
Robbie (Adam Sandler) confesses his love for Julia (Drew Barrymore) by serenading her with a personalized song... as she's aboard a flight to Las Vegas to marry her current (awful) fiancé. Sandler's sweet "Grow Old With You" song has become a popular wedding song ever since the movie hit, and it's no surprise why.
Sweet Home Alabama
It's every girl's dream come true: Melanie (Reese Witherspoon) is whisked away to Tiffany's after hours (by Patrick Dempsey, no less) and told to "pick one." Just one complication... she's still secretly married to her childhood sweetheart.
Love Actually
A language barrier couldn't keep these two apart  — while recovering from a broken heart at his French cottage, Jamie (Colin Firth) falls for Portuguese housekeeper Aurélia (Lúcia Moniz), who only speaks her native tongue. After Jamie returns to England, he begins learning Portuguese and later returns to France to find Aurélia. Using his new knowledge, he proposes to her in Portuguese — and then she responds in English, which she has been secretly learning for his sake! 
Pride and Prejudice
A timeless love story that proves there's a thin line between love and hate, Elizabeth (Keira Knightley) instantly dislikes Mr. Darcy (Matthew Macfadyen) upon meeting him and swears to "loathe him for all eternity." Eventually, the two do fall in love, and he successfully proposes to her on the moor at dawn: "You have bewitched me, body and soul, and I love, I love, I love you. I never wish to be parted from you from this day on."
Stepmom
Who knew being woken up to a spool of thread inside a jewelry box could be so romantic? Luke (Ed Harris) surprises girlfriend Isabel (Julia Roberts) with a refreshingly realistic proposal speech: "Even when things are hard and you feel like giving up, you have to hang on to that decision, that choice to love each other. Even if it's only by a thread. I let that thread break once. This time, it won't. Will you marry me?"
Walk the Line
While performing "Burning Ring of Fire," Johnny Cash (Joaquin Phoenix) stops mid-song on stage to pop the question to June Carter (Reese Witherspoon). The look on his face will make your heart melt! "Now I've asked you forty different ways and it's time you come up with a fresh answer... I'm asking you to marry me. I love you, June. Now I know I said and done a lot of things, that I hurt you, but I promise, I'll never do that again. I only want to take care of you. I will not leave you like that dutch boy with your finger in the dam.... You're my best friend. Marry me." Watch it here ►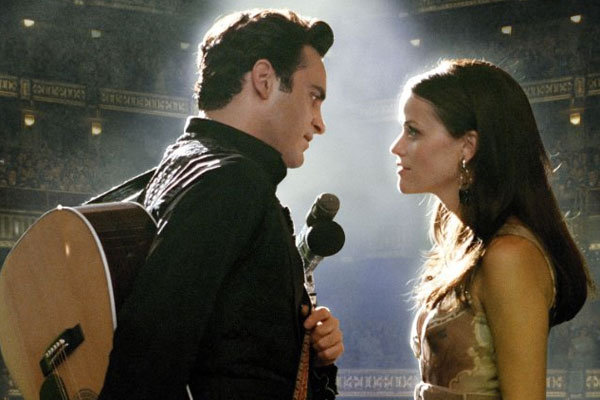 Photo Credit: 20th Century Fox
The Proposal
This "romance" between boss and assistant begins as an ill-fated attempt for Margaret (Sandra Bullock) to avoid deportation... but then the two actually start to fall for each other. As Margaret is preparing to leave the country, Andrew (Ryan Reynolds) barges into the workplace to confess his love and propose for real: "Marry me... because I'd like to date you."
Runaway Bride
Maggie (Julia Roberts) gained quite a reputation after jilting three guys at the altar. Dubbed the "runaway bride," writer Ike (Richard Gere) publishes a story on her but is fired when he gets many of the facts wrong, thanks to an unreliable source (one of the ex-fiancés). To restore his reputation, he travels to Maryland to actually spend time with Maggie and write the truth. She and Ike fall for each other, leading her to run out on groom number four. But after Ike becomes her fifth victim, she does some serious soul-searching and, after realizing why she keeps running, proposes to him.
A Walk to Remember
Jamie (Mandy Moore), a teenager dying of leukemia, warned Landon (Shane West) early on not to fall in love with her. But he did anyway, and after she reveals her terminal cancer, he commits to fulfilling every item on Jamie's bucket list before she dies — including getting married in the same chapel where her parents exchanged vows. 
Tell us: Which movie proposal is your favorite?
—Kristen O'Gorman Klein