When it comes to big-day beauty perfection, it's all about that base. A flawless face is yours with these tips from the pros.
By: Katie Hoppenjans
Liquid Foundation
Best for: "Every skin type works great with liquid foundation," says Jessica Scantlin, Director of Artistry at Blushington. "Liquid allows for easy customization so you can build or lighten coverage as needed. If your skin is on the oilier side, just be sure to pick an oil-free formula with a matte finish."
Level of coverage: Medium to full
How to apply: Use a dense brush in a stippling motion if you're looking for full coverage. For a sheer, natural effect, try a slightly damp foundation sponge.
Our tip picks: Eve Lom Sheer Radiance Oil-Free Foundation; Chanel Perfection Lumière Velvet
; Merle Norman Perfecting Makeup.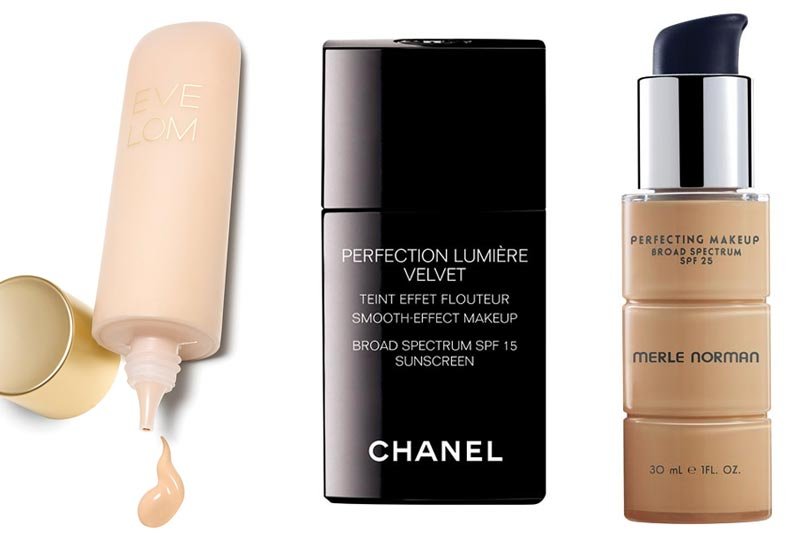 Powder Foundation
Best for: "Powder works best with normal or combination skin types — it gives a gorgeous, luminous finish," says Romy Soleimani, Beauty Director at Large at Beauty.com. "If skin is too oily it will look caked-on, and if skin is too dry if will get caught on patchy areas."
Level of coverage: Light to medium
How to apply: Use a sponge to blend solid powder foundation onto your face. Use a fluffy brush to apply and buff loose powder formulas onto your skin.
Our top picks: Prescriptives Flawless Skin Powder
; BareMinerals Original Powder Foundation
.
Foundation Sticks
Best for: According to celebrity makeup artist Fiona Stiles, foundation sticks are great for anyone with hyperpigmentation or lots of discoloration in their skin. Their thick formulas make it easy to build up your coverage, so concealing those problem areas will be a breeze.
Level of coverage: Medium to full.
How to apply: For seamless edges and easy-to-control application, try a foundation brush. Sticks can give a lot of coverage, so make sure you blend carefully and use a color that's identical to your skin tone.
Our top picks: Make Up For Ever Ultra HD Foundation Stick
; Bobbi Brown Skin Foundation Stick
Tinted Moisturizer
Best for: If you don't normally wear foundation, tinted moisturizer could be a great choice for your big day. Makeup artist Elaine Madelon says, "Your wedding-day foundation should only be one level of coverage higher than what you're used to wearing — the most important thing is that it feels comfortable."
Level of coverage: Very light
How to apply: You can use a brush or sponge to apply these if you like, but it's not necessary — your fingers should do the trick.
Our top picks: True Isaac Mizrahi Transforming Skin Tint; Caudalie Vinoperfect Tinted Moisturizer
; Cosmedicine Honest Face Perfected Tinted Daily Moisturizer.
BB Creams
Best for: BB creams combine the priming and hydrating benefits of tinted moisturizers with the imperfection-blurring powers of liquid foundations. These formulas tend to wear off quickly on oily skin types, so they work best with dryer skin.
Level of coverage: Very light to medium.
How to apply: Use whatever tool you're most comfortable with, whether it's a brush, a foundation sponge or your fingers. These creams should go on smoothly no matter how they're applied.
Our top picks: Maybelline Dream Fresh BB Cream
; Estée Lauder Double Wear All-Day Glow BB Cream
.
CC Creams
Best for: According to Soleimani, "CC creams are best for those who don't want much coverage but need to even out their skin tone. What separates them from BB creams is that they also provide color correction, brightening sallow skin and evening out redness and dark spots."
Level of coverage: Very light to medium.
How to apply: These low-maintenance products will blend seamlessly into your skin no matter how you apply them, so feel free to use your fingers.
Tools of the Trade
Pack your makeup bag with these essentials for easy, flawless application.
For a sheer look, Madelon recommends applying liquid foundation with a moist Beautyblender. The damper the sponge, the dewier the finish. 
With its innovative beveled tip, By Terry Sponge Foundation Brush takes the sponge to the next level. Use it on tricky areas like the bridge of the nose. 
Look for a brush with synthetic fibers — they won't absorb liquid foundation like natural bristles will. Our pick: Japonesque Color Collection Foundation Brush.
A fluffy brush, like Topshop Kabuki Brush, works wonders with powder foundation. Use it to apply powder in a circular motion.