When it comes to big-day beauty perfection, it's all about that base. A flawless face is yours with these tips from the pros.
By: Kate Watson
-AS SEEN IN BRIDAL GUIDE MAGAZINE-
Liquid
This formulation offers longevity and a range of coverages & effects.
Best for: Marc Jacobs Beauty global artistry ambassador, Morgane Martini says, "Liquid is great for all skin types. The key is selecting a formulation based on your skin's needs. Also consider photographs and how much coverage is really needed."
Level of coverage: Medium to full
How to apply: Melissa Baker, makeup artist and education director for Merle Norman, uses an angled foundation brush: "It allows me to control how much product is applied and buffed out for a more believable look."
Tip: Swatch product above your jawline and select the color that "disappears" into skin to find your shade.
Product picks: e.l.f. Flawless Finish Foundation, Benefit Hello Happy Soft Blur Foundation, Marc Jacobs Beauty Re(marc)able Full Cover Foundation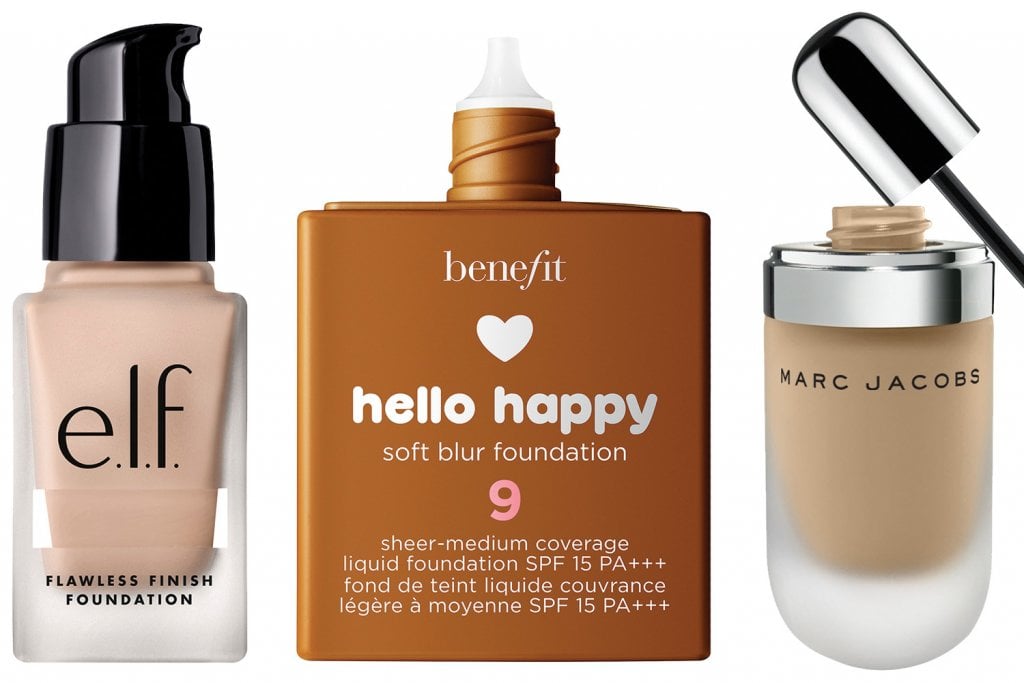 Powder
Whether loose or pressed, opt for a powder to mattify skin fast.
Best for: "Brides tying the knot during the summer months or those with oily, acne-prone skin should have powder on hand for the big day," says Benefit Cosmetics makeup master Jose Rivera.
Level of coverage: Light to medium
How to apply: Use a fluffy brush to dust skin with powder as needed for light coverage and a velour pad for a more concentrated application. Makeup artist Megan Luman advises blending color and translucent powders for an even finish.
Tip: Dab skin with an oil-blotting sheet before applying powder to avoid clogging pores.
Product picks: Charlotte Tilbury Airbrush Flawless Finish, BareMinerals Blemish Rescue Skin-Clearing Loose Powder, Origins Silk Screen Refining Powder Foundation
Stick
Portable foundations are perfect for worry-free touch-ups.
Best for: Celebrity makeup artist Patrick Ta says these are "great for covering skin imperfections on the go."
Level of coverage: Medium to full
How to apply: Martini explains, "foundation sticks are usually very creamy, buildable, and easy to apply directly to skin or using your fingers." Since sticks have a concentrated amount of high coverage, it's important to use a product that best matches your natural skin color and thoroughly blend the formula into skin to avoid streaking.
Tip: Rivera suggests using dish soap with a small amount of water to blot away any foundation stains on your dress.
Product picks: Burberry Fresh Glow Gel Stick, Flesh Foundation Stick, Clinique Chubby in the Nude Foundation Stick
Tools of the Trade
Pack your makeup bag with these essentials for easy, flawless application.
Sponge: For a sheer, all-over dewy look, apply liquid foundation with a moist Beautyblender. The damper the sponge, the dewier the finish.
Foundation Brush: With a fine tip of synthetic fibers, this Japonesque Color Collection Foundation Brush offers accuracy in those delicate areas like under-eyes and sides of the nose.
Kabuki Brush: A wide, fluffy brush like this Fenty Beauty Face & Body Kabuki Brush works best for buffing in powder foundation
Dense Brush: The unique handle on this densely bristled Artis Elite Oval 7 brush ensures a more comfortable application for hands and airbrush-like finish for skin.