From hair extensions to teeth whitening to microdermabrasion and more, learn about the most common beauty procedures.
By: Stefania Sainato
Teeth Whitening
How to choose the right method for you: Whitening products work differently on different people, and the level of whiteness that you're able to achieve depends on the molecular structure of the tooth. "While over-the-counter strips work great on some people, others may not see any change in color and might get better results with dentist-administered, in-office bleaching techniques," said Dr. Marc Lowenberg, dentist at Lowenberg, Lituchy and Kantor in New York.
Here, a whitening primer from least to most expensive:

Photo Credit: Kane and Social
At-home whitening strips: These use a smaller percentage of hydrogen peroxide (only 10 percent) than in-office treatments. Dr. Lowenberg likes Crest 3D White Whitestrips, which deliver a noticeable difference in the color of your teeth in just two hours. "Combined with daily use of a whitening toothpaste, it's a good one-two punch to maintain a bright smile," he said.
At-home bleaching trays: Custom made to fit your teeth, trays are used to whiten over a 10-day period. The bleaching solution is stronger than an over-the-counter product, but weaker than what's used at a professional dentist's office. They can also be used one or two days per month for maintenance if you've received an in-office bleaching treatment. Trays can cost anywhere from $300 to $600.
In-office bleaching: Need a pearly-white grin, fast? This procedure delivers the strongest results in just an hour, flat. The dentist paints your teeth with a strong concentration of hydrogen peroxide gel (about 35 percent), protecting gums and lips, and then uses a high-intensity light to activate it. Get this done at least two to three weeks before the wedding in case you experience any teeth or gum sensitivity. This procedure can cost anywhere from $500 to $1,200.
Veneers: The most extreme option, these are great for brides who want to correct the length of their teeth, or whose teeth are whitening-resistant (yes, such a thing exists). Pre-formed porcelain is applied directly onto each individual tooth's edge, and the veneers last anywhere from 10 to 20 years. These will set you back about $1,500 to $3,000 per veneer.
No matter which treatment you choose, steer clear of stain-causing beverages such as coffee, tea, or red wine afterward.
Dental Hygiene Tips for Any Bride: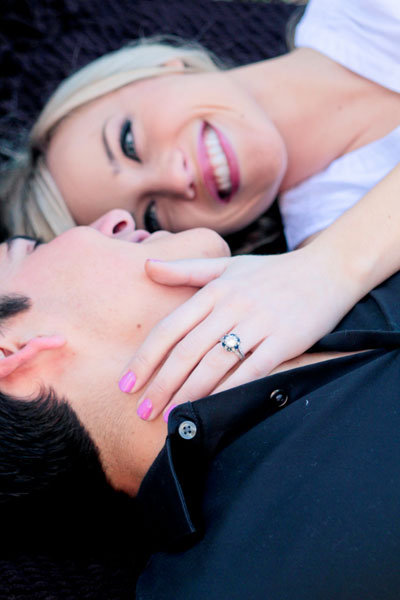 Photo Credit: Hayley Anne Photography
Optimize your teeth brushing and flossing. Brush twice a day for two minutes in front of a mirror using a soft bristle or electronic toothbrush, and floss at least once a day (don't forget the back teeth). Many brides choose to skip this step, but flossing is essential to remove plaque build-up in the places where brushing can't reach!
Whiten teeth on the day of the wedding. Right before you put your makeup on, brush your teeth with a mixture of baking soda and hydrogen peroxide to remove surface stains. Then, use a whitening pen to 'paint' your teeth. "You will feel bright white, matching your wedding dress," said Dr. Lowenberg.
Prevent bad breath at the reception. Order a cocktail that contains vodka, which kills bacteria, but pass on any sugary mixers that trigger odor-causing bacteria. You can also apply a thin layer of Vaseline to your teeth, which acts as a barrier.
Next: Get silky-smooth skin on your face and body ►
Pages