Customize your big-day look with these fab makeup ideas, tailor-made for every skin tone.
By: Brittany Robins
Neutral Zone
Put your beauty in neutral with a wash of pale pinks with pearlescent undertones on the cheeks and eyes and a nude lipstick shot through with shimmer — perfect for the fair lady.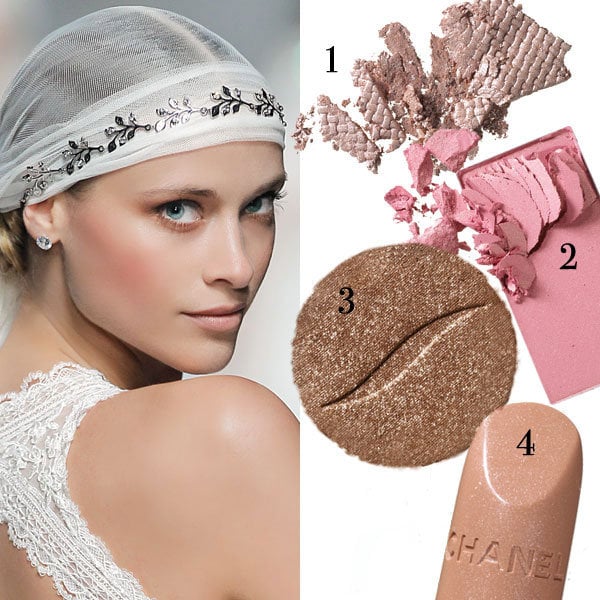 Photo Credit: Courtesy of St. Patrick (model); Michael Essig (products)
Our Picks: 1. Estée Lauder Pure Color Gelée Powder Eyeshadow in Cyber Pink. 2. Mary Kay Blush in Strawberry Cream. 3. Sephora Collection Colorful Eyeshadow in N82 Hollywood's Calling. 4. Chanel Rouge Coco Lipstick in Plu- metis. 
Tip: For depth of color on the eyes, pair a dusty rose hue with a warm, shimmery copper tone.

Seeing Red
For the brown-skinned beauty, a deep crimson hue on the lips and cheeks is the perfect pick to make those gorgeous features pop. This bold look calls for a swipe of jet black liquid liner on the lids to add a coquettish charm.

Photo Credit: Tom Rauner (model); Michael Essig (products)
Our Picks: 1. Lancôme Color Design Sensational Effects Eye Shadow in Filigree. 2. Merle Norman Pro Pen Eyeliner in Sharp Black. 3. Elizabeth Arden Beautiful Color Radiance Blush in Sunburst. 4. Stila Stay- All-Day Lip Stain in Fiery.
Tip: Apply an even coat of lip primer before lipstick to lock in color and avoid fading throughout the day.

Matte-r of Fact
A gorgeous matte finish to the skin will ensure you're picture perfect on the big day. Play up your almond- shaped eyes with a graphic coat of liquid liner. On the lips, an orangey-red pucker will provide the perfect pop of color to this striking look.

Photo Credit: Tom Rauner (model); Michael Essig (products)
Our Picks: 1. CoverGirl Clean Glow Blush in Roses. 2. Benefit Magic Ink Liquid Eyeliner in Jet Black. 3. Make Up For Ever Rouge Artist Natural Lipstick in N43. 4. Cargo HD Translucent Powder. 
Tip: Apply a generous layer of moisturizer before dusting powder over the face to hydrate the skin.

Silver Belle
For the bride with warm caramel coloring, cool metallic hues on the eyes and cheeks will go a long way on your big day. For a fabulous, flirty finish, add a splash of sass to your look with dramatic, swoon-worthy false lashes.

Photo Credit: Courtesy of Pronovias (model); Michael Essig (products)
Our Picks: 1. Urban Decay False Lashes in Hoax. 2. Maybelline Eye Studio Color Tattoo Cream Shadow in Silver Strike. 3. MAC Cremesheen Lipglass in Dynasty at Dusk. 4. Laura Mercier Shimmer Bloc Blush in Pink Mosaic.
Tip: Allow 30 seconds for the adhesive to set on the lash strip before applying the falsies with tweezers.