Your wedding is one of the most-photographed days of your life. Look your best in all those pictures by avoiding these common makeup mishaps.
By: Kristen Klein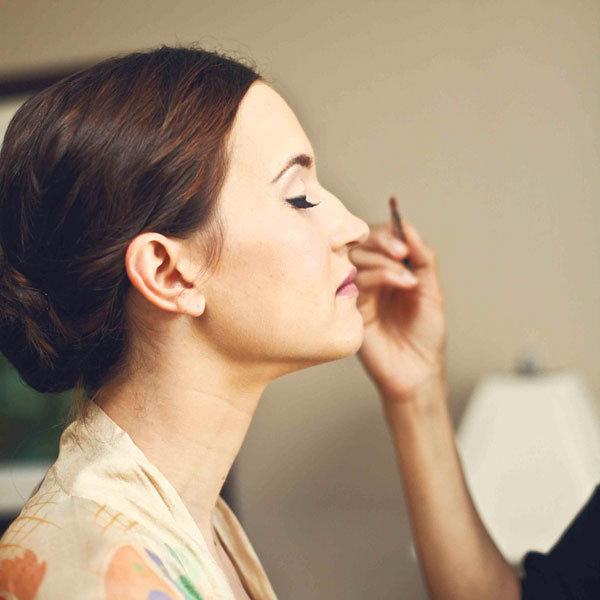 Photo Credit: Kelly Maughan on Snippet and Ink via Lover.ly
1. Trying Something New
Your wedding day isn't the time to experiment with red lipstick or smoky eyes for the first time. "Choose tones that you feel comfortable with and most like yourself," said Jo Levy, makeup artist for Rouge Bunny Rouge. Makeup artist Elise Brill added, "I always tell my brides that my goal is for them to look like themselves, just defined and finished. I would hate for a bride to look at her pictures five years from now and not recognize the girl in them."
"I think brides get too caught up in that it's their special day and end up doing more than they would normally do, and it ends up being too much," said beauty expert Sonia Kashuk. "It is your special day, and you want to look like you — only better. When you're walking down the aisle, the person on the other end wants to see you!"
2. Getting Caught Up in Beauty Trends
Contouring (using bronzer and highlighter to bring out your cheekbones) is a huge trend right now. But this kind of heavy manipulation can look too harsh during the daytime, according to makeup artist Sam Russell. "Natural lighting accentuates your natural beauty, so keep it light and fresh." Always remember that your photos are going to be on display for many, many years after the wedding; you don't want someone to be able pinpoint which decade your wedding took place in based on your face alone. "Think about the timelessness of your look; can it transcend the test of time?" said Kashuk. "When you look back on this day ten years from now, you want to still look modern and relevant."
3. Skipping the Makeup Trial
It's an extra cost but a worthy one. Schedule your trial at least three months before the wedding. "If you aren't happy with the first trial, this will buy you time to try out another option," said makeup specialist Amanda Gabbard of the Guerlain Spa.
4. Going in Unprepared for Your Trial
You probably already know that you should bring photos to your hair trial, but many brides don't think to bring photos to their makeup trial as well. Look through magazines or Pinterest for women with similar coloring to yours whose makeup you love. And if you have any photos of yourself where you particularly like (or dislike) your makeup, bring those along as well. "I've seen verbal descriptions of a hair or makeup look turn into a disaster. A picture is worth a thousand words," said Devin Giannoni, founder of prettypublicbeauty.com>. "After you've shown the photos, discuss them. Make sure they see what you're seeing."
Also, wear white to your trial — it'll help you get an idea of what your makeup will really look like on the wedding day. And don't forget to take pictures! "Sometimes people like the look in person but not in photos, or vice versa," said Melisa Imberman, owner of The Event of a Lifetime, Inc.
5. Wearing Lipstick or Lip Gloss
Skip these products in favor of a lip stain, which is the most long-lasting option. "Lip gloss wears off super quickly and will get all over your groom when you kiss him at the end of the ceremony," said makeup artist Donna Kelly. "Also, when your lips are too shiny, you will lose definition in your pictures, and it can leave a glare."
Another reason to forego the gloss: "If you're going to have a veil that covers your face, the veil will stick to your lips," said Liz Fuller of Makeup Artistry, Inc. "The same goes for long hair — if a bride wants to wear her hair down on her wedding day, hair can get stuck to the lips."
6. Adding Shimmer in the Wrong Places
"A little shimmer or iridescence on the cheeks looks fresh and dewy, but worn on the nose or forehead, it can look like your skin is greasy," said Gina Ludwig, CEO of Hair Comes the Bride, Inc. Makeup artist Jane Cohen likes to apply a sheer gold shimmer along the tops of the cheekbones, on the cupid's bow of the lips, and just under the brows "It makes the bride look as if she is lit from within. It's an easy trick but one that really works."
Whatever you do, steer clear of anything with glitter. "Glitter and sparkles have the unfortunate effect of reflecting back light towards the camera. This often results in white spots across your skin in the images," said photographer Johanna Jacobson, owner of Ambientimage. These spots can then turn green, orange, or fuchsia in post-production, depending on the color balancing and effects your photographer uses. "The only way to get rid of these spots is by costly retouching and individually cloning out each spot or reflection."
"Shimmery is different from sparkle because a shimmer doesn't have particles — or flecks — that cause a flashback at the camera," said Fuller.
7. Applying Blush Incorrectly
Concentrate on the apples of your cheeks, where you blush naturally. "Many people wrongly think that blush should be applied in a diagonal line under the cheekbones and up towards the temples, like we did in the '70s," said Cohen. Further emphasize your cheekbones by applying a little bronzer right underneath and blending it into the blush.
8. Going for Too-Dramatic Eyes
Except for mascara, ban the color black from your makeup bag. "Black liner or shadow is too harsh for the majority of people," said Giannoni. "You can create a much more beautiful effect with other colors that will create a soft, glamorous, even sultry look." She recommends using browns, grays, navy, and deep purples instead.
Smoldering eyes tend to look much better in person than they do in photos; "Eye makeup looks that are too smoky can cast a shadow around the eyes in photographs," said Levy. "Instead, opt for soft and subtle eyes." And be sure that you're choosing shades that will enhance your eye color. Makeup artist Chelsea Hernandez recommends bronze for green eyes, mocha for hazel eyes, navy and dark brown for blue eyes, and purples and grays for brown eyes.
Also, opt for a cream shadow rather than a powder as your base color. "Cream lasts longer, making it better for your lid color," said Hernandez. Use powders in your crease and to highlight underneath your brows.
9. Choosing the Wrong Kind of Lash Enhancements
A popular trend now is to get eyelash extensions, which are individually bonded with your natural lashes (much like hair extensions). But master lash guru Suzette Zuena, owner of Lash House Beauty Boutique, recommends that you have these applied at least two weeks before your wedding in case you have an allergic reaction to the adhesive and to ensure that they're comfortable for you.
If you choose the more traditional false eyelashes, opt for individual pieces rather than strips. "Tears can weaken the glue at the inner corners of the lash, causing them to lift and look crazy," said Rebecca Perkins, co-founder of makeup salon Rouge New York. "A gentle coat of waterproof and a generous application of individual lashes will withstand a torrent of joyful tears on an emotional day." Individual pieces will also give you a more natural look than strips: "You can build up the lashes to the desired thickness," added Cohen.
Also, consider using black eyelash glue rather than clear; Gabbard says it'll blend better with the rest of your eye makeup.
10. Forgetting Your Brows
Your brows frame your eyes and can truly change the entire look of your face. Aside from having them professionally waxed a week before the wedding, you're going to want to define them with a brow powder. Follow the natural shape of your brows with a powder that matches your hair color, said Hernandez.
11. Wearing a Foundation With SPF
Many formulas now include sun protection, which is wonderful for your everyday look. But on your wedding day, stick to a traditional foundation. The reason: "Some ingredients in the SPF formulas can cause the face to look white in flash photography," said Fuller. If you're going to be outdoors all day long, you can wear a sunscreen underneath your foundation, since that'll sink into your skin rather than sitting on top of it with the foundation, said Fuller. But do a couple of test shots before the big day to make sure that you're not left with a chalky complexion or a washed-out look, recommended Erica Bishop, makeup artist for Prescriptives.
12. Using Airbrush Foundation
Airbrush foundation can be "the bride's best friend" — if you're someone who doesn't need a lot of coverage. "The finish is very lightweight, so the bride won't feel as though she is wearing a mask," said Mary C. Rascon, director and owner of Cambio Salon and Day Spa. But if you need more coverage, you may want to stick with a traditional formula. "If there's an appearance of any smudge due to an accidental rub or too much perspiring, it's a problem to repair airbrush makeup," said Hope Henderson, makeup artist and founder of Beauty Mark.
13. Piling On the Foundation
"Many brides believe that they have to have a heavier foundation in order to look good in photographs, but in fact, it's the opposite," said Cohen. "To be able to see the skin glowing underneath, a sheer foundation creates an amazing close up beauty shot in bridal portraits." And piling on the makeup won't make it last longer. "Just be sure to use a good primer and follow with a medium coverage foundation," said Misha Shahzada of Artmix Beauty. Primer gives your foundation something to adhere to, helping it last all day long. It also minimizes the appearance of pores, giving you that porcelain look. Smashbox Photo Finish Foundation Primer is always a top choice among beauty pros. But you don't just need a facial primer — you also need an eye shadow primer to keep your shadow fresh and avoid creasing. Fuller recommends Urban Decay Eyeshadow Primer Potion.
14. Overdoing it with the Powder
Powder can be great for mattifying your look, but when used under your eyes, it can sink into any tiny wrinkles and magnify them. "The under eye area can end up looking dry in photos with too much makeup," said Giannoni. "To prevent this, you want to use very little powder under the eyes or skip it all together. The less powder, the better, to keep the under eye skin looking fresh and beautiful."
15. Skipping Body Makeup
Makeup doesn't end at your jaw line; Lauren Knuckles, professional makeup artist at Pucker, points out that it's important to even out your complexion on your décolletage and back as well, since these areas are on display in a wedding gown. And Cohen likes to sweep a gold shimmer powder along the collarbones: "It helps to light up the face."
16. Not Waterproofing All of Your Makeup
You already know to wear waterproof mascara. But you should also wear waterproof foundation. "As a bride, you are bound to shed a few tears," said Ludwig. "There is nothing worse than having streaks of black mascara running down your face or white streaks where your foundation came off." And when you do cry, don't wipe those tears — dab them instead. "Even if a bride does use waterproof makeup, consistently wiping her face of tears or sweat is going to completely destroy her makeup."
17. Not Giving Your Makeup Time to Set
Between each step of your makeup, give your makeup some time to dry. "Use a hair dryer set on the cool setting if time becomes an issue," said Giannoni. "Your makeup will last longer if you let each step dry before the next one."
Also, never apply your foundation with your fingers. "Using your fingers brings bacteria, germs, and even sometimes fingerprints," said Nicole Zerafa, owner of Original Diva salon. "Using a sponge or brush will give your foundation a more natural look and will blend it more evenly into the skin."
18. Over-Tanning
A lot of brides try to get some extra sun during the week of the wedding. But remember that you are wearing white — "The contrast makes it look even more dramatic," said Zuena. And, of course, trying to get a natural tan means you run the risk of burning or getting tan lines, meaning that your makeup artist will need to spend extra time combatting those problems.
19. Getting a Spray Tan Too Close to the Wedding
Don't book your tanning session the day before the wedding; instead, build color gradually over several sessions in the weeks leading up to the big day. "Get the lightest shade possible, and let it build," said Kelly. "This will let you test whether or not you like it, and you can control the evenness of the tan better." Plus, your faux tan needs time to set in — if you get it done the day before, you run the risk of it bleeding onto your gown, according to Kristin Alexander of Esoteric Events.
Worried about it wearing off before the big day? Giannoni recommends placing an "emergency touch-up appointment" on hold for the day before the wedding in case you end up with any streaks from your previous sessions.
20. The Mono-Tan Look
A spray tan often looks unnatural because it coats your body evenly with color; a natural tan simply doesn't work that way. Instead, opt for airbrush and ask your artist to skip your face on the last pass. "It doesn't look natural to have the entire face and eyelids all one deep tanned color," said Giannoni. "It's better to use a bronzer on the face to deepen the color of the complexion. The face and chest should match, but the center of the face should reflect light."
21. Changing Your Skincare Regiment
If you're prone to breakouts, you may feel inclined to pile on the products to pre-empt pimples in the days leading up to your wedding, but it's best to keep your routine consistent. "A few days before your wedding is not the time to experiment with skin treatments, peels, or products you are unfamiliar with," said makeup artist and beauty expert Lindsey Lopez. "The best thing you can do is keep up with your skincare regimen as normal, and hydrate in the morning and night."
If you don't regularly get facials, don't get one right before the wedding. "Beginning too soon before the wedding will encourage impurities and therefore pimples and blocked pores to come to the surface and spoil wedding day skin," said Cohen. "It takes a few weeks before they are eventually cleared, so I always advise my brides to begin the facials at least three to four months in advance so that by the time their wedding day comes, their skin is totally clear and glowing."
22. Not Prepping Your Skin Properly on the Big Day
Before you start applying makeup, it's important to prep your skin properly. Hernandez recommends washing your face with a gentle cleanser, then using Bobbi Brown Extra Bright Advanced Moisture Lotion, which moisturizes while toning down any redness in your skin. Follow it up with a CC cream to even out your skin tone. And be sure to use a hydrating cream around your eyes — this helps your under eye concealer go on smoothly.
"I can't tell you how many brides, bridesmaids, and moms show up with skin that is not exfoliated or moisturized," said Fuller. "It is extremely difficult to apply makeup on to skin that is dry or flaky." And if you have a breakout before the big day, leave those pimples alone. "Pimples that have been picked and are scabbed over on the wedding day — yikes! It's easier to cover a pimple than it is to cover a scab."
23. Waxing the Day Before
"Wax brows or any other area of face at least five days before the big day to avoid marks or scabs," said Dimitri James, celebrity makeup artist and creator of Skinn Cosmetics. And if you've never waxed before, don't start now. "You can break out in a little rash around the area if your skin is not used to it," said Kelly.
24. Forgetting About the Bridal Party's Makeup
Your bridesmaids are going to be in dozens of pictures with you; give them some guidelines regarding their makeup so that everyone looks cohesive. "You don't want each of your bridesmaids with different hair and makeup because it looks ill planned and will ultimately distract from the bride, who should stand out from everyone else," said Karuna Chani, international makeup artist and skin care consultant.
25. Not Packing a Sufficient Emergency Kit 
Even with the most budge-proof makeup, you're going to need to keep a few things on hand for touch-ups – the wedding day is long! "No bride wants to look oily on her wedding day," said Zerafa. "Oil absorbing sheets are the best way to avoid this; they don't remove existing makeup." Some other key products: your lip color, cotton swaps and tissues to fix any smudges, translucent powder, and lash glue if you're wearing falsies.