These products, recommended by top makeup artists, will get you ready for your close-up.
Makeup tip: A great wedding photo starts with a flawless complexion; the key to successful pictures is moisturizing your skin daily.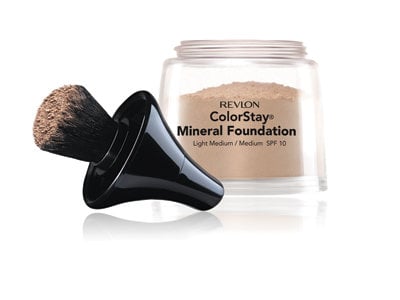 Powder Perfect
When applied incorrectly, powder can age you—the wrong shade will make your skin look gray and flat in photos. Mineral foundation is the exception; it's long-lasting, gives a soft, natural finish and is kind to the skin. —Jemma Kid
Try: Revlon ColorStay Mineral Foundation

 
Conceal the Deal
Check to see if a concealer matches your skin tone by applying it in natural lighting. In general, concealers that have peach undertones are better for dark circles and those with green undertones eliminate redness from blemishes. —Dora Salgado
Try (from left to right): Smashbox High Definition Liquid Concealer; Bobbi Brown Foundation StickQuick, Hide! Long-Wearing Concealer by Origins.
Matte vs. Shine?
Both types of foundations are fine for different parts of the face. Matte foundations should be used in your T-zone, while shimmery powders dusted on the cheekbones will give you a dewy glow! —Elisa Flowers

Try: MAC Pro Longwear SPF 10 Foundation.
All Primed Up
A primer creates a smooth surface and prevents makeup from being absorbed by dry skin or slipping on oily skin. It's essential for keeping makeup in place longer. —Bridget O'Neil

Try: (clockwise from top left): Laura Geller Spackle Tint & Glow Primer in champagne; Laura Mercier Crème Smooth Foundation; The Cure Sheer Cream by Natura Bissé; 
Blushing Beauty
What's the best way to give your cheeks a natural flush? Dab a bit of cream blush on your forefinger and gently blend into the skin, using an upward motion from the apples of your cheeks to your temples. —Dora Salgado
Try (from left to right): Cherry-hued blush by Dolce & Gabbana; Make Up For Ever HD Microfinish blush #6; Palette Celebration face highlighter by Yves Saint Laurent.
Boost Your Smile
A bright red lip color is best for showing off white teeth. Magenta hues can often make them look yellow. Just before the photo: wet your teeth so they sparkle. —Dr. Jeff Golub-Evans & Dr. Emanuel Layliev, cosmetic dentists
Try: Revlon ColorStay Overtime Lipcolor.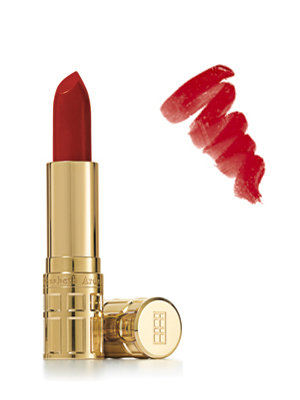 Perfect Pout
For a perfect red lip, use liner after applying lipstick. This allows you to define like a total pro. Try Ceramide Lipstick in rouge—it's a neutral shade that looks great on anyone. —Matthew VanLeeuwen
Try: Ceramide Ultra Lipstick in Rouge by Elizabeth Arden.

Bright Eyes
A great trick to keeping eyeshadow in place is to apply your powder with a damp brush. You will get a beautiful shade that won't fade. A highlighter in the inner corner will help open up your eyes even more. —Bridget O'Neil
Try: Estée Lauder Pure Color EyeShadow in Broadway Gold.
Makeup Tip: When deciding where to place your statement color, accentuate the positive. If you have great eyes play them up with a special hue!