Overwhelmed with the logistics of planning your big day? Join the club! We asked top wedding professionals and real brides around the country to divulge their stress-less secrets.
By: Stefania Sainato
Planning a wedding can be the ultimate exercise in stress management. At times, it may feel as if you're being asked to juggle balls while jumping through flaming hoops of fire — all with a can-do smile on your face. And with unexpected wedding costs, vendor disputes or tricky etiquette dilemmas to contend with, it's no wonder some couples fantasize about eloping (or actually go through with it!).
Although no one can guarantee a bump-free road down the aisle, there are lots of tricks that can help make the process that much smoother so that you can get back to enjoying the true purpose of planning: marrying the person you want to spend the rest of your life with.

Photo Credit: Erin O'Neil Photography via Heart Love Weddings on Lover.ly
Venue Know-how
1. Consider choosing a singular location that offers hotel accommodations, as well as ceremony and reception capabilities. Mary Bradley, the owner of Mary Bradley Events, recommends selecting one site where all of the festivities can take place, which will help you save money, cut down on time and eliminate transportation logistics.
2. Get married in an (almost free) space. Some public sites like parks or gardens allow you to tie the knot there in exchange for a small donation. Shannon Mcnay, a personal finance writer who recently planned her NYC wedding for less than $5,000, opted to wed at a community garden in the East Village. She reveals that "My husband and I are from different religions, so we chose to get married in a neutral place. It was beautiful and it provided exactly the setting we wanted — a small urban oasis."
3. If you're willing to be flexible on your exact date...wait until four to five months before your desired wedding month to book your venue. Most couples select their date and site at least one year out, but according to Grace Eurglunes, a wedding planner at The Addison, there is major bargaining power to be had for those with a shorter timeline. "You can save up to half the cost on your venue, food, and more, as all wedding professionals are looking to fill upcoming dates where they have nothing booked yet," she advises.
4. Ask to see how your ceremony and/or reception site will be set up in the event of inclement weather. Couples may fall in love with a venue for its natural beauty, but when the wedding day arrives and rain or snow begins to set in, that can pose a challenge in maintaining what they had originally envisioned. That's why The Woodmark Hotel recommends not only discussing weather alternatives, but actually taking a look at how they would be executed. For example, their tent comes equipped with heating and cooling capabilities and it can be completely closed off from the outdoors.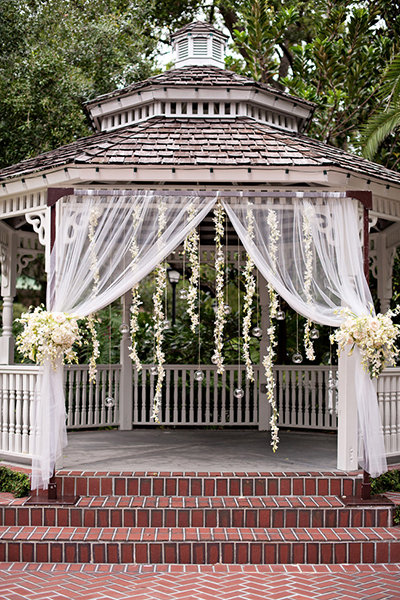 Photo Credit: Kristen Weaver Photography on Fab You Bliss via Lover.ly
Working with Vendors
5. Attend bridal shows and expos early on in your engagement. "There's no better way to get inspired with new and unique ideas than by seeing them firsthand," says Carole Trulio, the Catering Manager for Four Seasons Hotel in Atlanta. Plus, you'll be entered into raffles where you could score a free honeymoon, gown or more! Just create a wedding-only email address beforehand so that you don't get inundated with messages while you're at work.
6. Decipher wedding testimonials to determine if it's worth meeting with a potential vendor. It might be tempting to scan online reviews based on ratings alone but wedding photographer G.E. Masana advises filtering through them more carefully. Reviews fall into three different categories: the "exit door" review, where a bride and groom haven't yet experienced the service but are enthused about having contracted that vendor; the "good guy" review, where the vendor delivered perfunctory service and therefore, the couple had nothing special to say (e.g. "Bob showed up on time and was very accomodating"); and lastly, the "exceeded expectations" review, which is the best kind to look for. In this kind of testimonial, the couple isn't just satisfied — they're beyond thrilled and they mention specific details about why this particular professional blew them away.
7. Book as many services as you can with a single vendor. For example, if your wedding planner or florist offers lighting, rentals and invitations, you can potentially score a big discount for packaging them together, rather than hiring different vendors to execute each element. You also have more room to negotiate. Here's what to ask before you book your vendors ►
8. Don't just tell your vendors what you like. It's important to actually show them! For example, there's hundreds of variations of blue, so rather than leave any room for interpretation, Krystal Tien of Couture Events recommends giving a Pantone color swatch to vendors so that you're all on the same page about what "dusty teal" looks like. Browse 200+ beautiful color-combinations for your wedding ►
9. If you don't have a wedding planner, consider hiring a day-of coordinator. "Not only will she/he guide you through the day, but they will be the liaison between you and everyone else involved in the wedding. Dealing with one person alleviates a ton stress on the big day," says Andrea Correale, an entertaining expert and the founder of Elegant Affairs. Learn more about what day-of planning entails (and costs) here ►
10. Can't afford a professional wedding video? Hire a shooter just to capture raw footage. That way, you can capture all of the memories and have them edited into a video at a later point in time (say, after you're received any monetary wedding gifts). If that's still completely out of your budget, Martine Boursiquot-LaConte, the owner and founder of This Modern Love Events, suggests flipping the script by renting mini video cameras from WeddingMix. For a fraction of the cost of professional videography, you can assign a specific number of cameras to relatives or friends. After the wedding, you mail them back to the company and they'll edit your footage into a full-length video for you.
Next: How to get organized and score dazzling décor for less ►
Pages