Surefire ways to know when you've crossed the line — and how to bring back the bridal bliss.
By: Sharon Naylor
Being excited about your wedding is normal, but when you let it become an obsession, it totally takes the fun out of the experience! Too many brides allow their big day to become their all-day, everyday reason for living—annoying everyone around them in the process—and often, they don't even realize that they've gotten that bad. Read on for all the warning signs (and ways to reclaim your sanity).
1. You're Too Obsessed If … You promised no wedding talk, but you do it anyway.
This can happen during date night or girls' night out, and it frustrates the people who want to spend time with you.
How to Dial It Down: Tell loved ones, "If I start talking about the wedding, just tell me to stop." This shows that you're aware you have a problem, and you'll all get a laugh each time they "catch" you veering into wedding mania. Have a sense of humor about it and friends and family will lighten up, too. What doesn't work? Giving them a dollar each time you mention the big day—that could get very expensive!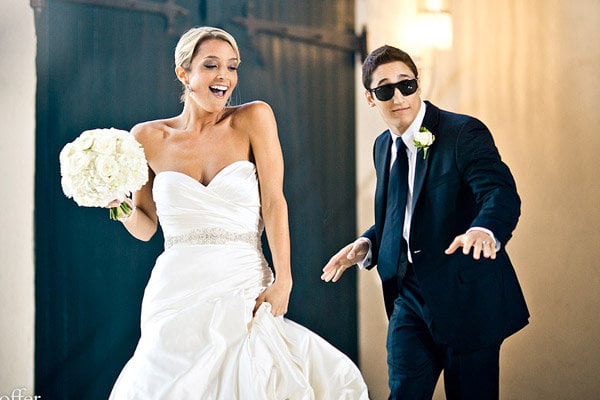 Photo Credit: Hoffer Photography
2. You're Too Obsessed If … You're doing a lot of research but not making any decisions.
For instance, you've visited 10 floral shops for consultations, tried on 50 dresses, looked at 17 invitation designers' portfolios…but you haven't booked anything. You're too afraid to commit to one style or choice to the point where the pressure is driving you (and your groom) nuts.
How to Dial It Down: Start by jotting down a very detailed priority list for each major wedding decision you'll have to make (everything from your invitation to your cake), so that you and your groom both know your likes and dislikes. Armed with your wishlist, make a rule that you'll research lots of vendors online, but only schedule consultation appointments with the top three to five who meet all of your criteria. This organized approach will help you stop the indecisive cycle and find what you truly want.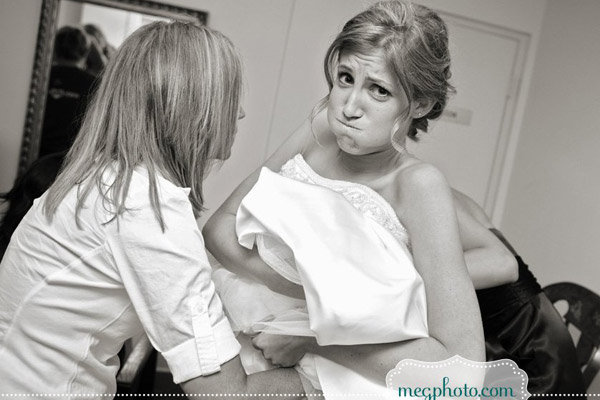 Photo Credit: Meg Baisden
3. You're Too Obsessed If … You're checking the weather report for the countries where your exotic flowers are grown.
The exception, of course, is if there's the threat of a hurricane or some other natural disaster before your wedding, which would make checking weather reports understandable. But checking weather.com in Ecuador to see how the roses are doing? That's just overdoing it.
How to Dial It Down: Accept that weather reports are not set in stone and one day's predictions could shift from rain to sun and clouds to flurries. Limit your weather check-ins to a few days prior to the wedding and take the predictions with a grain of salt. Instead of fretting 24/7, spend your time planning a terrific Plan B in case the weather doesn't cooperate. When you know you have an alternate plan and a wedding coordinator who can handle it, you won't have to worry so much.
Photo Credit: Axioo Photography
Pages