What's a corkage fee? What does "thermography" mean? Tussy mussy? Figure out this secret language with our guide to must-know terms.
As you meet with vendors, you will quickly realize there's a whole slew of wedding-specific terms you'll need to be familiar with in order to get exactly what you want. It pays to know the vocabulary. Master this list so that you can deal with the pros in their language.
Cake Terms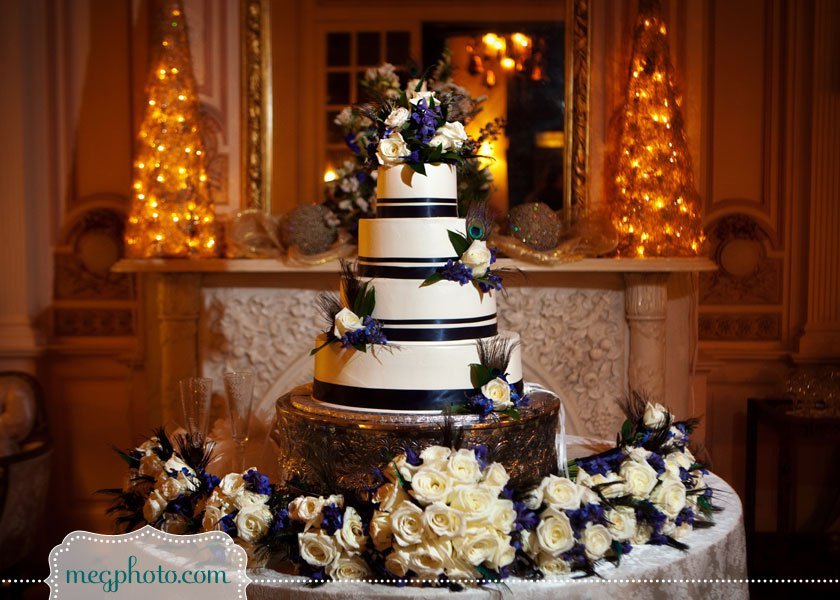 Photo Credit: Meg Baisden Photography
Buttercream: The most common type of icing. It's soft, creamy and sweet, made of butter, sugar and milk. Your baker can use it to cover the outside of your cake and/or as a filling in between the layers.
Cornelli: A form of piping that creates a three-dimensional pattern of lace and squiggles.
Dragees: Decorative silver-coated balls made of sugar.
Fondant: Icing made of sugar, gelatin, corn syrup and glycerin that has a firm yet tender texture and a smooth, porcelain-like finish. It's more expensive than buttercream because decorating with it is more complicated and labor-intensive.
Ganache: A dark, rich combination of chocolate and cream used as a filling or icing.

Genoise: A French sponge cake that's drier than American cakes. Typically soaked in a liqueur syrup and layered with fruit fillings or flavored whipped cream.
Marzipan: Hardened almond paste and sugar, this confection is traditionally used to make realistic cake toppings. It can be rolled and used as icing.
Royal Icing: A hard, brittle and not-very-tasty type of icing made of sugar and egg whites. It's used mostly for sculptural decorations, like roses, swirls and dots.
Table Cakes: Can be used as a substitute for floral centerpieces, which can save you money. These individualized cakes can be used as centerpieces throughout the meal.
Pages