From timing to budgeting to breaking in your shoes, here are some tips the experts really want you to know.
By: Jennifer Lazarus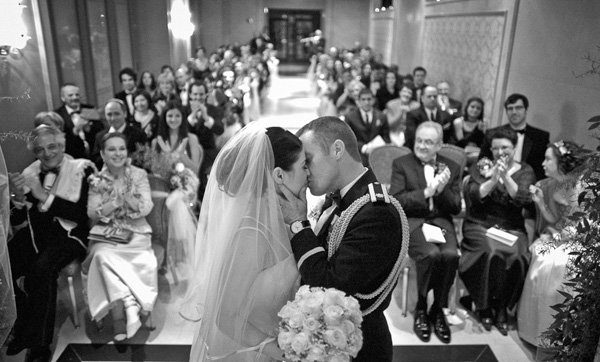 Photo Credit: Daniele Del Castillo
1) What's the Rush?
Sure, you're excited when you get engaged, but don't act impulsively, says Cathy Johnson of Cathy Johnson Weddings, in Oklahoma City, Oklahoma. "So many brides rush out and start putting down deposits without thinking through the logistics of what goes into planning a memorable day," she says. "I advise the bride and groom to let it all sink in and wait for a few weeks after they get engaged. Then start."
2) Get the Big Picture.
"You need to envision the kind of wedding you want — outdoors, cocktail reception, beach — and then work inward from there," says Kathi R. Evans, event coordinator for All the Best Weddings and Celebrations, based in Toms River, New Jersey. When you know it's a beach wedding, for example, you can choose your colors, and the rest of the details — décor, flowers and food — will start to fall into place.
3) Create a 'Wants' and a 'Needs' List.
"Try to separate your 'wants' from your 'needs,' " says Samantha Goldberg, owner of Gold Events Planning, in Bridgewater, New Jersey. "The 'needs' list consists of the items you have to have to make your special day work, such as a good photographer and an affordable venue, while the 'wants' are the items you get after the 'needs' are acquired (such as ornate centerpieces or customized favors)."
4) Know Your Budget Really, Really Well.
"Do not spend a dime or book a single service until the two of you have thoroughly worked out your budget," says Jean Picard of Jean Picard Wedding Consulting, based in Santa Barbara, California. "This is where a couple can go wrong early in the game and never recover. They fall in love with a venue and book it right away, then find they have to skimp on everything else, including necessities."
5) Don't Cut the Wrong Corners.
Sure, Uncle Harry would love to take your wedding photos, but will you be happy with them? Probably not, says Barbara Thleiji of Belle Occasions, in San Francisco. "Always hire professional, licensed vendors," she advises. "You will save yourself a lot of stress by hiring well-qualified people, whose work you can count on."
Pages