Break the bank or save for a house — your Caribbean trip of a lifetime can fit either budget.
By: Sherri Eisenberg
While the old adage that you get what you pay for is true, choosing a Caribbean destination and hotel has as much to do with taste and personality as it does with budget. And cheap doesn't always mean skimping. Here, we've rounded up the best the Caribbean has to offer from hotels to activities at two distinct price points. Find one that is right for your trip of a lifetime and your wallet.
U.S. Virgin Islands
The U.S.V.I. couldn't be an easier honeymoon destination. It's a cinch to get to, because there are lots and lots of flights from U.S. cities into St. Thomas. And because it's U.S. territory, you'll recognize everything from street signs to currency and only ever need to communicate in English. And from St. Thomas to St. John, it's just a short, inexpensive ferry ride.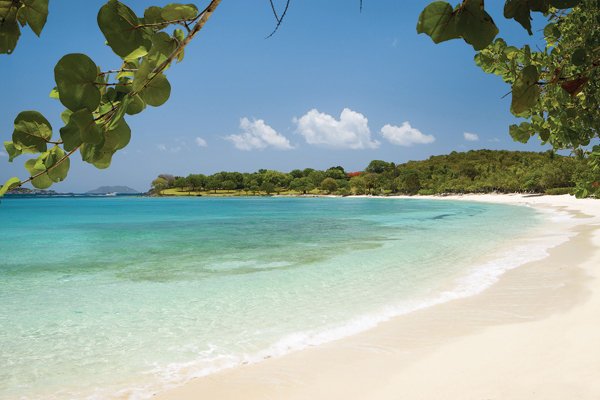 Photo courtesy of Caneel Bay, a Rosewood Resort
Save
At Concordia Eco-Resort, the ample studio accommodations come at a price that's low enough to allow you to indulge in that long, relaxing honeymoon of your dreams. Here, you can take weeks to get over the hassles of travel, shake off the stresses of the wedding, and sink into true relaxation that only time can provide. Best of all, rooms come with kitchenettes, so if you really want to save money by cooking, you could extend your time away from the real world for as long as you can get away (room rates start at $165 a night; concordiaeco-resort.com).
To Do: One complaint about Caribbean islands: On the nights when you don't want to listen to music, dance and drink or just stay in, there isn't much to do. The solution? Several nights a week, after the sun sets, the Concordia Eco-Resort shows films in the breezy yoga pavilion. You can breathe in the salt air, watch the stars and make plans for the next lazy day while you wait for the opening credits.
Where to Eat: Last year, when New York-based chef Zak Pelaccio opened an outpost of his Malaysian seafood restaurant, Fatty Crab, on St. John, foodies who also love the Caribbean rejoiced. You don't come here for conch fritters: instead, look for crab ramen, green mango salad, coconut rice pork ribs glazed with fish sauce and palm sugar and brisket rubbed with calamansi (a fruit similar to lime) and chiles.
Splurge
Located on protected national parkland preserved in the 1950s by Laurance Rockefeller, Caneel Bay, A Rosewood Resort is a rare find. Quiet and unspoiled, with more than a half-dozen coconut palm-lined beaches to choose from, the resort is one of the best choices in the region for sun worshippers. The rooms are like secluded cabins and many line the shore, leaving nothing between the surf and you but the diamond-white sand (room rates start at $450 a night; rosewoodhotels.com).
To Do: This is not the place for lounging by the pool with umbrella-topped frozen drinks (although you can do that too). With seven beaches and 170 tropical acres, Caneel Bay is a joy to explore. Pack a picnic lunch, your snorkeling gear, towels and camera, and set off for a day-long hike. Expect to see not only the resort's famed wild donkeys in this wildlife sanctuary, but also deer, lizards, iguanas, pelicans and even — if you're lucky — sea turtles.
Where to Eat: The Turtle Bay Estate House, the white-tablecloth fine-dining restaurant at Caneel Bay, is a rare steakhouse in the islands, and a good one at that. Classics include grilled porterhouse steak, braised short ribs in Marsala sauce, creamed spinach and even chocolate cake for dessert.
Pages