If I had to pick a favorite season, it would undoubtedly be winter with its festive celebrations, whimsical design and enchanting holiday spirit. I adore the holidays and planning a wintry-inspired wedding is quickly becoming my newest obsession, so I put together some ideas to hopefully inspire other brides as well.
From oh-so-gorgeous ceremony aisles to bouquets filled with pinecones, welcome to your very own winter wonderland!
1. Welcome your wedding guests in style with this enchanting table. The candles and lighting add drama to this space: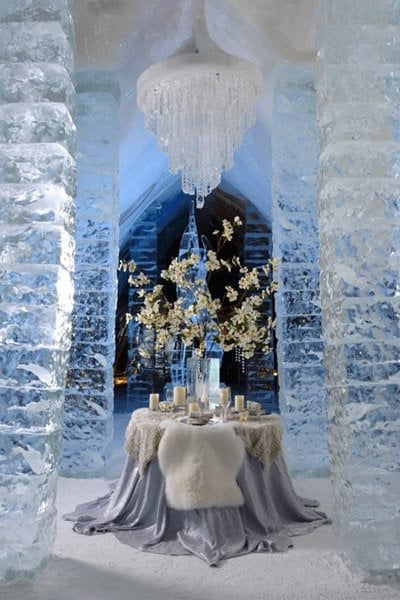 Photo Credit: Hotel de Glace
2. Barns or other venues with vaulted ceilings are a romantic choice for a winter ceremony. This venue is particularly divine with its simple design and wintry vibe:

Photo Credit: One Love Photo on Weddbook via The Bridal Detective
3. Are ballrooms more your speed? Then you'll be crushing on this ballroom ceremony with a tree-lined aisle:

Photo Credit: Make Be-Leaves on Weddbook via The Bridal Detective
4. I love this bouquet filled with pinecones and accented with fabric details on the handle: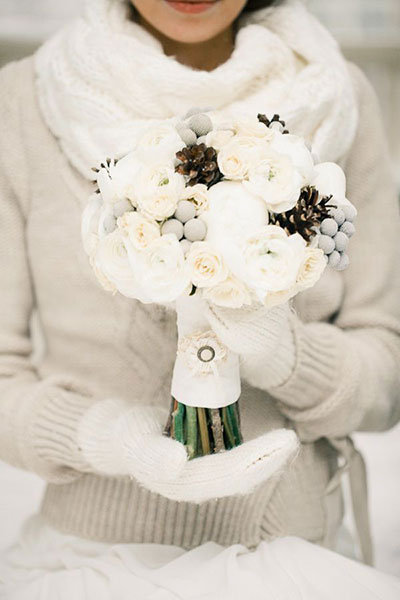 Photo Credit: Anastasiya Belik via The Bridal Detective
5. This burlap ring bearer pillow should come with a "cuteness overload" warning label!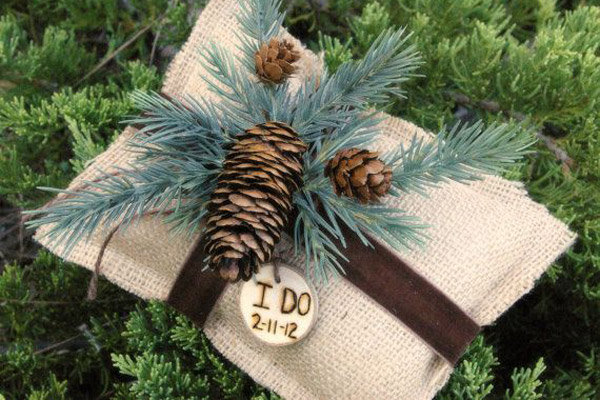 Photo Credit: MinSvenskaLandgard on Etsy via The Bridal Detective
6. Love all things rustic? Add an unexpected, whimsical touch with this pinecone installation:

Photo by Janet Howard Studio on Style Me Pretty via The Bridal Detective
7. Need a major dose of style inspiration for your tables? Try incorporating white flowers, candles, and metal tree centerpieces with crystal garlands for a wintry touch:

Photo Credit: Preston Bailey on Weddbook via The Bridal Detective
8. These glittery tablecloths are perfect for a glam winter-inspired celebration: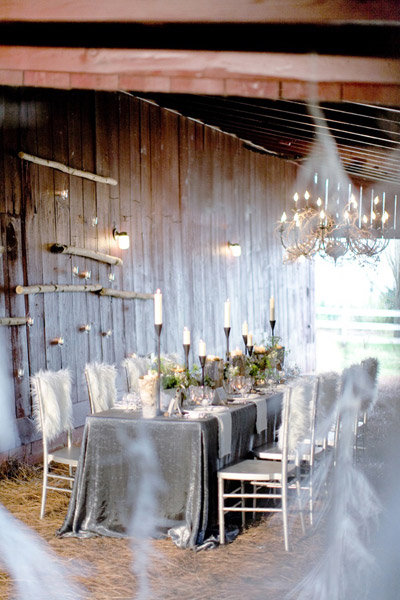 Photo by Leslee Mitchell on Ruffled Blog via The Bridal Detective
9. My newest style obsession is undoubtedly ghost chairs. They can be paired with rustic tables for an eclectic look or make a statement inside a glamorous ballroom.
If you're planning a winter wedding and want to incorporate ghost chairs into your design, drape faux furs over a few of the chairs to create a cozy look: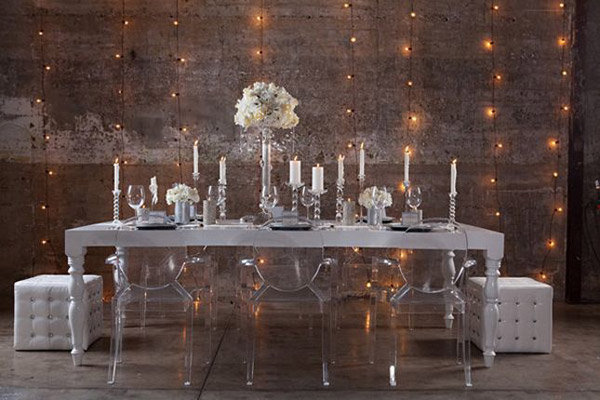 Photo by Scott Lawrence Photography on Belle Magazine via The Bridal Detective
10. For the perfect finishing touch, try adding a sprig of fir to the backs of your ceremony or reception chairs: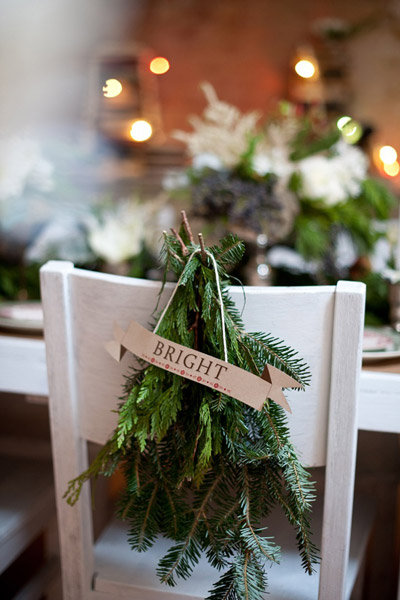 Photo Credit: Nine Photography on Ruffled Blog via The Bridal Detective
11. Pine needle sprigs make for fun and creative place cards:

Photo by Sean Flanigan Photography on Tumblr via The Bridal Detective
12. Cinnamon sticks and tree slices are inexpensive ways to add holiday spirit to your winter-inspired nuptials. Add a sprig of rosemary or fir to your napkins for an aromatic touch as well: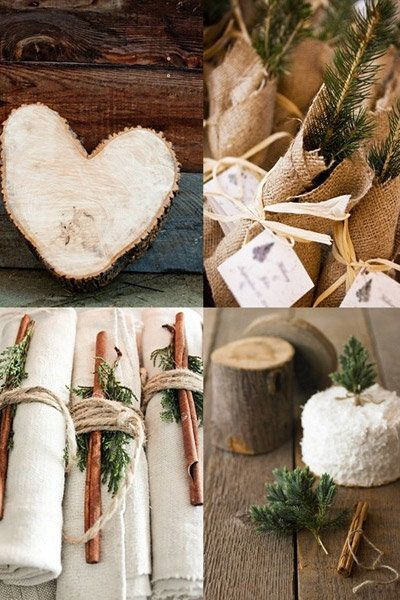 Photo by Loveolio Swoon via The Bridal Detective
13. Don't get me started on tablescapes — there is so much beautiful china, stemware, and flatware to choose from! Plus the crazy-gorgeous florals that line this winter-inspired display are just too amazing to pass up: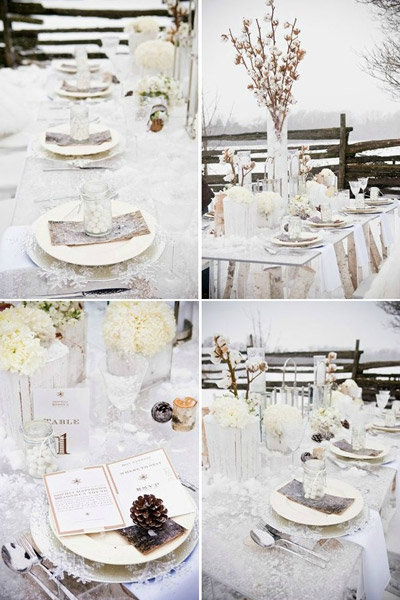 Photo Credit: Jenny Haas on Green Wedding Shoes via The Bridal Detective (left);
Photo Credit: Purple Martini on The Wedding Wire Blog via The Bridal Detective (right)
14. Let's just talk about how adorable this mistletoe wedding cake designed by Erica OBrien is for a moment:

Cake created by Erica O'Brien
15. An icicle cake? What a unique concept! Show your baker this inspiration photo from Cakeability Green:

Cake created by Cakeability Green via The Bridal Detective
16. I'm Cake Opera Co.'s biggest fan girl. As if I needed another reason to love their confectionary creations even more, this hand painted cake with winter-inspired details has officially left me smitten for the season:

Cake created by the Cake Opera Co.
17. This is the crème de la crème of cake tables! Adding draping and candles instantly created a backdrop that was meant for a work of edible art: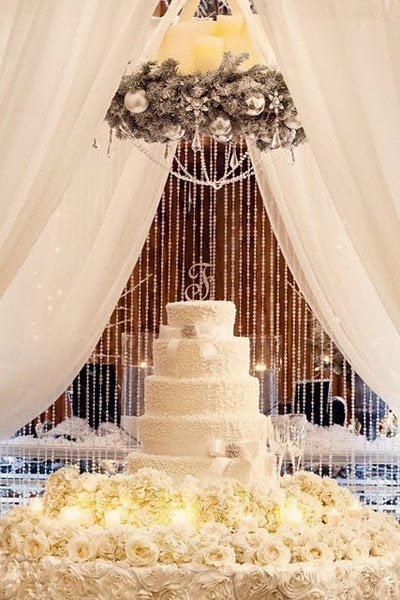 Photo by Benfield Photography on Mod Wedding via The Bridal Detective
18. Hang clear ornaments inside your venue to add a touch of the holidays: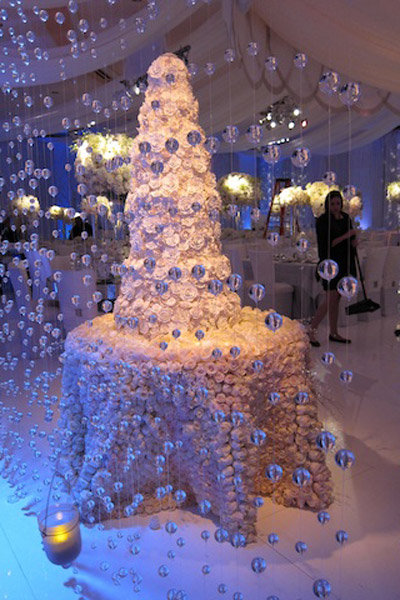 Photo by Jay Goldman Photography on Lover.ly via The Bridal Detective
19. Stop the madness — this marshmallow installation is too brilliant! Hang it over your dessert display:

Photo Credit: Wednesday Custom Design on Mon Carnet via The Bridal Detective
20. Remember cutting out snowflake shapes in elementary school for craft time? This is such a great way to bring a touch of winter wonderland to your dessert buffet.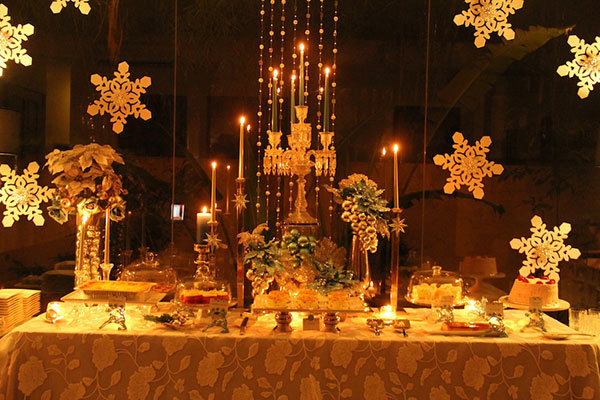 *Source: User-submitted by Kaye Termulo-Garcia on Pinterest
Tell us: Which photo is your favorite?
—Angelica Braggs
*Know the original photography credit? Leave a comment below and we'll add it to this post.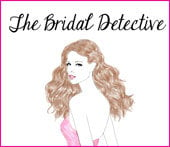 Angelica Bragg is a real bride and the blog maven of The Bridal Detective. She and her fiancé, Edwin Mirzayans (a published author), are planning a destination wedding at the Italian Lakes in Summer 2014. With a stunning backdrop and "la dolce vita" attitude, the couple's soirée will be intimate and romantic, all while celebrating two cultures. When the couple returns from their Italian road trip honeymoon, they will throw a glam after-party with all of their loved ones back home in Jacksonville, Florida.