I'm not sure why, but my fiancé Edwin doesn't like ballrooms. He also breaks out in hives at the mere mention of a tented reception. Then again, if he could have our wedding on the football field of the Washington Redskins, he would simply call that perfection (don't ask what I would call that). However, since the Mr. can't predict sunshine and warm weather at our wedding, which will take place in Italy (read more about my la dolce vita inspiration here), I will have to insist on our celebration taking cover with some fabulous options. Check out some of my favorite wedding tents below!
1. Black chandelier fixtures add sexy contrast to soft, romantic uplighting.
2. Add dimension to your space with canopy fabric draped at different heights and eye-catching lights in mismatched shapes.
3. This light-and-airy look with minimal decoration (gold chivari chairs, one major centerpiece in a silver urn) is ideal for a daytime wedding.
4. Guests won't be able to take their eyes off this incredible suspended décor featuring floral garlands and circular beads.
5. Transport partygoers to an exotic land (even if the reception is just taking place in your backyard!) with vibrant red tents. Take it a step further by projecting intricate light patterns on a few.
6. We're not sure what we love more—the gaps of space that let light stream in or the cage lighting fixtures in this photo.
8. If you're a rustic bride, rent comfy wooden furniture for guests to lounge in. Greenery and simple candles (both pillars and tealights) complete the look.
9. Romance at its best! With flowers that look like they magically sprang out of the ceiling, this definitely falls more into "fantasy" territory, but you can scale it down and it will still have a lovely effect.
11. Boxed lighting, color-washed walls and one statement-making centerpiece give your tent modern appeal.
12. All-white is anything but ordinary when you mix up textures and add gold accents!
13. Spruce up basic low centerpieces with candles arranged at different heights. Tiny bows added to simple wooden chairs are a sweet touch.
14. Hosting a seaside wedding? Seafoam pillows and tablecloths are the perfect oceanic touch.
15. How chic is this ombré color palette? The dangling crystals on the chandelier add a luxe touch.
BG brides, which of these ideas would you try for your own wedding?
— Angelica Bragg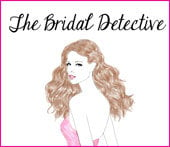 Angelica Bragg is a real bride and the blog maven of The Bridal Detective. She and her fiancé, Edwin Mirzayans (a published author), are planning a destination wedding at the Italian Lakes in Summer 2014. With a stunning backdrop and "la dolce vita" attitude, the couple's soirée will be intimate and romantic, all while celebrating two cultures. When the couple returns from their Italian road trip honeymoon, they will throw a glam after-party with all of their loved ones back home in Jacksonville, Florida.