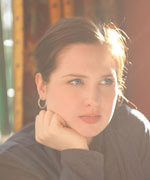 Guest blogger: Heather Sharpe, senior editor for Style Unveiled.
Style Unveiled is a wedding website and blog that focuses on gorgeous weddings and wedding related topics that showcase wedding professionals and the hard work they do. It's obsessively updated each and every day!
I love featuring all kinds of wedding details, but if I get a submission with a really amazing wedding cake, it excites me all the more. An exceptional cake can steal the show — make guests talk for months! I've put together a collection of some of my favorites that I've featured in my wedding cake gallery, and I hope you enjoy them just as much as I do.
1. Dramatic White and Red Wedding Cake
This design is beautiful because of the contrast between the scarlet flower and the stark white base. It's striking without being over-the-top.

Cake by: Charm City Cakes West
2. Silver and White Great Gatsby-Inspired Wedding Cake
Art Deco wedding details are all the rage right now! I love the sparkly silver detailing that forms a chevron pattern.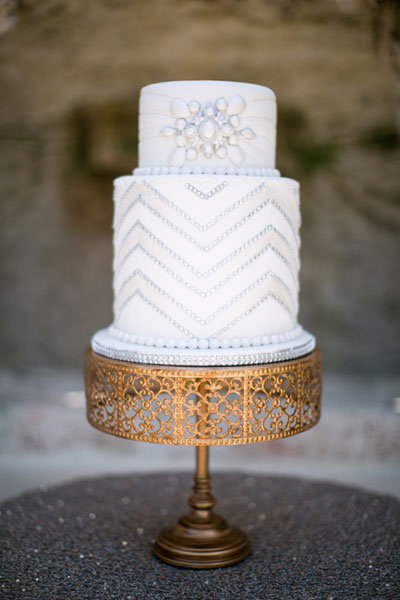 Photo Credit: Jamilah Photography
Cake by: Paola Cake Atelier
Get more Gatsby inspiration here! >>
3. Whimsical Pink and Burgundy Wedding Cake
How festive is the pattern on this wedding cake? The black swirls are a great finishing touch. Recreate the look by asking your baker to mix different tier shapes.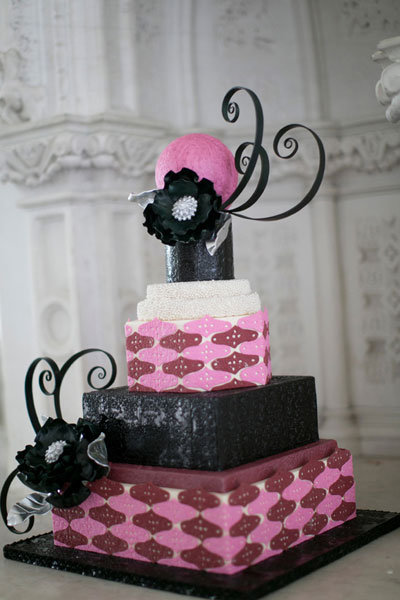 Photo Credit: Jessica Claire
Cake by: A Wish and A Whisk
Check out more photos from this beautiful shoot! >>
4. White and Gold Wedding Cake with Diamond Pattern
For an elegant wedding cake with a twist, consider pairing white with gold. The oversized flower adds drama appeal and it costs less than covering an entire cake with smaller blooms.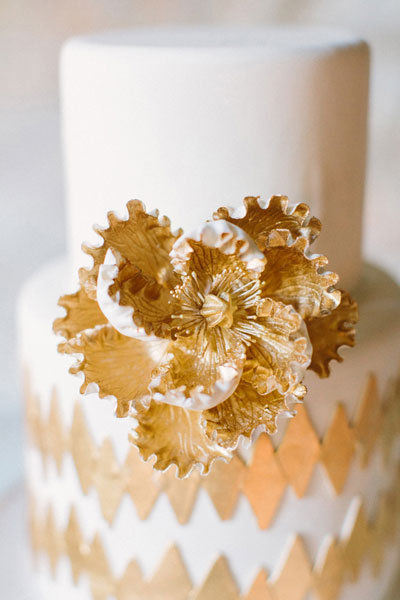 Photo Credit: Simon Lee Bakery
Cake by: Taylor Lord Photography
Get more gold wedding ideas here! >>
5. Moroccan-Style Wedding Cake with Mosaic Design
Destination wedding, anyone? Transport guests to an exotic locale with an intricately-patterned cake topped with succulents and other eye-catching flowers.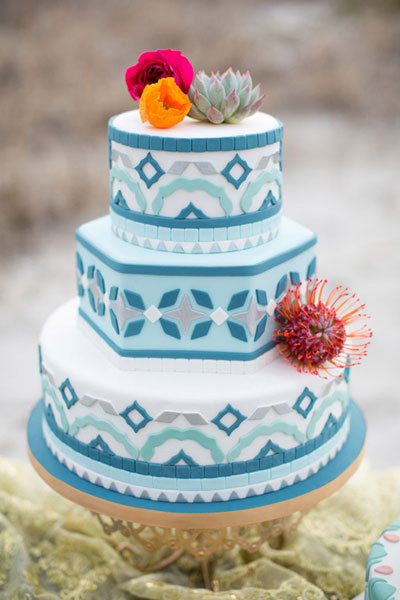 Photo Credit: Theo Milo Wedding Photography
Cake by: One Belle Bakery
Check out more exotic wedding ideas here! >>
6. Blush and Gold Wedding Cake
If this cake tastes as sweet as it looks, then I'm sold. The muted tones and sash create an angelic feel.

Photo Credit: Mastin Studio
Cake by: Honey Crumb Cake Studio
See more photos from this gorgeous wedding! >>
7. Wedding Cake with Vintage Jewel Tones
Searching for something more quirky and unconventional? Spruce up a basic cake design with wow-worthy floral accents that add loads of texture and color.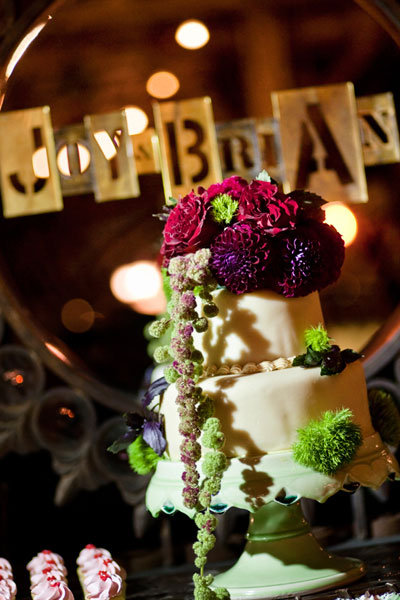 Photo Credit: Alante Photography
Cake by: Hoffman's
Design by: Bella Signature Design
8. Lavender Ombré Wedding Cake with Pearl Detailing
This cake would be perfect for a wedding with a purple color scheme. The pearls at the top complement the soft ruffles at the base.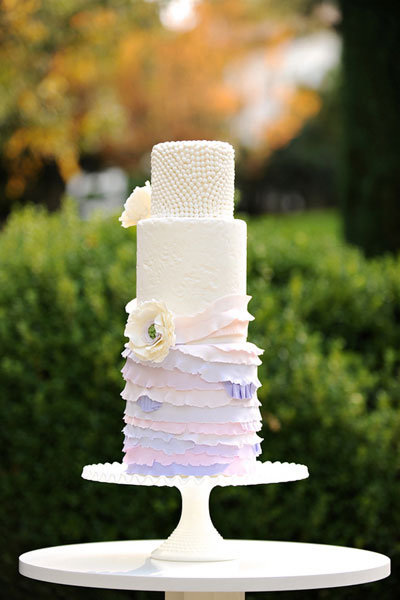 Photo Credit: Gavin Wade Photographers
Cake by: Catherine Joanne Cakes
Get more purple and pink wedding inspiration here! >>
9. Teal and Gold Fleur De Lis-Inspired Wedding Cake
This is one of the most regal cakes I've come across. Teal is such a fresh choice for a wedding color palette, and the white and gold add an extra dimension to this confection!

Photo Credit: Taylor Lord Photography
Cake by: Simon Lee Bakery
Get more teal wedding ideas here! >>
10. Blush and Champagne Wedding Cake
Do you tend to gravitate towards soft pastel hues? Take a cue from this cake and ask your baker to construct completely different designs for each tier. This creates a romantic look without playing it too safe.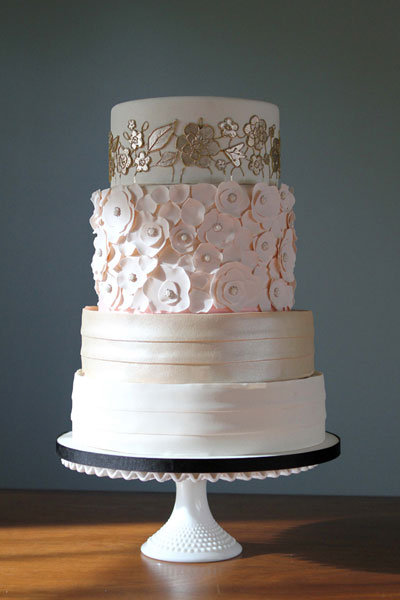 Cake by: Charm City Cakes West
—Heather Sharpe