When Miley Cyrus shared some photos from her family's Christmas celebration on Instagram, some sharp-eyed viewers noticed something suspicious — both Cyrus and Hemsworth were sporting rings on their left ring fingers. Did the pair quietly get married?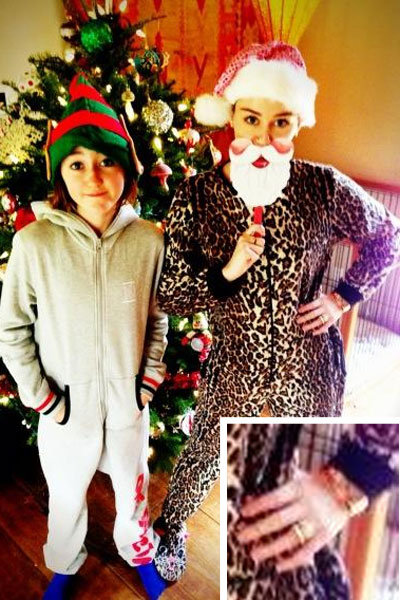 Though Cyrus told Marie Claire in the September issue that she planned on a long engagment, she also hinted that she wouldn't be throwing a big wedding. "I don't really care about the wedding or the piece of paper as much as I do the promise we've made to each other... Life is too short not to be with the person you want to be with. "
Since shedding her Hannah Montana image, the singer/actress has become known for doing the unexpected — including chopping off her famous hair — so it wouldn't be too shocking if she bucked tradition and eloped. What do you think?
Update: The pair has yet to confirm or deny any rumors... but those diamond eternity bands surrounding her engagement ring in this new photo (with her adorable new puppy) are certainly suspicious :
—Kristen O'Gorman Klein