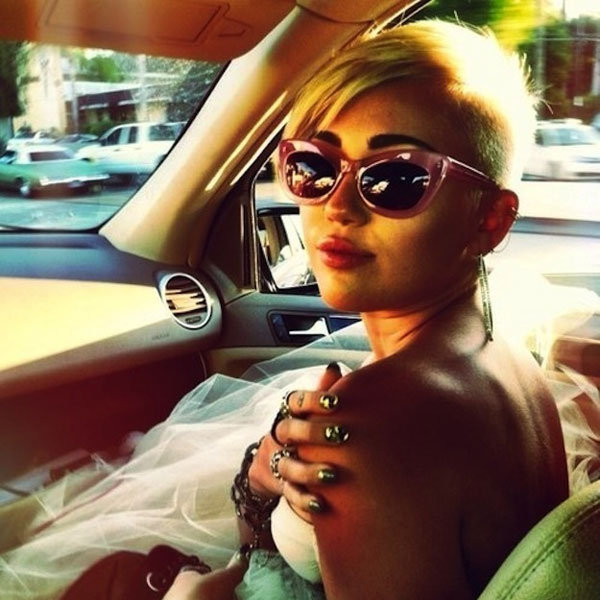 Photo Credit: Miley Cyrus' Official Instagram Account
For triple threat Miley Cyrus, getting married once just wasn't enough!
Dad (and country singer) Billy Ray Cyrus, 51, confirmed to Us Weekly this week that the pop star/actress will throw three wedding celebrations with fiancé Liam Hemsworth.
When the Hunger Games heartthrob, 22, asked for papa's blessing back in June, he said yes, but only if he could star in his brother's next film (referring to Thor actor Chris Hemsworth). "They have got three weddings, that has to be three movies for me," he joked. (Read more about Miley Cyrus' engagement here!)
11/8 UPDATE: Billy Ray Cyrus may have jumped the gun on Monday—daughter Miley clarified on Thursday during an "Ellen" appearance that "there's some rumor going around that I'm having 47 weddings, I'm not."
Details and date aside, she revealed that she's aiming for perfection: "That moment of when he [Hemsworth] first gets to see me in my dress, and everything all together— it has to be perfect, it has to be like the soundtrack in like a movie."
Cyrus became choked up recently when he heard a speech by fellow dad Indianapolis Colts coach Chuck Pagano (currently battling leukemia), who said he hopes to live long enough to see his daughters get married. Moved, he sent a text to his own daughter that said "'I just want you to know, whenever you're ready, I'm going to be very proud to walk you down that aisle.' She was like, 'Daddy!' with two smiley faces!" Well, her nickname isn't "Smiley Miley" for nothing...
The candid 19-year-old also made headlines back in October when she called into Ryan Seacrest's radio show and admitted that she believes ex Nick Jonas' new song "Wedding Bells" was written about her.
With lyrics like, "She says, can you keep a secret/ A ceremony set for June/ I know it's a rush but I just love him so much/ I hope that you can meet him soon," rumors are swirling that the Cyrus-Hemsworth celebration(s) will take place in June 2013.
Stay tuned for more of Miley's wedding details as they emerge!
—Stefania Sainato