You may now kiss the bride: Melissa Etheridge is a married woman!
The Grammy Award-winning singer wed longtime girlfriend Linda Wallem on May 31, just two days after both women celebrated their 53rd birthday. They chose the picturesque San Ysidro Ranch in Montecito, California as their venue (actresses Melissa Gilbert and Hilary Duff also got married there).
Related: Download Bridal Guide's Latest Issue on Your iPad!
Etheridge shared the following snapshot on Twitter from their big day, captioning it "True love...so blessed. 'By the power invested in me by the state of California...'" She wore a gray pantsuit and Wallem (the creator of "Nurse Jackie") walked down the aisle in an ombré gown by THEIA featuring 100,000 ivory laser cut petals.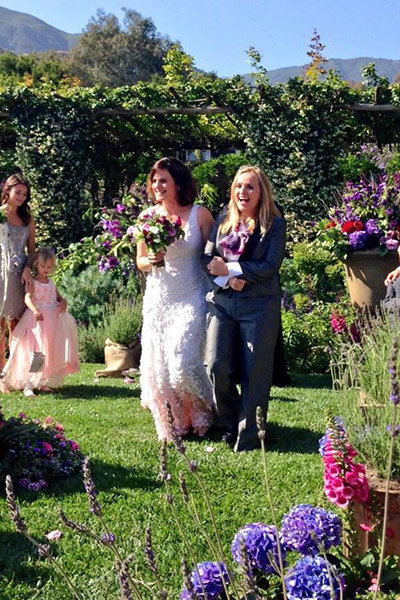 Photo courtesy of Melissa Etheridge on Twitter
"Working with Linda to choose her wedding gown was an honor and so much fun! We tried on various styles as initially Linda thought she wanted sleeves, but as soon as she slipped on the 'Emma' gown, tears welled up in her eyes, and she knew she had found THE gown," says Don O'Neill, THEIA's creative director.
People reports that Etheridge serenaded her bride with a new song that she wrote especially for the joyful occasion — we can't wait to hear it.
The pair announced their engagement last June after The Defense of Marriage Act was struck down.
Congratulations to the happy newlyweds!
—Stefania Sainato