Update: Get the scoop on Kim & Kris's divorce


Check out the first photos of Kim Kardashian's three wedding gowns, courtesy of People! This issue hits newsstands nationwide this Friday. Check it out for all of the full details about Kim and Kris' extravagant nuptials.
Once, twice, three times a bride: Kim Kardashian wore three different custom-designed wedding gowns by Vera Wang at the fairytale wedding she's been waiting for.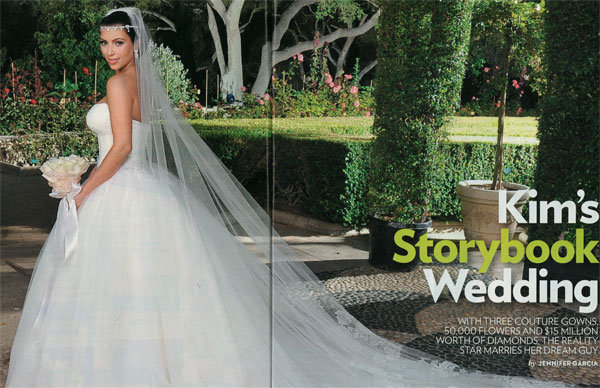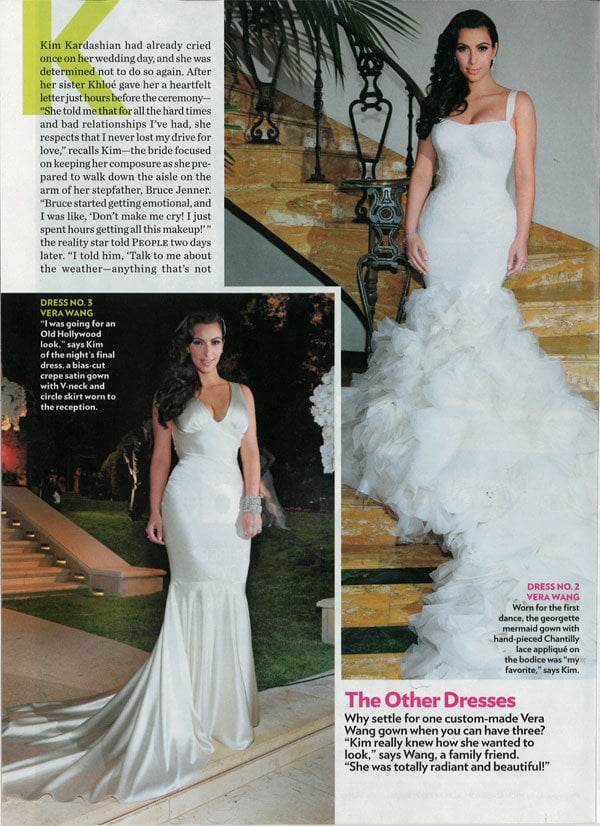 Scans from the September 5, 2011 issue of People

People magazine and E! news exclusively confirm that Kim walked down the aisle, arm-in-arm with stepdad Bruce Jenner in an ivory dress with a "full tulle skirt, basque waist and hand-pieced Chantilly lace appliqué on the bodice and train." A basque waist has a low "V" or "U" shaped silhouette, providing the illusion of height and a tight fit, the full tulle skirt is traditional romance at its best and her super-long train is dramatic.
Guests clapped their hands when the bride made her grand entrance and later remarked that she looked like an Armenian princess. Although we whole-heartedly agree, we can't help but feel a smidge disappointed that the style icon played it so safe. Sure, she was decked out in $15 million worth of jewels and took a risk by using a headpiece instead of a tiara (more on that below) but The Dress is why real brides were looking to her for inspiration.
Despite her penchant for sky-high Louboutin heels, in a surprise twist, she actually took her first steps as Mrs. Humphries in Giuseppe Zanotti shoes.
The BG editors' prediction that Kim K. would be dripping in diamonds came true—check out that jeweled headpiece by Lorraine Schwartz (the mastermind behind her mega engagement ring)!
Watch Kim walk down the aisle in the E! News video below!
Gown #2 is the dress we first picked out for Kim, which is a "Georgette mermaid gown with hand-pieced Chantilly lace appliqué on the bodice and a skirt with hand-cut organza petals intermixed with Chantilly lace motifs and organza sprig embroidery." Kim revealed to People that this was "her favorite dress" out of the trio that Wang designer for her. Ken Baker, the Chief News Correspondent for E!, told the Today Show that he spoke to Monica Rose, Kim's stylist, and she said this was the gown she would have dressed Kim in for the ceremony.
The last Vera Wang dress was a "bias-cut crepe back satin gown with V-neck and circle skirt." The slinky fabric and bias cut accentuate curves—perhaps a nod to Ms. Pippa? Kim also swapped out the classic bun for glam side waves accented by a crystal brooch.
In yet another homage to the Middletons, the bridesmaids (including sisters Khloe and Kim, half sisters Kendall and Kylie, and sister-in-law Kaela) wore white dresses. MOB Kris Jenner followed suit in another white Vera number featuring an oversized bow. Although we're big fans of bucking this particular tradition, the 'maids gowns are the same exact shade of white as the bride's ceremony dress, so it does take a while to spot her out in their group photos. We think the gowns are a little too ornate to the point of being distracting, whereas in the Royal Wedding it was Pippa's simplicity that was so stunning to watch.
Last but not least, let's not forget about the dapper men in attendance: The groom, 26, donned a "made-to-measure white peak lapel tuxedo jacket, black tuxedo pants with white tuxedo shirt and white bow tie – all by Ermenegildo Zegna." He later changed into a black tuxedo jacket and tied on a black bow tie, which matched his groomsmen's outfits. Stepdad Bruce joked in his toast that Kim has taught her new husband the importance of having wardrobe changes!
Tell us: Do you prefer Kim's ceremony style or reception looks?
—Stefania Sainato