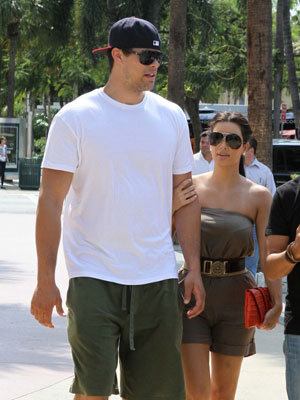 Kim Kardashian is officially engaged to her beau of six months, New Jersey Nets forward Kris Humphries. He proposed on bended knee in her bedroom, surrounded by rose petals that spelled out "WILL YOU MARRY ME?" Kim announced the couple's happy news on the cover of People magazine and revealed, "I never thought it would happen at home, and I never thought now." Humphries made it official on May 18th—BG staffers can't believe the close-knit Kardash clan was able to keep it hush-hush for so long!
Now that the secret's out, Kim can finally wear her 20.5 carat (no, that's not a typo) Lorraine Schwartz stunner out in public. Just how big is 20 carats? The $2 million gem is gargantuan even by glitterati standards: Kate Middleton's sapphire heirloom is 18 ct., while younger sis Khloe Odom's is about 9 ct. In fact, the outspoken sibling tweeted this morning, "Kims ring gave birth to my ring! LOL." Kim's other family members were quick to react to the engagement announcement as well, tweeting plenty of zingers that the reality show-brood is notorious for on "Keeping Up With the Kardashians." MOB Kris Jenner teased, "PALEEEEEZE GIVE ME MORE THAN 9 DAYS!!!!!!!!!! I AM BEGGING....." referring to Khloe's quickie nuptials that took place within a week of her proposal. Big sis @KourtneyKardash posted, "My sister is engaged!!! I'm squealing with excitement! The princess has found her prince. I am so happy because @KimKardashian is happy!"
K&K celebrated their new status with family and friends at an engagement party thrown by the bride-to-be's mother, which included real miniature horses covered in glitter. We knew Kim was obsessed with bling, but brides please don't try this at home. Based on the reality star's ultra-glam sense of style and her outspoken desire to become a Mrs., it's safe to say that her big day will be just as grand and over-the-top. (Stay tuned for Fashion Editor Naima DiFranco's wedding dress predictions for Kim.) Kardashian tells People that "I've always dreamed of a big wedding...super feminine but still really modern, chic and cool, but it has to have a lot of heart, it has to be all about the family."
(Photograph courtesy of celebuzz)
—Stefania Sainato