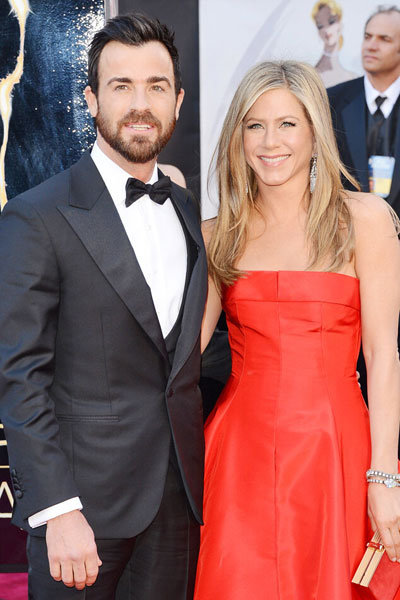 The countdown begins!
Jennifer Aniston's wedding planning is in full swing: People reports that she's set a date, "narrowed down" wedding gown options (one of her favorite fashion designers: Lanvin) and selected wedding bands.
The bride-to-be, 44, and her fiancé Justin Theroux, 41, will reportedly tie the knot sometime after March 8th, which is when her latest film, the Untitled Elmore Leonard Project, is scheduled to wrap up.
A source reveals that the couple wants an intimate wedding with just their closest family members and friends. The low-key nuptials sounds like it'll be a stark contrast from her first wedding to Brad Pitt, which took place on July 29, 2000 in Malibu.
(Wedding flashback: Aniston wore a Lawrence Steele gown that had a sexy, plunging back; she and Pitt both got matching blonde highlights for the big day; in their vows, Pitt pledged to split the difference on the thermostat and Aniston promised to always make his favorite milkshake; they decorated their venue with about 50,000 "Zen-like" flowers; and they topped off the evening with a fireworks show set to Radiohead jams, Aniston's favorite band).
Although the details of her wedding to Theroux are being kept under lock and key, we do know that the Friends star plans to take her new husband's name: "She like the way it sounds and jokes that [Jennifer Theroux] sounds very posh. They really seem to have perfect chemistry, like they complete each other. There's a perfect balance," a source told the magazine.
At the Oscars on Feb. 24, the adorable duo even finished each other's sentences—when Aniston was asked about her dress, Theroux prompted her, "It's Valentino red." Earlier this month, Grazia reported that they they even took a "marriage bootcamp" class together (complete with "screaming therapy" sessions), but Aniston's rep has since denied those claims.
Stay tuned for more details as they emerge! In the meantime, take a look back at the screenwriter's romantic proposal, that amazing rock, and Aniston's emotional reaction to it all.
Photo Credit: E! Online on Twitter
—Stefania Sainato