First, there were the celebrity wedding crashers (Taylor Swift and President Obama among the most notable). Now the newest Tinseltown craze is top musicians who moonlight as wedding singers, pulling in favors for friends (and, in some cases, hefty paychecks to belt out that first dance hit). And we're not talking the likes of Adam Sandler: These mega-watt performers are legends in the recording industry!
1. Katy Perry
My daydream fantasies of dancing to a live rendition of "Teenage Dream" for my first wedding dance with my fiancé Jason weren't too far-off: Katy Perry recently performed at Holly Valance and Nick Candy's wedding in Beverly Hills on Sept. 29. Valance is an Australian singer/actress/model (best known for her role in the soap opera "Neighbours") and Candy is a real estate billionaire. "The Valandys," as they refer to themselves, enjoyed a 45-minute set by the "Wide Awake" pop star at the tune of $1.9 million and also flew in The Jersey Boys from London to sing to them as well.
Their wedding also made headlines for its famous guests—including Simon Cowell and Princess Beatrice (remember her infamous royal wedding hat that sold for over $130,000 on Ebay?)—and over-the-top J'Aton wedding dress ($56,000+) and "black magic" calla lilies ($97,000+).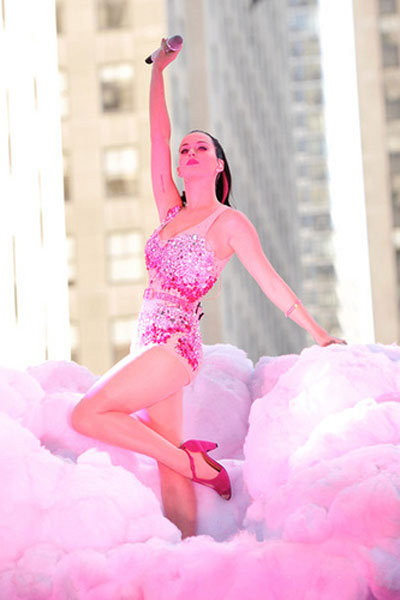 Photo Credit: Katy Perry Official Website
2. Elton John
Sir Elton has performed in three weddings over the past two months: the L.A. wedding of Laura Katzenberg (daughter of producer Jeffrey Katzenberg, a former Disney exec who became close with the singer after he did the soundtrack for The Lion King) and Mark Sudazk; "The Valandy's" wedding (rubbing shoulders with Perry); and an unnamed Canadian wedding back in August (after the couple reportedly paid the singer a stipend and made a sizeable donation to the AIDS Foundation, a cause close to Elton's heart).
Dubbed "The Wedding Singer" by TMZ, here's to hoping that "Rocket Man" will continue serenading more newlyweds to "Candle in the Wind" (now that's Jason's dream).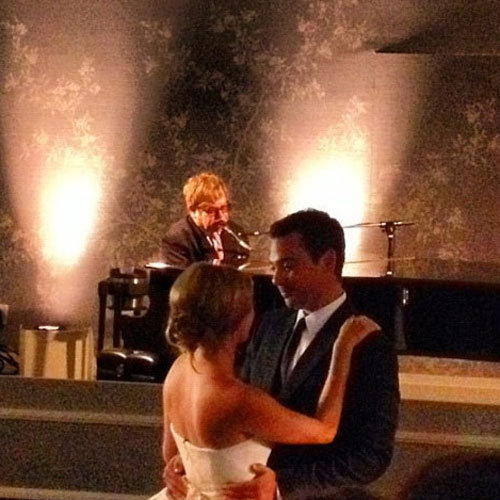 Photo Credit: Instagram
3. Florence Welch
Florence Welch of Florence + The Machine performed three songs at actors' Blake Lively and Ryan Reynold's wedding in South Carolina on Sept. 9. The singer's hair and makeup artist told People Magazine that the "Shake It Up" star was uncharacteristically nervous and even downed a Bloody Mary before getting on stage: "Florence said [she was singing] for a good friend and this was her wedding gift for the bride and groom...She said she performs all the time, but she was performing at the wedding and she got nervous because it was for a friend."
She also revealed that the Grammy-nominated star wasn't allowed to bring her cell phone to her BFF's big day, lest any photos leak out! After her brief visit, Welch hopped on a plane for the Bestival music festival in Island of Wight, U.K. But don't expect her to rock out at another wedding anytime soon: Florence + The Machine's "Ceremonials" U.S. and European tour kicked off on Sept. 14 and won't end until Dec. 12 in Dublin.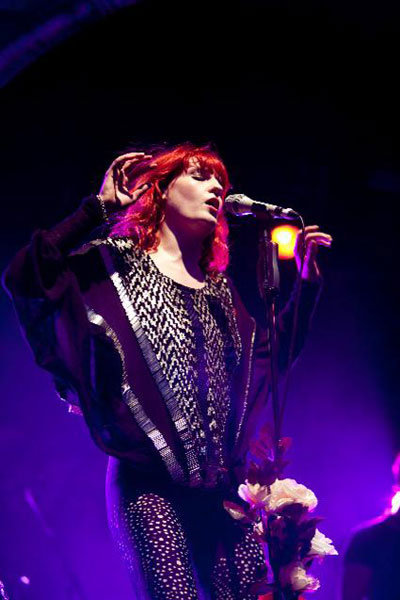 Photo Credit: Florence + The Machine Official Website
Tell us: If you could have any singer perform at your wedding, who would you choose?
— Stefania Sainato