Kelly Clarkson wasn't the only star celebrating some happy wedding-related news this weekend. Here, get a quick recap of who's engaged and who's married:
Deadmau5 Proposes to Kat Von D on Twitter
Electronic star Deadau5 (real name Joel Thomas Zimmerman), proposed to LA Ink star Kat Von D on Sunday — through Twitter.
I can't wait for Christmas so.... Katherine Von Drachenberg, will you marry me? @thekatvond twitter.com/deadmau5/statu…

— deadmau5 (@deadmau5) December 16, 2012
She promptly responded:
!!!!!!!!!!!!!!!

— Kat Von D (@thekatvond) December 16, 2012
Mi corazon!!! Thank you all for the lovely congratulations! Please excuse me while I go squeeze the hell out of my fiancé! ❤

— Kat Von D (@thekatvond) December 16, 2012
Stars, they're just like us?
UPDATE: Kat Von D showed off her black diamond engagement ring on Instagram today. What do you think?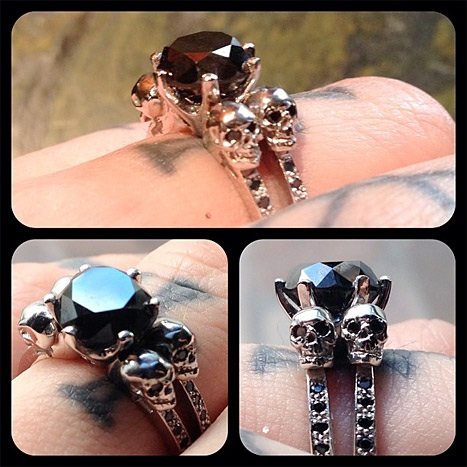 Donald Faison and CaCee Cobb are Married
Jessica Simpson's best friend CaCee Cobb, who you might remember from Newlyweds, married Scrubs actor Donald Faison on Saturday at the home of Faison's former costar, Zach Braff. Simpson, who is reportedly pregnant with her second child, wore an elegant black gown as maid of honor. Sister Ashlee also attended the celebration. "She was the most beautiful bride I have ever seen in my life," Simpson tweeted.

Photo via @JessicaSimpson

CaCee Cobb and Donald Faison. Photo via @zachbraff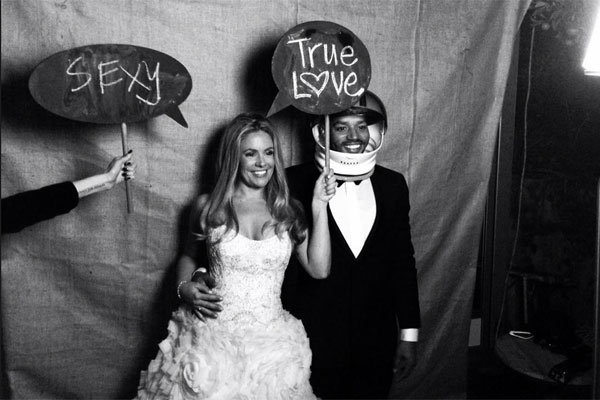 CaCee Cobb and Donald Faison. Photo via @zachbraff

Donald Faison with groomsmen Zach Braff (left) and Joshua Radin (right). Photo via @joshuaradin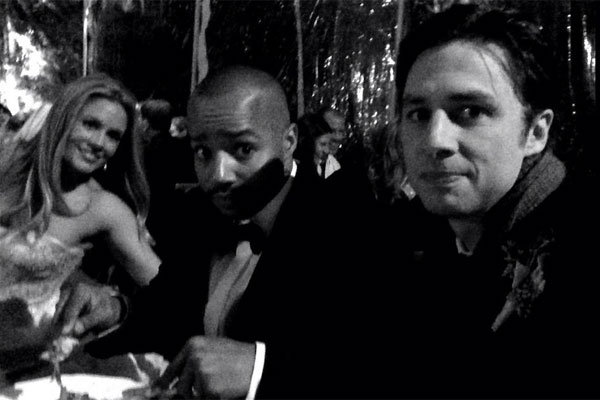 The newlyweds with Zach Braff. Photo via @zachbraff

Fourth Time's a Charm for Janice Dickinson?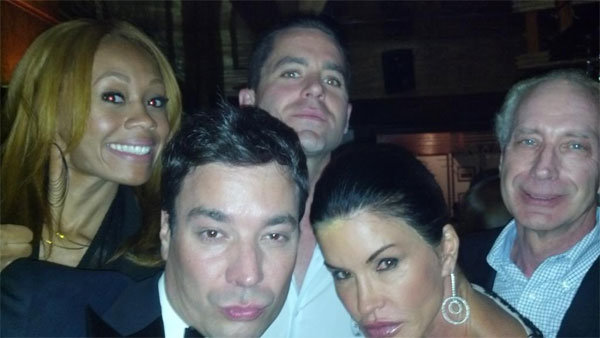 Janice Dickinson with fiancé Rocky (far right) and friends Phallon Riley, Jimmy Fallon, and Rob. Photo via @janicedickinson
The (self-proclaimed) world's first supermodel is engaged to Dr. Robert "Rocky" Gerner, a prominent psychopharmacology expert.
"I intend to make Rocky the happiest man in the world for the rest of his life," Dickinson, 57, told Us Weekly. "I couldn't be happier right now. Oh! And our wedding is going to make Brad and Angelina's look like a trip to city hall!"
The couple, who started dating three months ago after meeting through Gerner's son, a real estate agent, recently bought a home together and hosted a housewarming/engagement party on Saturday.
Gerner proposed in the car on their way to LAX, where Gerner was departing for a business trip. They later when shopping for a ring together, which Dickinson showed off on Saturday.
"I had a great time last night and all my friends did too," Gerner told Us. "We complete each other — our personalities really compliment each other."
This will be the fourth trip down the aisle for Dickinson. "You just know you know it's the right person. He's the ying to my yang," Dickinson told TooFab.
—Kristen O'Gorman Klein