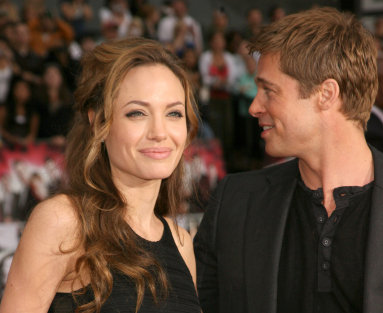 Everyone says wedding planning is a team effort. But Brad Pitt seems to disagree—he's taking charge of every aspect of Brangelina's wedding.

Brad Pitt and Angelina Jolie will reportedly marry this summer at a private chapel in the Chateau Miraval, the home in southern France they leased back in 2010, according to the New York Daily News.
Pitt seems serious about tying the knot so soon, having already spent 10 million pounds (that's roughly $16.2 million!) in order to restore the estate for the ceremony. The Moneyball star is also planning for an intimate and private setting. "He's even trying to organize an airplane landing site in the grounds for guests to come in by private jet, but that's proving to be tricky, what with permits and no-fly zones," says a source.

But Pitt won't stop there. "Brad's been tasting and looking up French dishes for weeks. He wants the perfect menu and, of course, the perfect wine to accompany it," says the source.
Pitt even asked Jolie's brother, James Haven, to serve as minister. Talk about a thoughtful groom!

It might feel a little out of the ordinary for grooms to be so involved in handling important big-day arrangements, but, after all, it is their wedding, too. We appreciate Brad's eagerness to step up to the plate!
This made us wonder, which wedding tasks are being handled by your groom? Our Facebook fans shared:
"My honey helped pick the theme of our wedding, found the venue, has been helping with so many DIY projects, and finds time to help me keep organized so I don't lose my mind as we near our special day." - Nina C.
"My love picked out the tuxes, the cheese for the cheese buffet, the liquor for the reception, and the pastor who's going to marry us." - Paige R.
"My fiancè helped pick out the reception venue and picked our color scheme. He is going this week to pick out the tuxes. My amazing future husband is also planning our honeymoon!" - Brittiny M.
"My love handled the tuxes and the DJ. He also helps keep track of what we need to buy." - Marisa S.
My fiancé has been amazing and has helped in every way he can... especially with handling his mother! Ha!" - Caitlin A.
"Photographer and the DJ!" - Sara-Jean S.
"Mine is helping with everything. It's not my day. It's OUR day." - Heather W.
—Grace Gavilanes