The Bachelorette Emily Maynard got engaged on the season finale to 27-year-old Jef Holms in a traditional, romantic proposal in Curacao.
Holms, co-founder of sustainable water bottle company People Water, did everything expected of a man prior to popping the question. He didn't shy away from getting to know her entire family, including six-year-old daughter Ricki. Holms also told his future mother-in-law just how much he loves Emily and asked for her father's permisson.
"What I'm about to ask you is a forever thing," Jef said to Emily before he got down on one knee and held open a black jewelry box. "Emily, will you marry me?"
Photo courtesy of ABC
After taking a deep exhale and brushing her hair out of her face — ten seconds that felt like forever to the show's viewers — Emily responded yes.
Jef met with jewelry designer Neil Lane (who also designed Miley Cyrus's engagement ring) to pick out a handmade, 2.5 carat stone. The emerald-cut diamond is set on an eternity band with 87, smaller-cut round diamonds.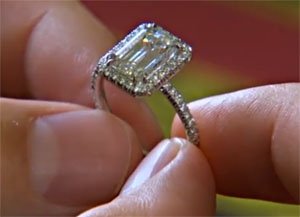 Photo courtesy of ABC
"Really I just wanted to soak in the moment and really make a decision for my heart," Emily told Good Morning America this morning.
We understand, Emily. We're still soaking in your moment!
Tell us: What do you think of Emily's ring? Are you happy she chose Jef or were you secretly rooting for Arie?
—Paulette Safdieh