The final weeks of summer may be winding down but if our Instagram accounts are any indication, then bachelorette party season is still heating up. Whether you've been asked to organize a special bride-to-be's party or you're browsing ideas for your fling before the ring, you've come to the right place.
We've rounded up some of our favorite party ideas with a few familiar faces that you may recognize. Stars — they're just like us!
1. Choose a Theme to Tie Everything Together
What do Kelly Clarkson, Holly Madison and Emily Maynard all have in common? They all celebrated their last weeks of singledom by getting into character. Kelly opted for a 1920-inspired adult "tea party" complete with liquor-infused tea; Holly and her besties all dressed up as their favorite Disney princess and played trivia games; and last but not least, Emily and crew poked fun with a "white trash bash" (pink Hummer and trucker hats, anyone?). Choosing a specific theme helps you narrow down the pool of ideas and ties it into the bride's hobbies, inside jokes, or some other personalized element.
Real brides are getting just as creative as the A-list set with themes ranging from Barbie to lingerie to cowgirls and more ►

Photo Credits: Movi via The Daily Mail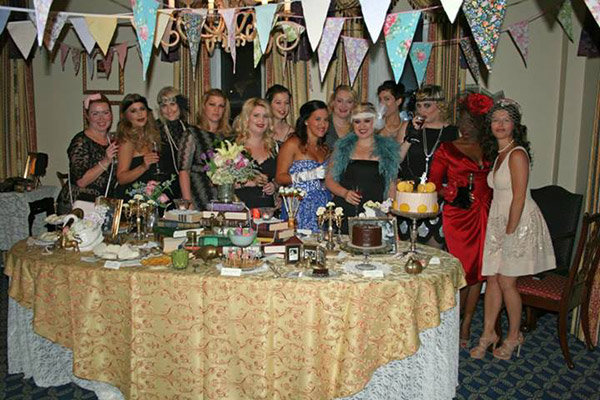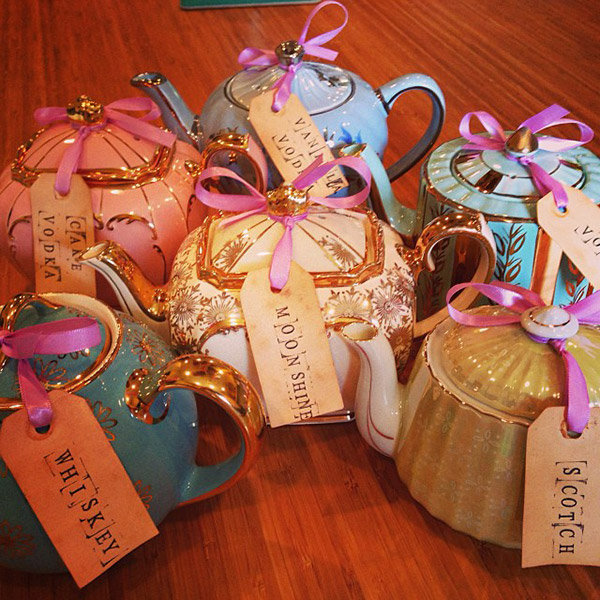 Photos courtesy of The Marvelous Vintage Tea Party Co.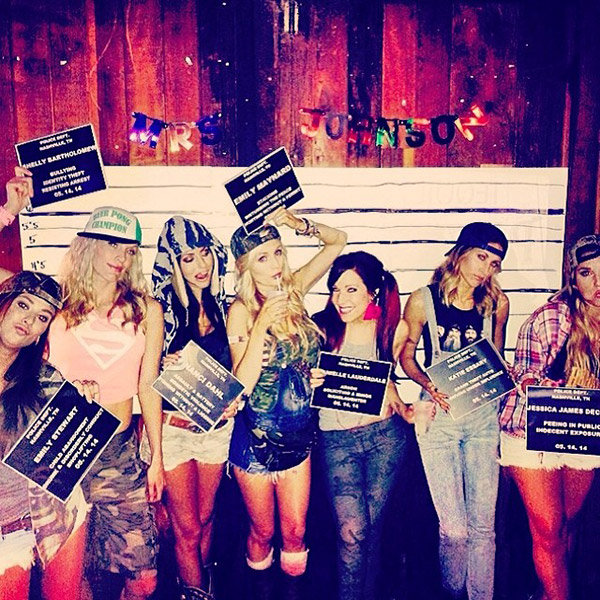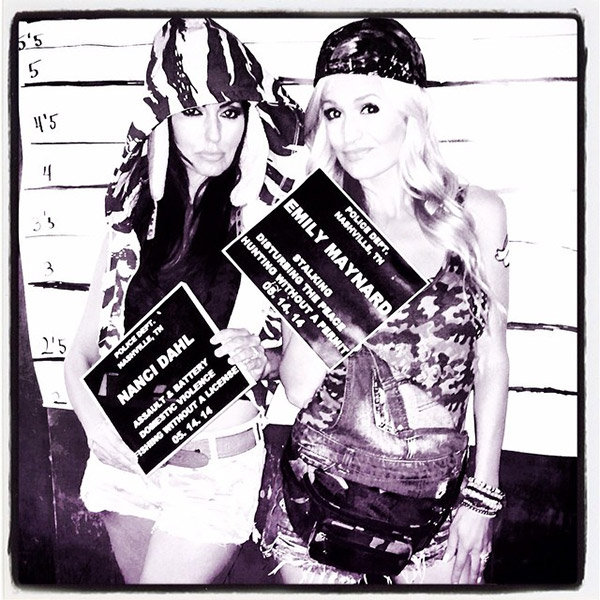 Photo Credits: Nancidahl on Instagram
2. Plan a Group Lesson or Fitness Activity
Ashley Tisdale's bachelorette party was equal parts blissful (she and her leading ladies lounged around on a friend's boat in Miami) and active (check out bridesmaid Vanessa Hudgen's stellar paddle boarding form below!). Incorporate exercise in a fun way by taking a new-to-you class in yoga, pole dancing, trapeze, Soul Cycle or rock climbing. Adventures such as white-water rafting or biking tours are also a good alternative. For a truly unforgettable experience, compete in a themed or costumed race like a color run or the Disney Princess 5K.
Check out fabulous fitness bachelorette getaways ►

Photo Credit: Vanessa Hudgens on Instagram

Photo Credit: kimhidalgo on Instagram
3. Rent a Beach House or Cabin for the Weekend
If a party-centric (and pricey) destination such as Las Vegas or Miami just isn't feasible, take a cue from Kaley Cuoco and consider a fun girls' getaway in a spot close to home. The Big Bang star had a blast at her Palm Springs shindig with sister Briana Cuoco, Ali Fedotowsky and Lacey Chabert before becoming Mrs. Ryan Sweeting.
Our real bride blogger recommends using home owner rental sites such as VRBO.com or Airbnb.com to scout affordable properties that are ideal for large groups. Protect yourself by asking referrals from previous renters, assessing whether the amenities seem "normal" for the area where the property is located and requesting a completed rental contract prior to paying for the trip. (It should include the dates you will be staying in the property, the cost of the rental, any deposits, taxes, cleaning fees, and the cancellation and refund policies.)
We also suggest creating a weekend itinerary for the trip so that guests know what to pack for each event and how much everything will cost.
Check out 5 up-and-coming bachelorette party destinations ►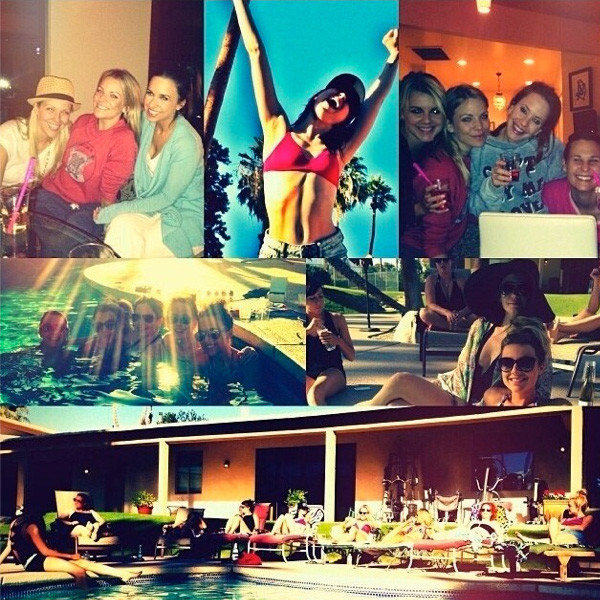 Photo Credit: Jamie Greenberg on Twitter
4. Host a Co-Ed Bash
If you share a large group of friends with your fiancé or just can't imagine yourself having a racy event with strippers or man servants, then buck tradition with a joint bachelor-bachelorette, like Jessica Simpson did. She and her now-husband Eric Johnson treated 40 of their nearest and dearest to dinner at one of their favorite restaurants before dancing at a nightclub until the wee hours of the morning. In another unconventional twist, they also invited the bride's parents, Joe and Tina Simpson.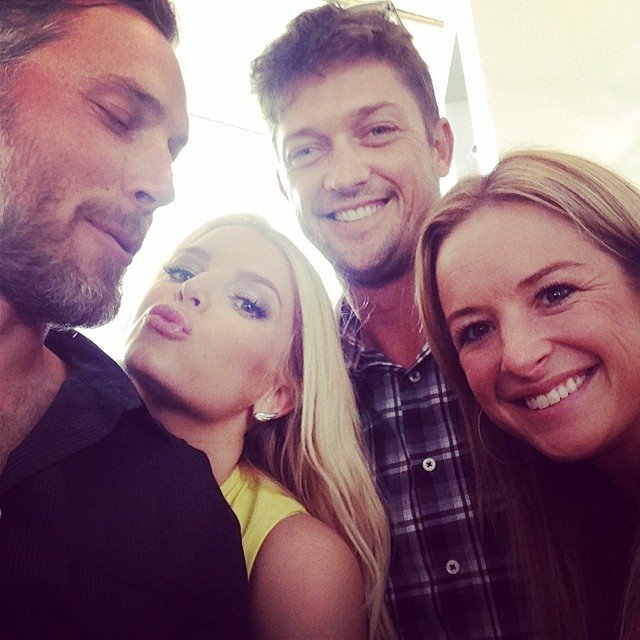 Photo Credit: Jessica Simpson on Instagram
5. Enlist a Fun Dress Code
We are still crushing on Kim Kardashian's bedazzled Balmain dress that she wore during her Parisian bachelorette party. At $20,000 it may be a far reach, but the main takeaway is that having a dress code will help you stand out in the crowd. Some brides also opt for color while having everyone else wear white. Rompers are also a chic and comfy choice.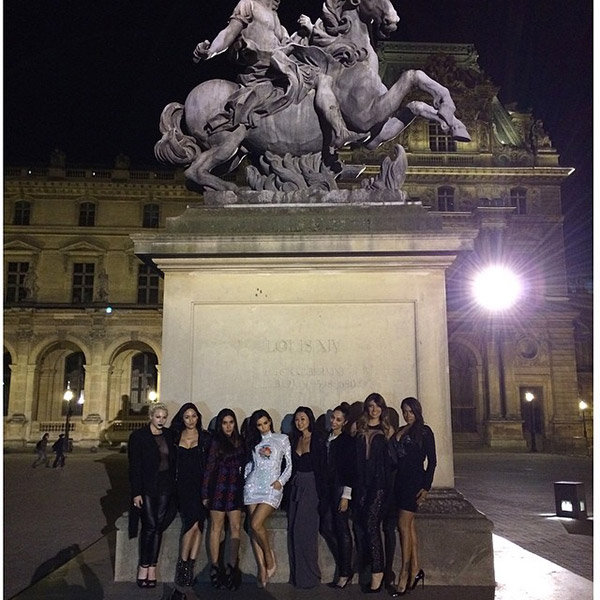 Photo Credit: Kim Kardashian on Instagram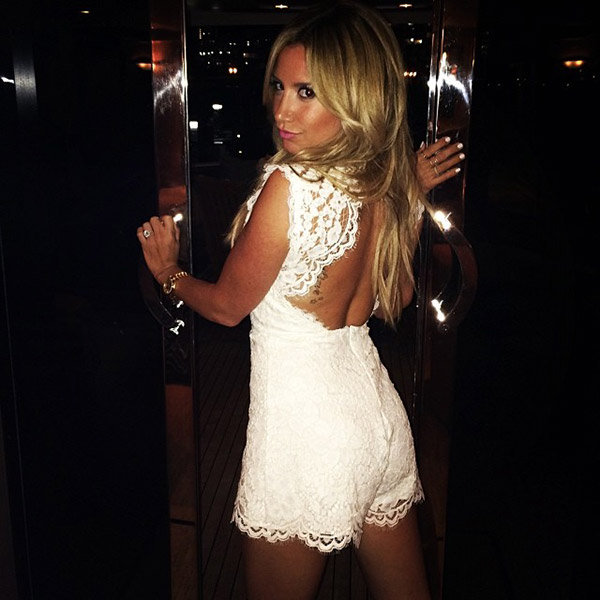 Photo Credit: Ashley Tisdale on Instagram
6. Include Personalized Accessories & Décor
Leave it to DIY maven Lauren Conrad to jump on the temporary tattoo bandwagon (browse flashtat.com for cool options) and come up with a bow headband as a fun alternative to a veil. Ashlee Simpson, aka the Queen of Boho, made floral crowns with her bridesmaids for her special event. Both of these bride-to-be's parties were so indicative of who they are, thanks to a few well-chosen details.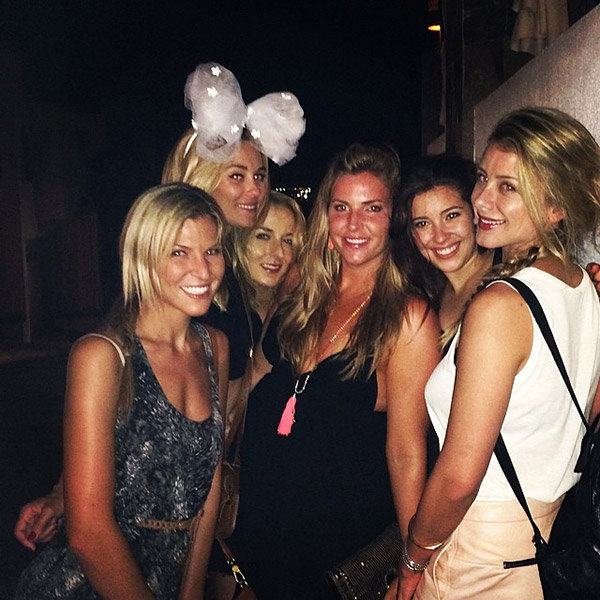 Photo Credits: Lobosworth on Instagram

Photo Credit: Lauren Conrad on Instagram

Photo Credit: Jessica Simpson on Instagram
7. Sweet Treats
After all of those delicious cocktails, you and your ladies are going to need something a bit more substantial to keep your energy up. Dessert is not only budget-friendly but offers unique opportunities to poke fun at the guest of honor (Ashlee Simpson, is that you on that cake?!).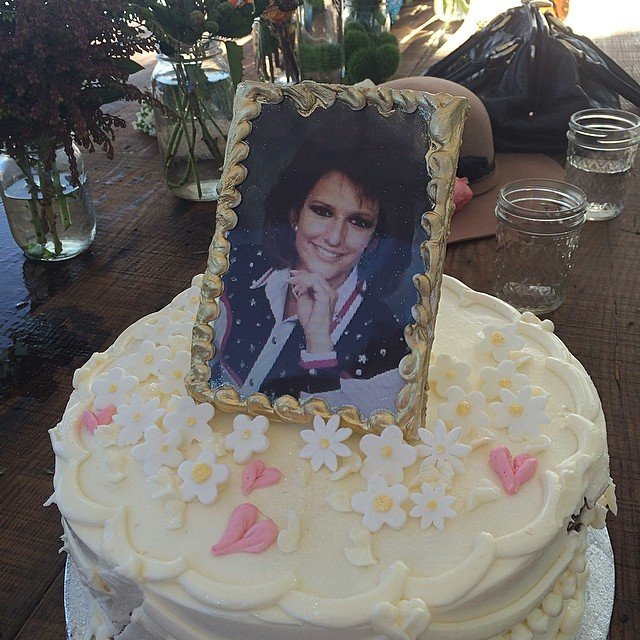 Photo Credit: stephenieleighpearson on Instagram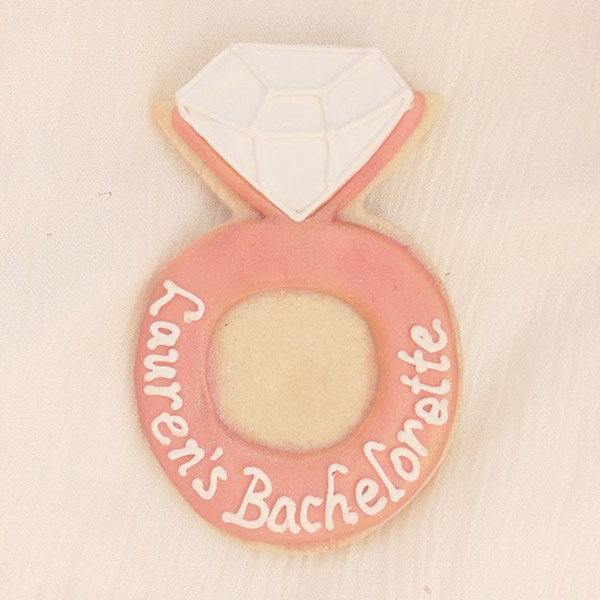 Photo Credit: Lauren Conrad on Instagram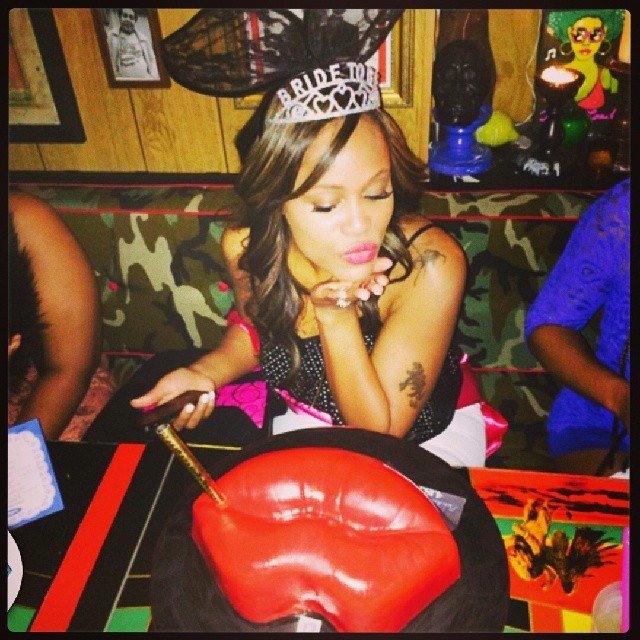 Photo Credit: Eve on Instagram
8. Affordable Memento
As a token of appreciation, consider gifting a funny or sweet favor to all of the people who came out for the bachelorette. It doesn't need to be anything expensive or extravagant — we love this cute cup from rapper Eve's celebration.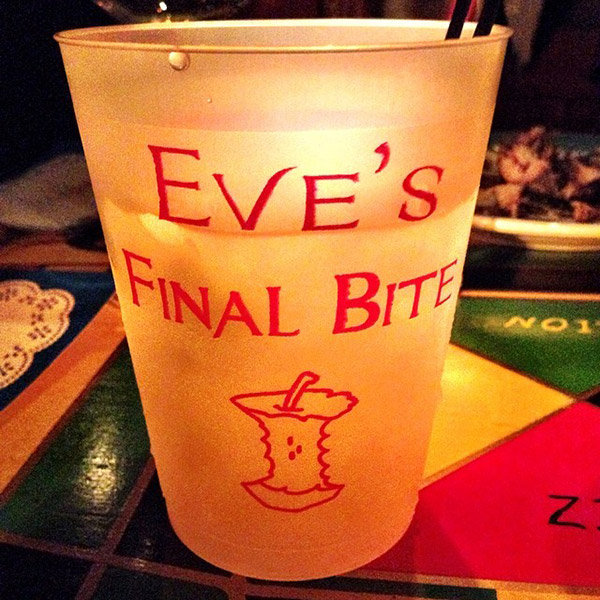 Photo Credit: Eve on Instagram
Don't forget to sync up your iCloud photo streams so that you and your 'maids can easily share pics with one another from the event! If you don't mind your snapshots being public set up an Instagram hashtag, a la Lauren Conrad (she used #donttellmrtell, which was a reference to her fiancé, William Tell).
Tell us: What do you have planned for your bachelorette party?
—Stefania Sainato