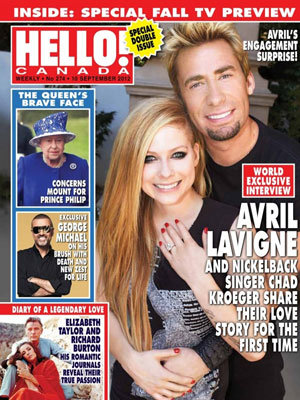 Pop-punk singer Avril Lavigne's love life might have been complicated, but she's finally found her counterpoint in Chad Kroeger, the frontman of rock band Nickelback!
People magazine reports that Kroeger, 37, proposed to Lavigne, 27, on August 8th with what appears to be a 14-carat pear-shaped engagement ring. The Canadian singers first met back in February, when they co-wrote some songs for Lavigne's upcoming album, her fifth, which will be released by the end of 2012.
"I knew I was falling for her," Kroeger has said of working with Lavigne. "It was incredibly powerful and something I'll never forget."
"We usually go to the studio together [but this time] he had gone before me," Lavigne recalls of the proposal. "I had been making this scapbook of my time in the studio with a polaroid camera... [so] I walked into the studio and he was putting a picture in the book and I was like 'what's he doin'? All of a sudden I walk over and [see that] he had taken a photo of himself holding the ring box and put the polaroid in my scrapbook... [and because] I had stickers everywhere, he put in 'will you marry me?' It was really romantic."
Their collaboration-turned-romance became a hot topic on Twitter yesterday, where fans (and haters) expressed their disbelief and messages of congratulations. Maroon 5 singer and "The Voice" judge, Adam Levine, even joined in on the hilarity by posting, "Just to clear up the confusion, I am NOT engaged to Chad Kroeger of Nickleback (sic)."
Prior to Kroeger, Lavigne dated Brody Jenner (Kim Kardashian's stepbrother and son of Olympian Bruce Jenner) for two years, even tattooing his name on her chest. This will be her second marriage and Kroeger's first—she wed Sum 41 singer Deryck Whibley in a traditional "fairytale" wedding back in 2006. No word yet on whether she's tapped the same wedding planner, Mindy Weiss, for her second nuptials.
Congratulations to the rockers!
Photo Credit: Hello! Canada
— Stefania Sainato