Here's to brew! All the latest and greatest machines for making a truly buzz-worthy cup of coffee.
There goes the alarm! Face the world fortified by a delicious cup of coffee concocted by one of the amazing machines featured in our roundup. Whether a dense, thick brew from a French press is your favorite choice, or you prefer the milder flavor produced by a drip machine, we have appliances to perk you up. Plus, check out fun new coffee gadgets, as well as expert information on the latest bean trends. Is it morning yet?
| | |
| --- | --- |
| | FROM TOP: Striped mugs from Nautica by Lifetime Brands. Yellow salad plate by Oneida. Orange-bordered square plate by Villeroy & Boch. Small square striped porcelain dish from Nautica by Lifetime Brands. Moda stainless spoon by Oneida. Yellow polka dot napkin and linen napkin with green scallop accent, both by ABH Design. Birch-veneer side table by Mitchell Gold & Bob Williams. |
Central Perk
Check out these new and nifty coffee accoutrements.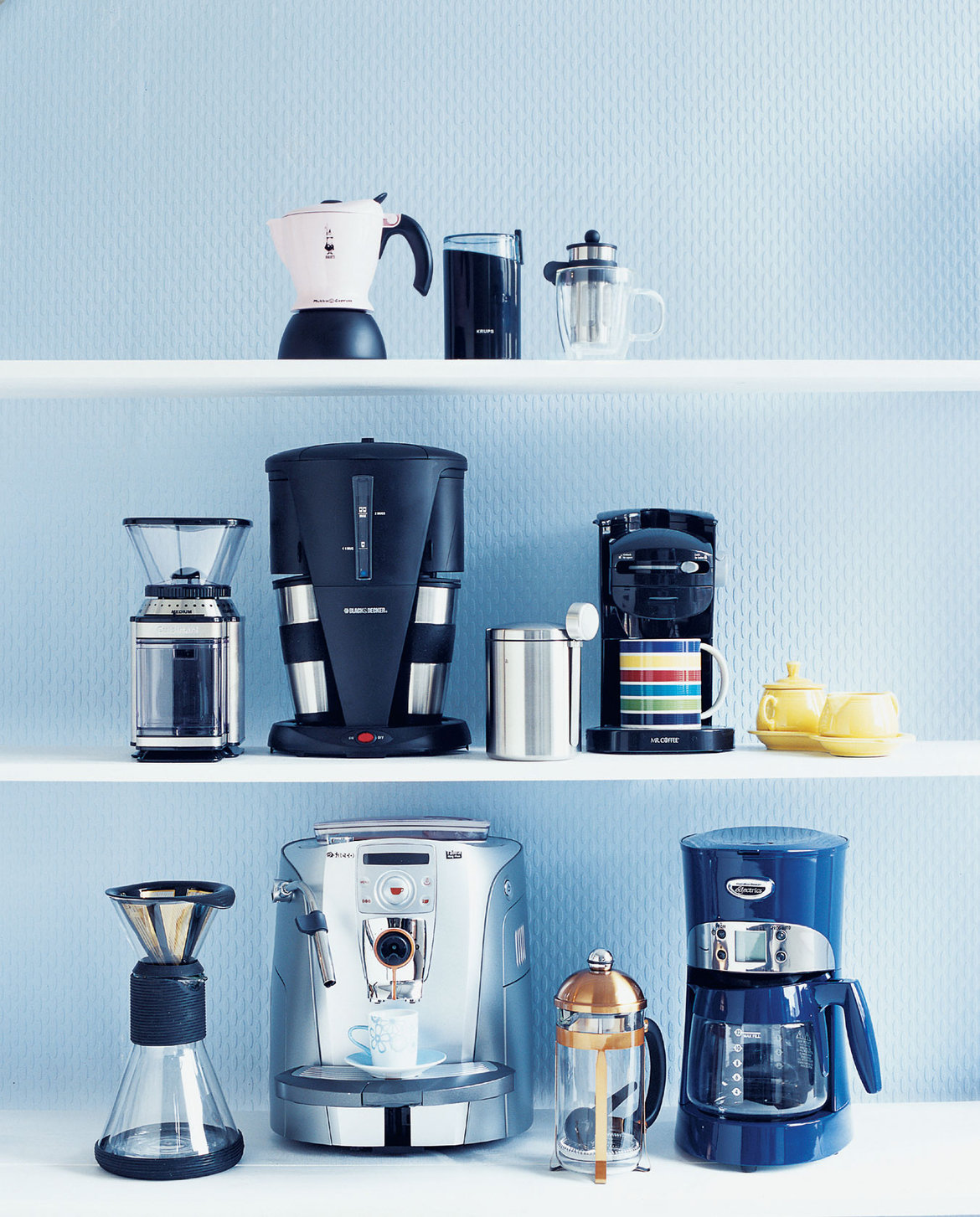 TOP SHELF, FROM LEFT: Pink Mukka Express stovetop espresso maker by Bialetti. Blade coffee-bean grinder by Krups. Bodum's Bistro Mug Press has a scaled-down coffee-press system that fits neatly into any mug. MIDDLE SHELF, FROM LEFT: Cuisinart's Supreme Grind burr grinder has 18 choices of grind, from ultrafine to extra coarse. For brewing two cups of coffee at the same time, try the dual-cup drip machine by Black & Decker from Target. Stainless coffee canister with scoop by WMF. Use coffee pods or tea pods in the Mr. Coffee Simple Brew one-cup coffeemaker. Striped mug from Nautica by Lifetime Brands. Cream and sugar set by Fiesta Tableware from The Homer Laughlin China Company. BOTTOM SHELF, FROM LEFT: A reusable gold filter distinguishes Bodum's Bistro Double-Wall Glass Drip coffeemaker. Saeco's Talea Ring Plus has a fun to use iPod-like interface that helps select programmable settings, like coffee strength. Espresso cup and saucer by Yedi. The Copper Maximus French press by Bonjour makes up to 8 cups. Blue 12-cup drip coffeemaker by Hamilton Beach. Paintables wallpaper from Waverly, painted with Benjamin Moore's Hydrangea Blue. Shelves from Lowes.
Great Gizmos
Get a kick from caffeine? Try these hot new products.
1. True coffee lovers will get into a froth over Aerolatte's Deluxe Stainless Steel Handheld Milk Frother. In just 60 seconds you can enjoy your brew topped off with delicious foam.
2. With patterns inspired by African textiles, these beautifully designed mugs and saucer sets by Villeroy & Boch have a modern twist: The mug and its handle are all of one continuous piece of fine china.
3. Try this: Put loose coffee grounds in a cup, pour hot water over them, let steep, then sip through the glass straw by Wisdom Wands. The filter in the base of the straw catches the grinds. Plus, using a straw helps keep the coffee from staining your pearly whites. Now, how clever is that?
4. At last—something to protect all of us klutzes from commuter spills: OXO Good Grips LiquiSeal Thermal Beverage Container features a special triple-seal lock and a no-drip drinking spout. You just click a button to drink, and click again to seal up.
5. Love to dunk? The Mocha Dunk Mug is made just for you. An open shelf built into the base lets you slide a biscotti in and out. Sip and nibble to your heart's content—no need for an extra dish.
6. The Toddy Cold Brewed Coffee System is great for reducing the acidity in your coffee. For the best results, place grounds into the brewing container, add water and allow to brew for half a day. Then add hot water or milk to the delicious coffee concentrate.
7. This'll impress 'em: Danesco's Cappuccino Duster allows you to decorate your beverage. Simply fill the shaker with cinnamon, chocolate or nutmeg, then place a stencil shape—a heart, coffee cup or star—into the top of the shaker. Pour a pretty pattern on. How sweet it is.—Elena Carey
Full of Beans
Melissa Niosi, coffee expert for Saeco's website, (saecouniversity.com), offers a few pointers.
Single origin: This means that a coffee's beans are derived from one source and roasted in a particular way to produce a single main flavor component (for example, a French- Mexican coffee consisting of French roasted Mexican beans).
Blend: Coffee that's made from several bean varieties, like a small peaberry bean, which grows closer to the end of a branch, and a Guatemalan bean.
Fair trade: The New York Coffee Exchange has set a minimum price for coffee beans, which is designed to protect the financial interests of smaller coffee-bean producers.
Organic beans: These are grown in soil untreated with pesticides. The coffee trees are not sprayed with pesticides, and the beans are washed and processed without chemicals.