Sure, wine stoppers topped with a heart are cute, but we guarantee these original treats won't "accidentally" get left behind at the table.
By: Sharon Naylor
Sure, wine stoppers topped with a heart are cute, but we guarantee these original treats won't "accidentally" get left behind at the table. In fact, they may not even make it to the car! Whether you serve them at your wedding or bridal shower, edible favors are sure to make guests very happy (hosts are starting to gift them at morning-after breakfasts, too).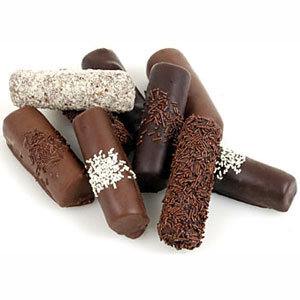 These little rolls of chocolate are filled with creamy goodness. Package these as trios in cute little containers or arrange them on your dessert bar. Allow guests to choose their favorite flavor from these decadent combinations: French (dark chocolate center with chopped walnuts), Mocha (milk chocolate with coffee flavoring), Mousse (in milk or dark chocolate), Rum, Marizpan and Hazelnut.
From $2.75 each.
This melt-in-your-mouth sweet will send guests straight to dulce de leche bliss. Dulce Caramel Co. handcrafts alfajores according to a traditional Argentinean recipe, adding either a dusting of coconut or a coating of rich dark chocolate. 
From $27 for a set of 12 cookies.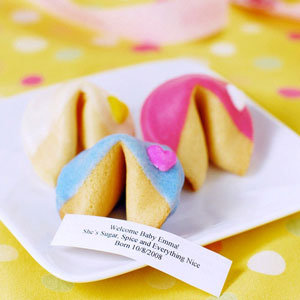 Give traditional fortune cookies a colorful twist with sprinkles to match your wedding or party décor. They are dipped in milk chocolate and can be decorated with a single heart. Each fortune is printed with up to 3 lines of text, 35 characters per line. 
From $1.90 each (minimum of 24 pieces per order). $40 typesetting charge for each custom fortune.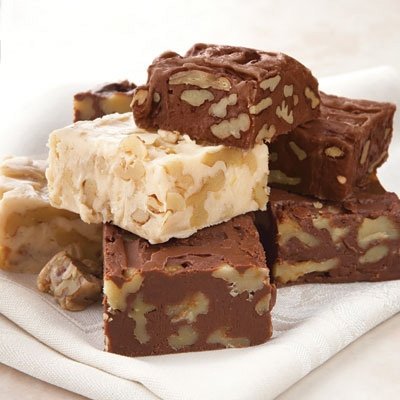 Little blocks of  creamy fudge are becoming a hot trend at showers and weddings. Serve them platter-style with colorful or themed toothpicks, or box up a trio of fudgy treats for each guest. 
From $16.90 per pound.
Popcorn packets are a guest fave; they can be gluten-free, salty and sweet, or even be drizzled with caramel sauce and cinnamon. These are especially charming for movie-themed bridal showers.
The popcorn packs at Dylan's Candy Bar come in several mix-and-match flavors, including cookies and cream, peanut butter cup, white and dark chocolate swirl, and chocolate caramel crunch. 
From $8 each.
End your soirée with a spicy kick and gift a personalized bottle of hot sauce for guests to use when cooking. This favor is especially popular with couples who have chosen fiery dishes for their wedding menu, sharing their love of the hot-and-spicy side of life with their guests.
From $38 per case of 12 bottles. $6 per sheet of 15 labels.
Tamarind curry simmering sauce is just one of the Top Chef-inspired types of favors – including spice packets, basting sauces and garnishing sauces – that are popping up at bridal showers. 
From $10 each.
Chocolate bark is on the rise as a top favor choice, since it's a treat that most guests don't get for themselves. At New York City's legendary Li-Lac Chocolates, the chocolate bark is served in delightfully broken "pieces" that you can bag up as trios for each guest. 
From $2.75 each.
Celebrities are raving about Cocopotamus's organic and gluten-free truffles. Guests will get a kick out of the original flavors, such as rosewater-infused dark chocolate truffles, rolled in natural pink sugar. Other flavors in this company's truffle line include Triple Shot Columbian Espresso, Earl Gray Tea Dark Chocolate with Bergamot, Organic Strawberry and Cinnamon, and Salted Caramel Fudge.
From $9.50 for a 5-piece box.



 
Nostalgic candies like these candy buttons are right on-trend. We've seen wedding cakes decorated with these little candy buttons, so how cute would it be to coordinate the favors with the cake?
Candy shops across the country stock retro candies like Mal-o-Milks, bottle tops, shoelaces and other sweets that bring back sweet memories of childhood. Stock your candy bar with these selections, and guests will feel like they've been given free reign in a candy store!
From $5 each.
Sharon Naylor is the author of over 35 wedding books, including Bridesmaid on a Budget, 1001 Ways to Save Money and Still Have a Dazzling Wedding, and The Ultimate Bridal Shower Idea Book.