The celebrity wedding expert shares her tips for creating one-of-a-kind invites.
By: Sharon Naylor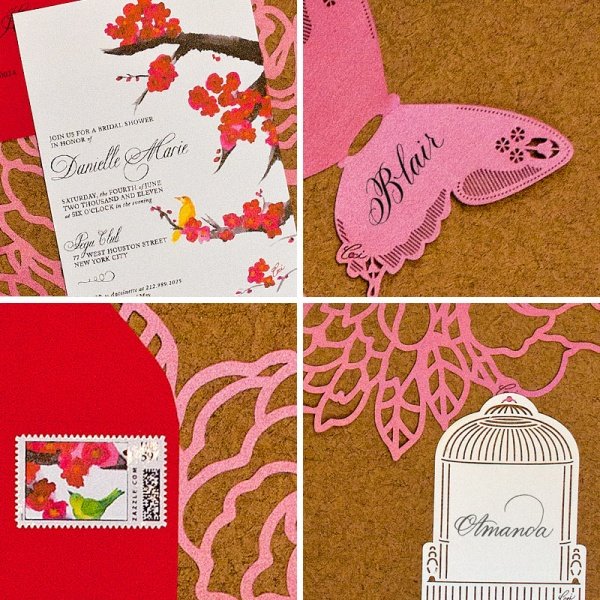 SN: What are the "in" invitation accents and what's out? For instance, are ribbon bows still in style or are they an embarrassment? Are buckles and belts still happening or is the "fashion accent" trend out?
CJ: Ribbon and buckle invites are definitely out. They are so '80's and overdone (in my humble opinion). What's "in" is incorporating incredible techniques like laser cut or foil stamping for that extra luxe design element. It's all about personalization. I'm even doing a lot of custom paintings for my clients. Telling their story through hand-painted artwork that creates an impact! (Plus, it's a great keepsake!)
SN: How do you advise bridesmaids on personalizing their invitations to the bride, not just to the party's theme? Is it the bride's monogram? Photo? A really great, artistic rendering of her name at the top of the invitation?
CJ: The best way to personalize the invitations is to think about the bride's personality and what would really excite her. Sometimes we get carried away in what we would like. If you love to cook and can't wait to teach your friend, but she isn't into a cooking shower, that's probably not the best theme to use. Opt for something that is more her style and add a personalized logo up top. Carry that detail onto the cocktail napkins. Purchase a little bit extra and give them to her to use at home at the end of your event. It's a nice little parting gift.
SN: How do you prefer to design insert cards, such as registry cards and bridal shower recipe or game cards?
CJ: Create continuity in your communications. Consider your guest's experience when receiving a beautifully designed, cohesive package. Think about your whole event's lineup and send out an exquisitely designed set that informs the guests of all the party details. You don't want to confuse their experience by sending too many mailings. It annoys your guests and ends up being more work for you. For the bride's registry card or recipe cards, I like to design them [in the same colors and style as the invitation], so the look is buttoned-up and fun.
[Note: Your invitation designer can create the insert cards using the same card stock, color and font. Or you can DIY this part of the invitation if you can find the same paper stock and use a coordinating color for a professionally-made look. Don't photocopy or use flimsy printer paper, which could wreck your invitation's "wow factor."]
SN: Anything else you'd like bridesmaids to know about print invitation designs?
CJ: Start early in your planning and make sure you order with plenty of time in advance. Remember, custom printing requires longer lead times than buying off the shelf. Typically, you should allocate about 6-8 weeks for design, printing and calligraphy. Work backwards from the date you want to mail them out. I always recommend starting sooner than later. Rush fees are never fun.
SN: What's the most creative presentation you've ever done?
CJ: I consider all of my clients my stars, and I always aim to deliver spectacular results in my work. I have designed countless invitations, but some of my stand-out favorites would have to be:
For a wedding in Argentina, I made laser-cut Argentinean fans that opened to reveal all the event details. The fan featured hand-painted typography and scrollwork inspired by the typical signage you would see walking the streets of the country. They were sent in a box lined with a vintage map of the wedding location, finished with a custom logo I created for the couple.
For a lovely wedding in Napa, I sent engraved wine openers attached to a little book, which provided guests all save-the-date details. The wedding invitation then followed -- as the label on a bottle of wine! Guests went crazy for the clever invite that doubled as a gift!
For an opulent wedding in Palm Beach, Florida, I created a custom-printed, blush velvet oversized folding invitation that included a hand-engraved metal emblem with the couple's monogram in the center. When opened, each panel presented all the weekend's activities, held together with satin ribbons. Everything was incredibly thick paper and, of course, the deepest letterpress.
For a wedding in Jamaica, I wanted to capture the movement and vibrancy in a bride's painting, which was not only a nod to her favorite linen inspiration, but captured the blue oceans and sea plant life. I mixed in natural bamboo materials on the cover, and finished the presentation with a custom Jamaican pineapple illustration, which is a symbol of welcome and good cheer.
For a wedding in a barn in Vermont, I used a "come away with us" theme. Even though the bride was having a country wedding at the Red Barn in Vermont, she didn't want to focus on the traditional outdoor motifs one would expect. Instead, we created a hand-drawn illustration of the couple zooming off in their vintage Porsche to the country. The red ribbon tie unwrapped to reveal her scarf flying in the wind. The whole invitation opened accordion style to reveal the red scarf being carried throughout the composition. So fun!
SN: Gorgeous! Ceci, what's coming up for you?
CJ: I just recently launched my online magazine, CeciStyle. CeciStyle is loaded with gorgeous tips and takes on invitations, fashion, parties, weddings, décor, gifts and more. It's full of trusted, time-saving advice. Each week, I send out my inspirations as a designer, offer expert tips and advice, and hope to inspire you to live life more creatively, celebrate more stylishly and live your best life all around!
About Ceci Johson
Founded in 2004 by Ceci Johnson, Ceci New York is internationally heralded as the leader in couture invitation design and visual styling. As an industry icon and the authority on inviting style, Ceci attracts a global clientele of royalty, A-list celebrities and design-savvy individuals alike. She is also the go-to style expert for high-end discreet celebrity and royal events. Ceci has captivated the wedding industry with groundbreaking ideas, award-winning designs and professional expertise. She is sought after for marrying original art and haute couture process with unprecedented style, and her influence and trendsetting concepts have become the gold standard for wedding elegance. Her empire extends into exclusive partnerships with the world's most coveted luxury brand for signature collections. Ceci has earned numerous prestigious awards and media recognition in both the wedding and design industries, including "Expert Stationer" by New York magazine and many more.
For more from Ceci, sign up for her mailing list, follow her on Twitter at @CeciNewYork or become a fan on Facebook!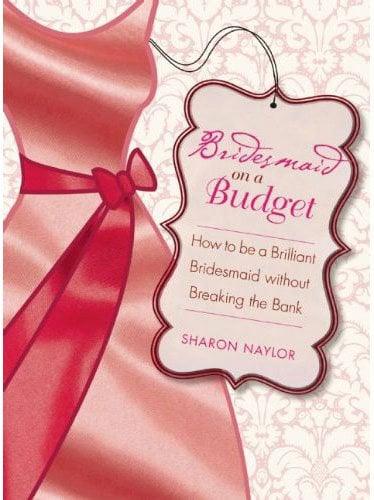 Sharon Naylor is the author of over 35 wedding books, including The Ultimate Bridal Shower Idea Book and Bridesmaid on a Budget. She has been featured as a wedding expert on top shows such as Good Morning America, ABC News, Primetime and more. Visit sharonnaylor.net for more bridesmaid tips and advice.
Read more
Pages