The celebrity wedding expert shares her tips for creating one-of-a-kind invites.
By: Sharon Naylor
Ceci Johnson took a break from her whirlwind travels to chat about gorgeous bridal shower invitations, her inspirations and what's hot right now:
Sharon Naylor: Ceci, e-invites are so fast and easy, why do you think more bridesmaids are sending print invitations these days?
Ceci Johnson: Today, there is a wonderful return to personalization and attention to detail. Bridesmaids are going the extra mile for their girlfriends [the brides-to-be], and want to show they truly care for them. By sending a pretty, formal invitation through the mail instead of an online invitation, you show that you went to great effort to design them, and you provide a gorgeous keepsake for the bride. It's something she can frame and keep in her home or scrapbook to be reminded of the thoughtfulness that her dearest friends put into her special day.
Also, it shows the invited guests that the hosts know etiquette and proper manners—always a great impression to make—and that this shower is an event not to be missed. It's important to keep this tradition alive and give it the respect it deserves! Email just shows you're lazy.
SN: When bridesmaids come to you for invitation design, what are some of the top things they're requesting?
CJ: They want a shower invitation that is chic and fun. Nothing too kitsch. I always want my clients to look their best on paper, so the design must have a sophisticated spin to it. No matter what the theme, keep it elevated and stylish. The most popular themes we're seeing are:
Spring: Sophisticated Asian inspiration, incorporating peonies, cherry blossoms, butterflies and birdcages.
Glitz and Glamour: Hints of an old Hollywood star vibe, mixed with a fabulous evening on the town.
Parisian and Old World European: A return to classic elegance with wonderful damask detailing and ornamentation all around.
Food-centric: For the foodies out there (or those that want to be), we have been doing a lot of "foolproof recipe guide" themes. It's a new play on the typical cooking-themed showers, geared more for the woman who doesn't cook but needs to learn. The invitation includes playful recipe cards on which guests can share their favorite recipes and help the bride-to-be learn to cook! [Note: Grooms love this one, too! So if you're throwing a co-ed shower, this idea could totally work.]
Coco Chanel: Think black-and-white sophisticated elegance. It's perfect for the "non-bridal" bride-to-be.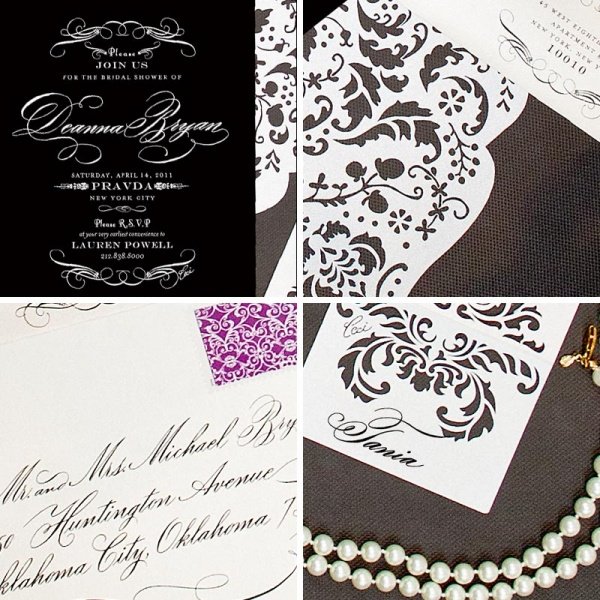 SN: What are the most popular invitation styles right now? Single-panel invitations? Traditional dual fold? What are you really loving right now in this category?
CJ: For any panel type, laser-cut printing technique is a huge trend. It's so fresh, unique and innovative. I now have my ready-to-order Ceci Vivre collection that I just launched based on this demand. [Note: Visit cecinewyork.com to coordinate your invitation's laser-cut style with other print items as well as tabletop accessories, such as placecards and placemats for bridal showers.]
SN: What are the most wonderful invitation paper and card stocks? What looks elegant, but is really affordable?
CJ: This is a hard one to answer. There isn't a way of defining cheaper, but nice paper stock. [One type to consider is] 130 lb. paper. It's not as glamorous as satin or silk in fabrics. [Note: The best way to find the perfect paper is to feel it. Go to your invitation designer or to the art supply or stationery store to pick up, touch and feel different types of beautiful papers. I love imported papers with shiny coats and recycled papers that don't feel like paper bags!]
SN: What are the top invitation colors and color combinations right now?
CJ: Metallics are always popular and stand the test of time. I'm loving champagne gold foil. For showers, you tend to see brighter, more fun colors like teal and pinks. I'm known for my daring use of color and have created a helpful tool to help brides and bridesmaids find their event colors called Ceci Color Stories. Click on any of the color palettes and see it come to life in a real event, then make it your own!
Pages