It's going to be a great year for weddings! We've got the most exciting new ideas for décor, flowers, cakes, music and more.
By: Debra Witt
The Invitations
Stationery suites set the stage for your big day. These trends will steal the show.
Putting on the glitz. "Shimmer, sparkle, glitter — across the board everyone loves high shine," says Amber Harrison, style expert for Wedding Paper Divas. Warm tones like rose gold and copper are the most requested metallic shades for 2016. And the trend is showing up on stamped and foil-pressed lettering and in shimmery papers.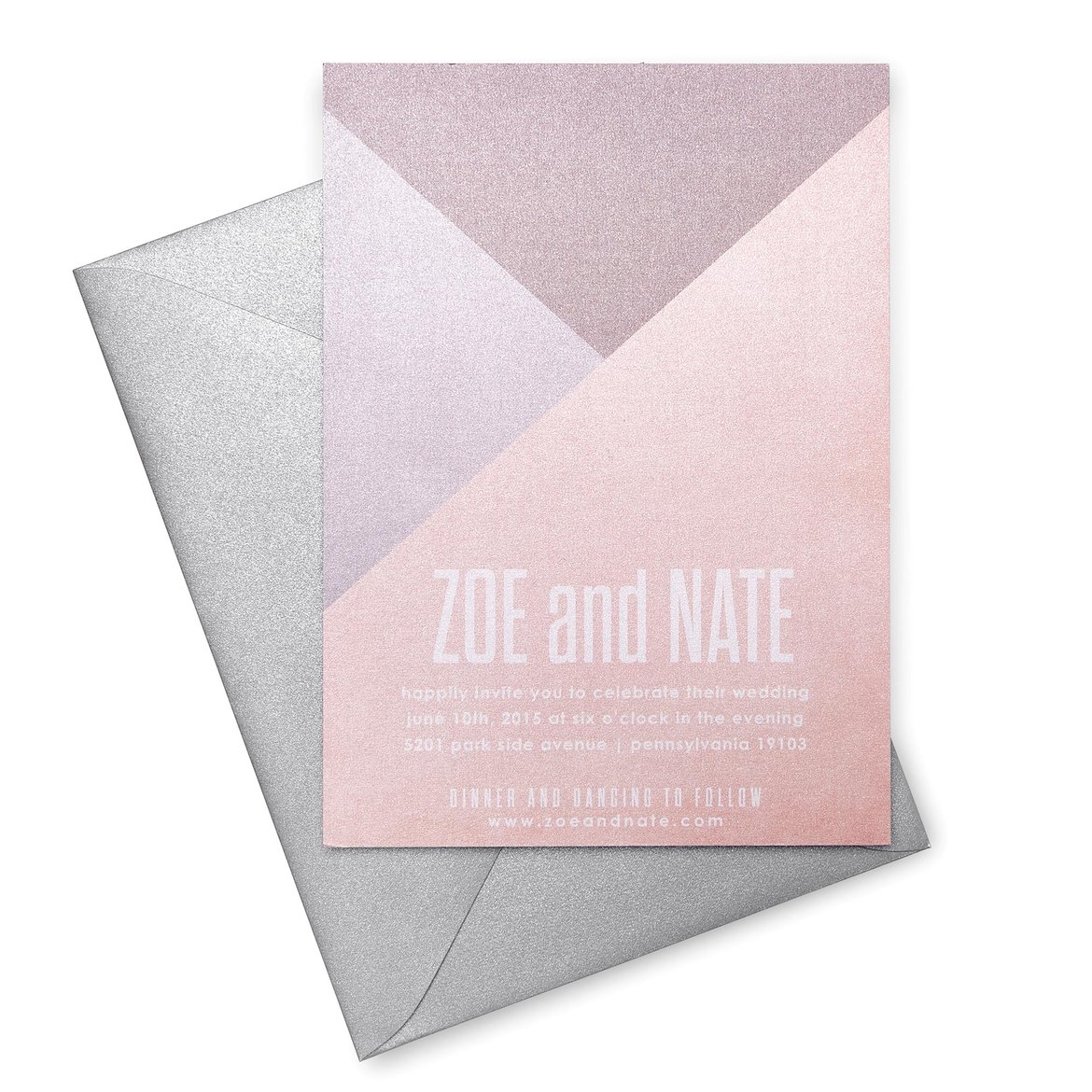 Photo courtesy of Wedding Paper Divas
A fondness for fonts. There's such a strong cultural interest in words and graphics that it couldn't help but spill over into the world of wedding invitations. "Using multiple fonts on an all-type invitation adds fresh personality," says Tifany Wunschl of Gourmet Invitations.

Photo courtesy of Gourmet Invitations
Custom monograms. Monograms will always be in high demand, says Minted's CEO Mariam Naficy. What's new for 2016 is that couples are now working with designers to create a truly unique stamp that will appear on everything from the save-the-dates to photo and website backdrops to recipe cards for the signature cocktail.
Hands-on approach. Illustration, painting, lettering — anything done by hand is in demand, says Laesser- Keck. "In the digital age, people love to see that special hand touch," says Taryn Sutherland, founder of Twinkle and Toast custom paper goods.
Location, location. Cityscapes and other location-inspired imagery is on the rise, says Harrison. Many places have a specific look and feel, she says, so couples increasingly want that to translate to their stationery suite.
The Drink Report
A toast to the creative cocktail hour!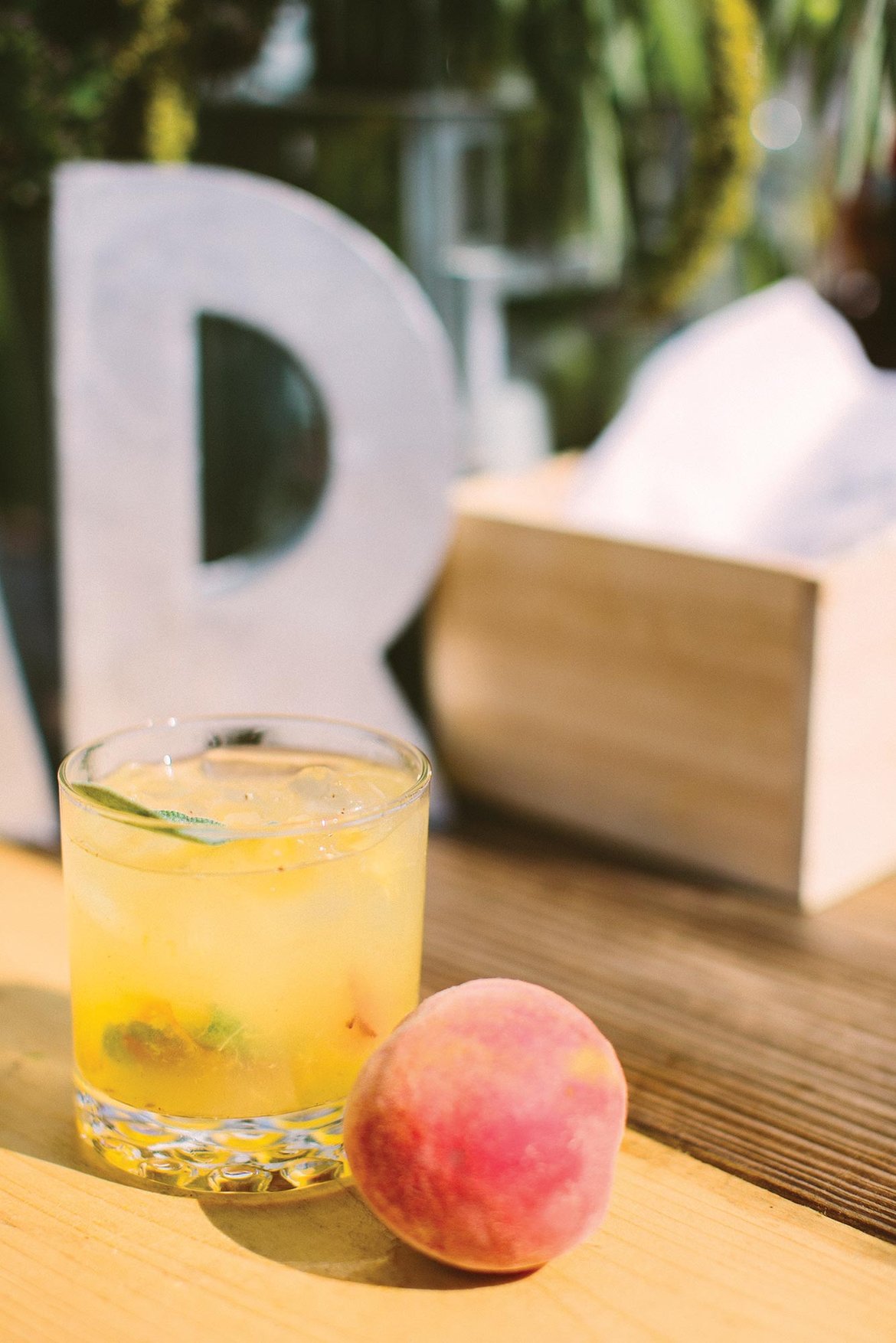 Photo courtesy of VLD Events
His and hers cocktails. What better way to give your guests a glimpse of who you are than by serving them your favorite libations? Laesserkeck points out that this trend is not only easier on the budget (no more guesstimating for an open bar) but it's an instant conversation starter.

Photo courtesy of Bash Events
Pink. Rosé wine is fast becoming a mainstay at weddings, says Andrea Correale of Elegant Affairs in NYC. Couples are including it in the wine selection at dinner, serving rosé champagne for toasts or offering a variety of rosés from different regions as a sampling during the cocktail hour.
Gardens galore. Beer gardens that offer a selection of craft beers are a growing trend, but why stop there? "You could do a tequila or champagne garden, a martini bar with fresh juices, even a water bar with a variety of favors in fat and sparkling," says Correale.
Grown-up popsicles. For summer weddings or as a mid-dance refresher, try turning your signature cocktail into a frozen treat. Laesser-Keck says the best-looking cocktail popsicles are made with a fresh fruit juice and an edible flower.
The Taste
Personality is on the menu for cutting-edge weddings. Take a bite of these delicious trends.
On a roll. Food stations that were all the rage even up to last year have conceded to the classic sit-down dinner. "But that doesn't mean guests are stuck in their seats," says Carla Ruben, founder of New York City's Creative Edge Parties. To keep things interesting, caterers are bringing back gueridon service, where servers arrive at the dinner table with a cart filled with all the makings for customizable appetizers and desserts — everything from caesar salads, pastas and tartares to gelato, doughnuts and milk-and-cookies.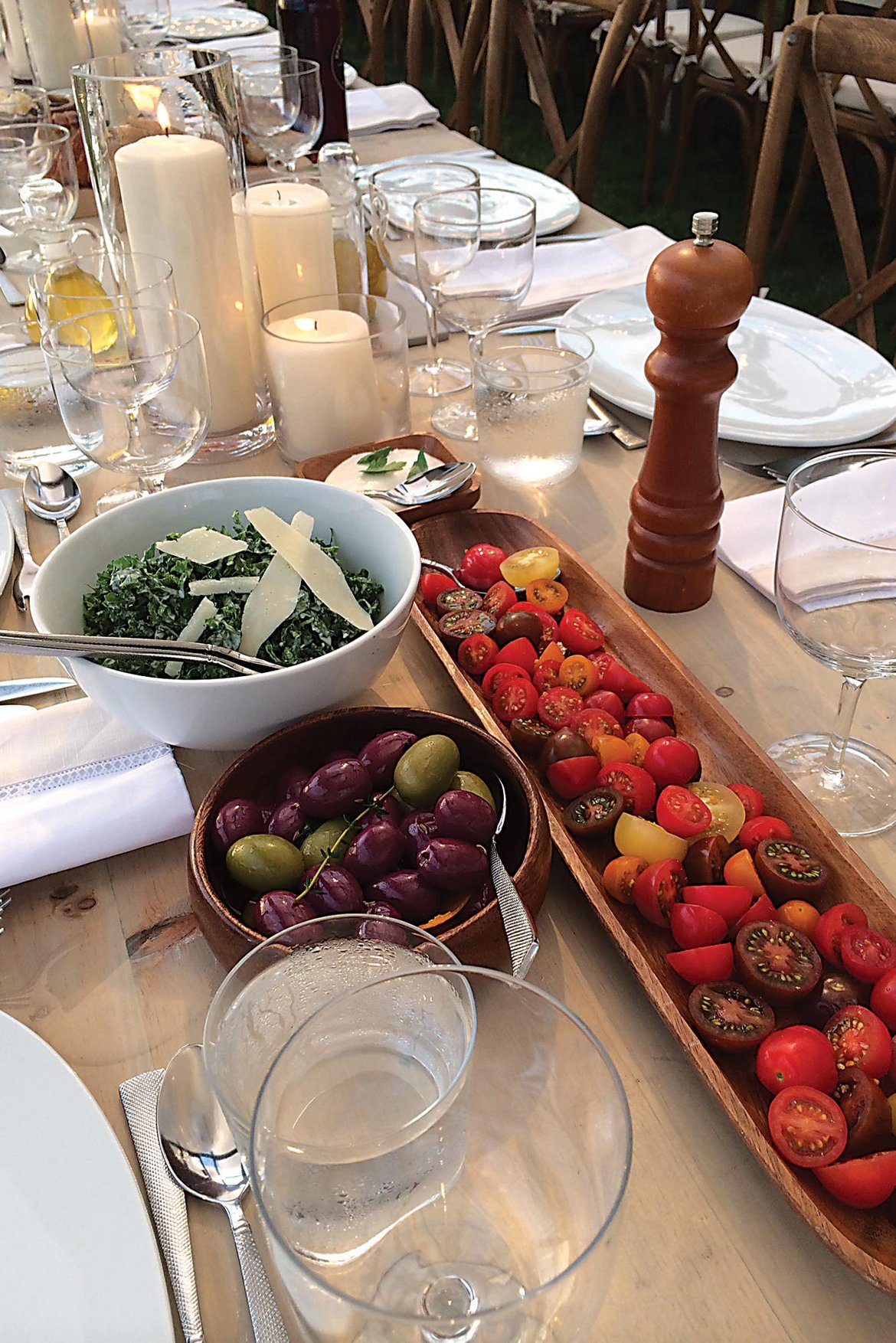 Photo courtesy of Creative Edge Parties
Heritage dishes. Serving favorite family dishes or food from your ethnic background is another way to make your wedding more personal, says Correale. Couples also like to surprise guests with a local favorite — bite-size cheesesteaks in Philadelphia, for example — or a specialty item from their hometown — beignets flown in from New Orleans.
Perfect pairings. It's common to pair wine with food, "Why not cocktails with food?" says Ruben. Some ideas for your cocktail hour: one-bite tacos with margarita shooters; pretzel bites with a local craft beer; caviar spoons and vodka shots; or Italian meatballs with a mini glass of chianti. And for dessert try apple pie with Moscato d'Asti or brownie bites with frozen espresso shooters.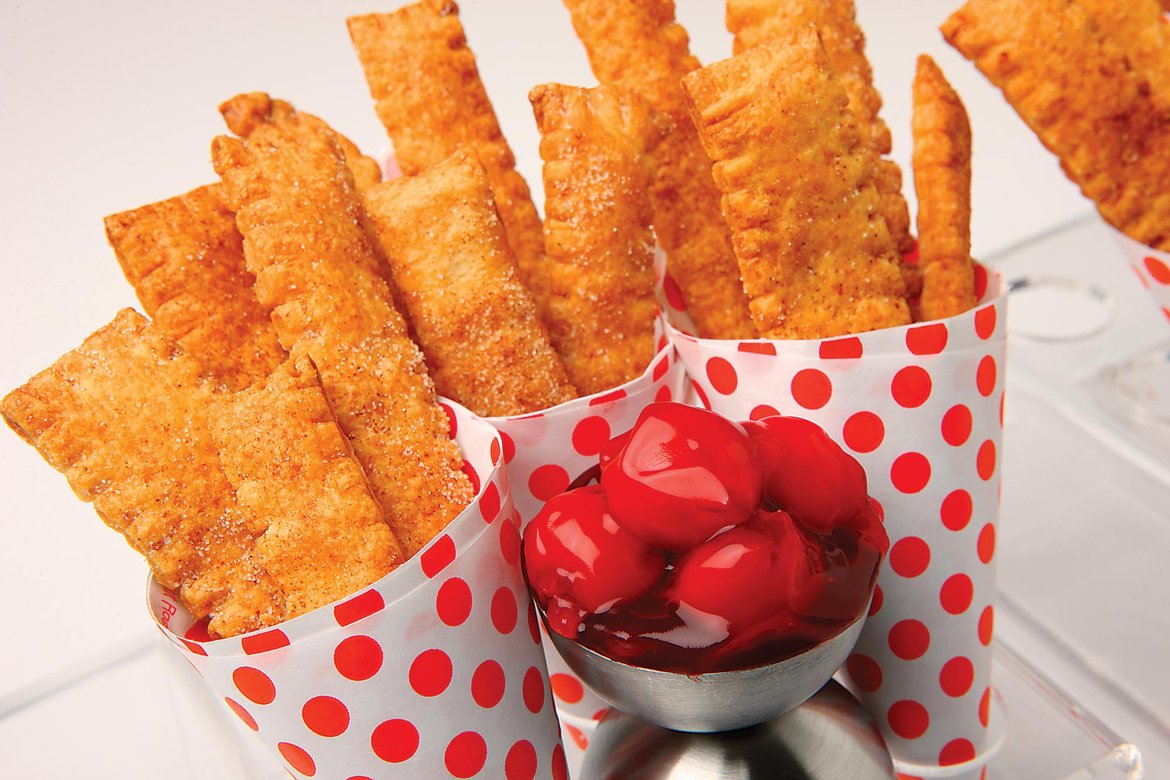 Photos courtesy of Elegant Affairs
Something for everyone. With the rise in dietary restrictions — gluten free, vegan, no dairy, etc. — couples are circling back to giving guests a choice of main courses, served family style or pre-plated.
Try this trend: Passed hors d'oeuvres and desserts are gaining ground over fixed stations. "This style of service lets guests mingle, and no one will miss out on the great food," says Ruben.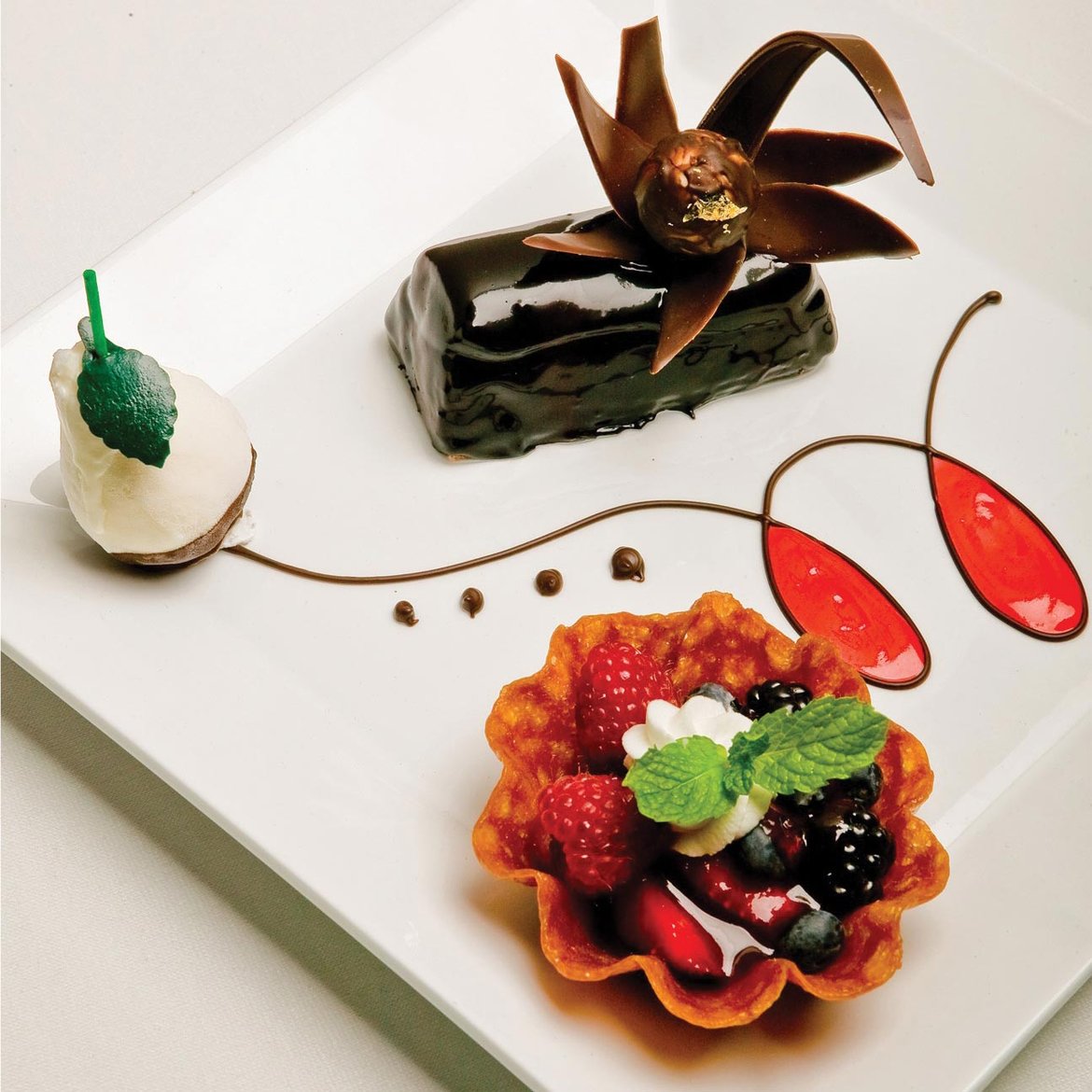 Photo courtesy of Harriet Rose Katz
Pages